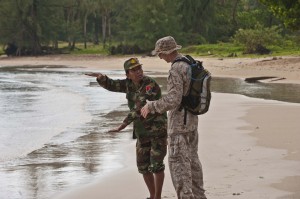 We might rephrase Theodore Roosevelt's famous saying about "big stick" diplomacy thusly: Speak softly and carry a small stick, and you will go far—provided you have a big stick handy. That maxim has yielded good results for China in Southeast Asia. It could do so for the United States as well—if it manages its alliances and partnerships well and arranges its forces to match purpose with power.
Overpowering military might opens up new strategic vistas for the strong, letting them get their way while looking inoffensive if not magnanimous to foreign eyes. China has brandished a small stick in recent months, using unarmed ships from nonmilitary government agencies like China Marine Surveillance as its political implement of choice in the Scarborough Shoal imbroglio with the Philippines, and in its war of words with Vietnam over oil and gas exploration rights within Vietnam's offshore exclusive economic zone, or EEZ. The EEZ is a 200 nautical mile belt (more in some cases) adjoining a coastal state's shores. The coastal state holds exclusive rights to natural resources in those waters and the seabed underneath. Control of resources is critical to economic development—hence the passions expanses like the resource-rich South China Sea rouse.
Gunboat diplomacy without the gunboats sounds counterintuitive, doesn't it? Here's how small-stick diplomacy works. A country whose armed forces decisively outmatch a competitor's can afford not to openly display those forces in international controversies. It can make the weak an offer they can't refuse, and they have little recourse. It can hope to win without fighting—and get its way without even looking like an aggressor before the court of world opinion. Why unlimber the big stick when virtual coercion or deterrence promises the same results?