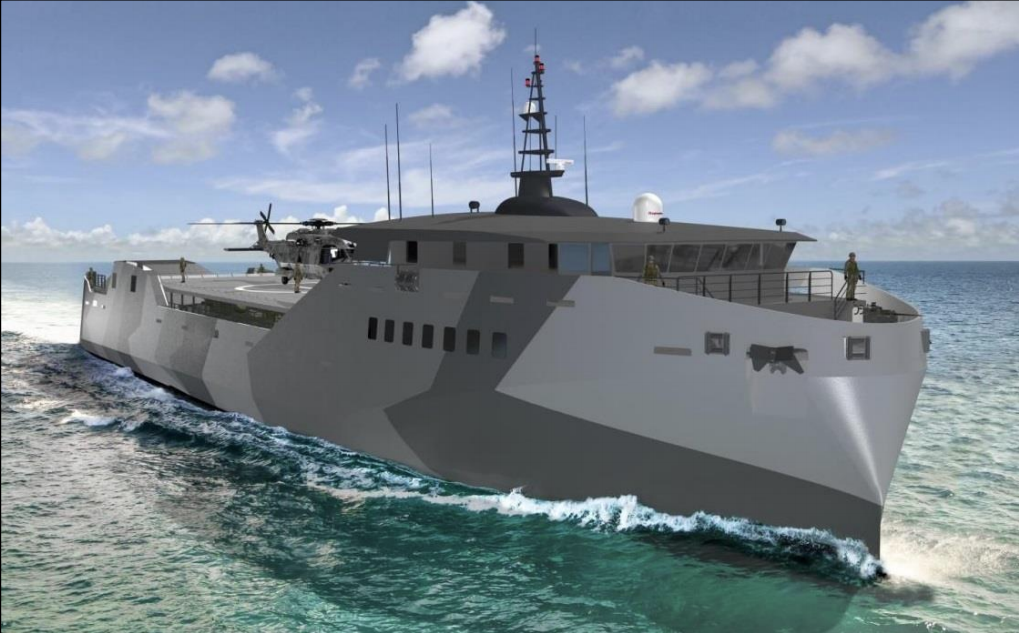 ARLINGTON, Va. – Navy Secretary Carlos Del Toro said the Navy and Marines have "got to get the right concept … and design" to move forward with the new Landing Ship Mediums – the vessels projected to augment larger amphibious vessels.
Investing in the new ships did not mean the Navy was pulling back its commitment to larger amphibious warships, Del Toro said Wednesday, speaking at the National Defense Industrial Association Expeditionary Warfare Conference.
There will "probably be more LPDs [landing platform, docks] in the future," he said. He also mentioned America-class amphibious assault ships LHA-8 [Bougainville] and LHA-9 [Fallujah] as critical to the mix of ships because of the capacity they have to handle aircraft and surface connectors.
Marine Corps Commandant Gen. David Berger said at last year's conference the new smaller ships, formerly known as the Light Amphibious Warship, are vital for the service's missions in an era of Great Power competition. The Congressional Research Service said the construction price tag for LAW would run between $100 million and $150 million. Last week at the WEST 2023 conference, co-hosted by the U.S. Naval Institute and AFCEA., Assistant Commandant of the Marine Corps Gen. Eric Smith said the requirements were ready.
"We agree on the requirements. Now we're trying to move," Smith said.
The Navy is expected to buy between 18 and 35 of the landing ships. When the concept for the vessel was first approved, procurement was expected to start in this year. It has now been pushed back to Fiscal Year 2025. Del Toro said he was trying to speed the acquisition process along, but needed the results of the amphibious vessel study to move out on the program.
Lt. Gen. Greg Olsen, director of the Marine Corps staff, said "about 35" is the right number of landing ships required. He said their low signature could be sufficient for them "to hide away among the shipping out there" as they deliver more Marines, weapons and supplies to shore than current air-cushioned LCACs.
At the National Defense Industrial Association event, Olsen warned about "gold-plating" the vessel, driving up costs and causing more delays in building. He wants "to come to closure as quickly as possible" on its concept and design and numbers.
The Marine Corps' update on Force Design 2030 sees LAW as important to give stand-in forces tactical mobility.
"We have to be there today … before conflict begins," Olsen said explaining the value of dispersed stand-in forces with advanced sensors, resilient command and control and strike weapons to control straits or hit targets farther out and move about. "There's thousands of places to hide" for reconnaissance, counter-reconnaissance and strike, he said.
Dispersed forward presence "allows to step forward with knowledge."
Olsen said the requirement for larger amphibious ships remains "10 large deck and 21 LPD-like hulls to generate combat power and [provide for] the training base."
"We are good at looking over the horizon," he said.
When asked whether the Navy had made a decision on having Littoral Combat Ships have a "mothership" role for a variety of unmanned systems, he said "we've had tremendous success with Task Force 59" experimenting with these systems. He also mentioned experiments using LCS in Fourth Fleet in different roles.
In a letter to the House chairmen of armed services and defense appropriations subcommittee, Del Toro acknowledged LCS could be repurposed for this use, rather than scrapping them.
"Current investment in the LCS class will continue to focus on improving the sustainability and reliability of the ships designated for the SUW [surface warfare] and MCM mine countermeasures] missions," Del Toro wrote.
He added at the NDIA event that he didn't want to put a timeline on that decision.