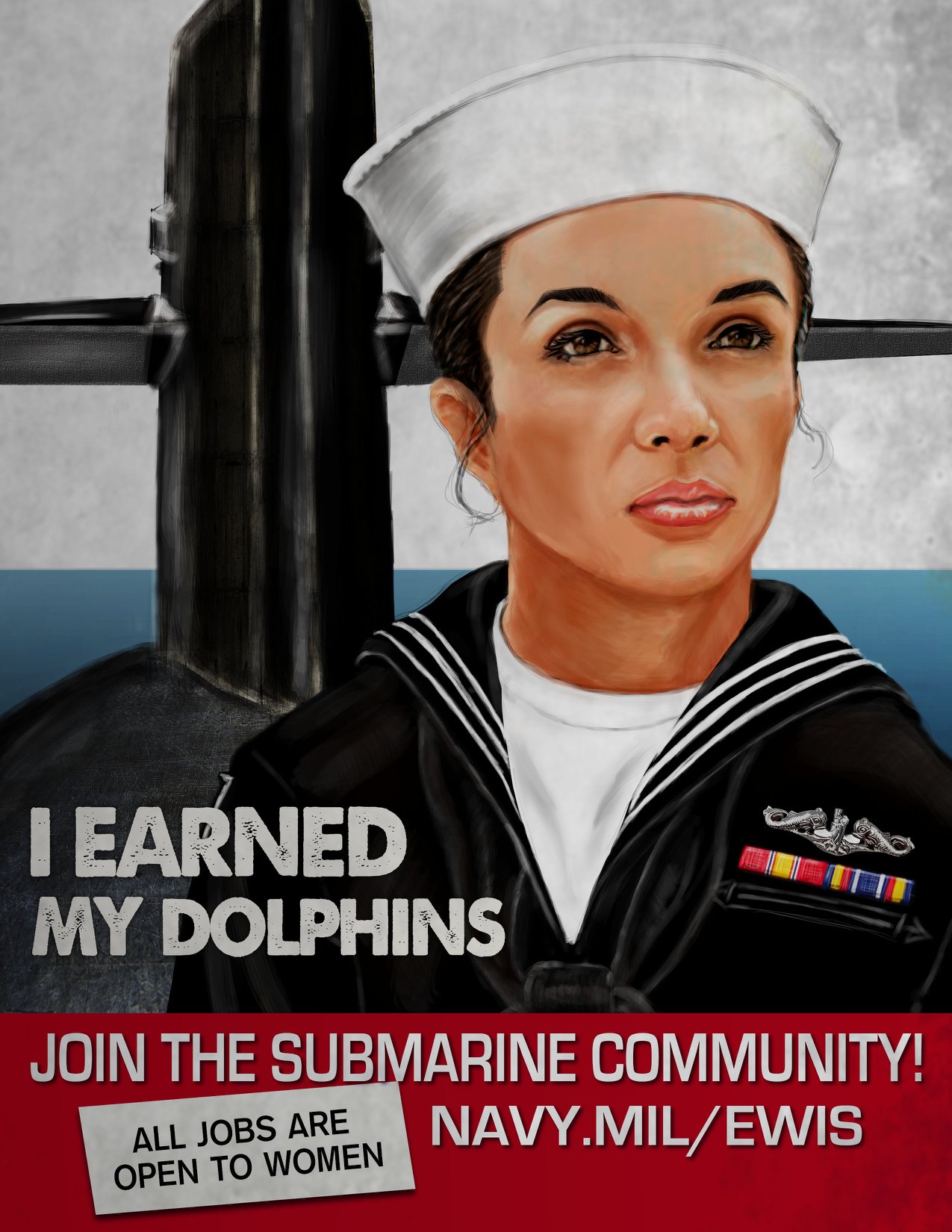 This post has been updated to include an additional statement from the Commander, Submarine Forces staff.
The Navy's silent service is making some noise about wanting more female enlisted sailors to earn their dolphins and serve aboard submarines, according to the chief of naval personnel.
Vice Adm. Robert Burke extended the deadline for female enlisted sailors to apply to convert to the submarine force. Applications are now being accepted through June 1, and selections from this round of applications will be part of the initial female integration of USS Georgia (SSGN-729) or to fill openings on previously integrated submarines.
The Navy is aggressively promoting itself as a career choice for women, and pushing out messaging detailing the multitude of jobs available to female sailors, Burke said last week while testifying before the House Armed Services military personnel subcommittee.
"We're really trying to highlight the situations that women can see themselves," Burke said during the hearing.
Currently, 18 submarine crews include female officers, and four of these crews have female enlisted sailors. By the end of 2024, the Navy will have 21 crews with female officers, and 14 of these crews will include female enlisted sailors, Cmdr. Sarah Self-Kyler, a SUBLANT spokeswoman, told USNI News on Wednesday. The Navy rescinded its males only on submarines policy in 2010.
Not everyone agrees with the Navy's continuing effort to integrate women into submarine service. After the deadline extension was announced last week, several online commentators posted derogatory comments to the Commander, Submarine Forces Facebook page.
"So glad I am retired and not involved with this social engineering experiment," one commenter posted.
In response, the command posted, "Integrating women aboard submarines is not a social engineering experiment and it is not something new. Women have been serving aboard submarines in other nations since 1995. The U.S. Submarine Force requires the best and the brightest America has, regardless of gender. Glad you are enjoying retirement."
Vice Adm. Joe Tofalo, the commander of Submarine Forces, didn't actually type the responses to Facebook, but approved the messaging posted on his behalf, Self-Kyler told USNI News.
"We feel it's important to be a part of the conversation with our followers," Self-Kyler said. "When we feel our policy is not understood, we do our best to inform our readers using our most current policy and perspective on the topic."
The submarine service is extending the application deadline because there was some concern the original announcement did not provide enough time for everyone interested to apply. The submarine force has received a good response so far from interested female sailors, Self-Kyler said.
For ranks E-6 and below, submarine career fields open for conversion include: Yeoman Submarine (YNS), Culinary Specialist Submarine (CSS), Logistics Specialist Submarine (LSS), Sonar Technician Submarine (STS), Fire Control Technician (FT), Electronics Technician Submarine Navigation (ETV), Electronics Technician Submarine Communications (ETR), Information Systems Technician Submarines (ITS), Machinist's Mate Weapons (MMW), and Machinist's Mate Auxiliary (MMA), according to the Navy.
"It's an operational imperative for the Navy to increase our numbers of women so we are frankly targeting them in our recruiting efforts and our messaging because that's where the talent is," Burke said during the hearing. "Our new ad campaigns prominently feature women. Our most recent one, has a female submariner earning her dolphin."