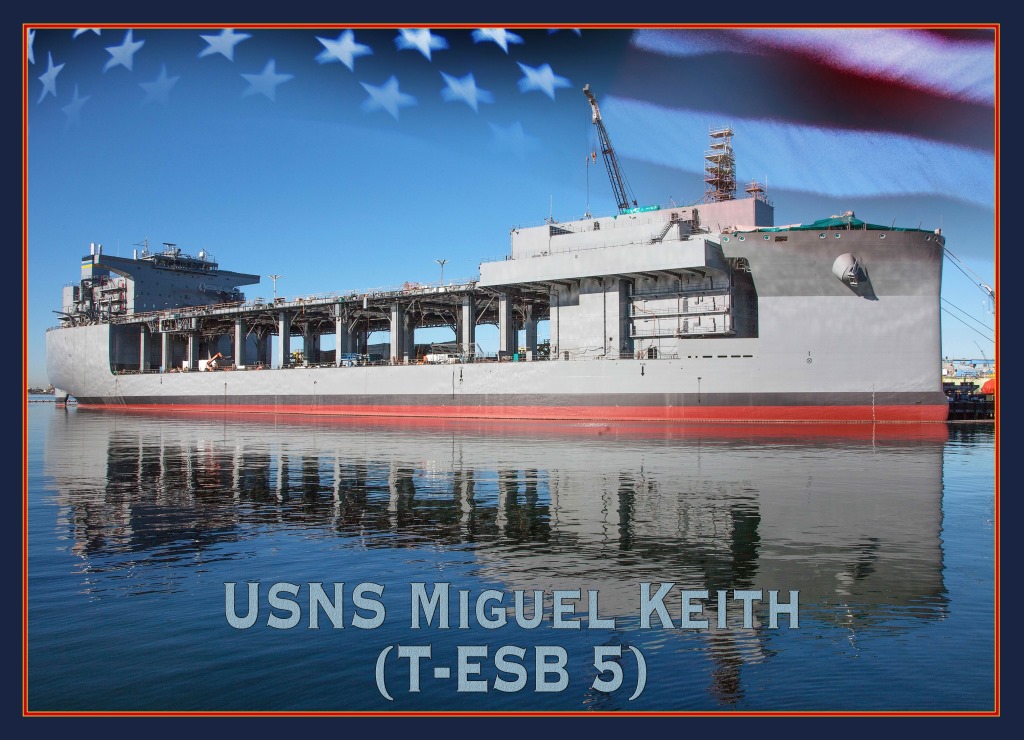 Secretary of the Navy Richard V. Spencer has named the first ship in his terms after a Marine Medal of Honor recipient from the Vietnam War.
Spencer named the fifth Expeditionary Sea Base (ESB) after Lance Cpl. Miguel Keith during a Saturday ceremony at National Harbor, Md.
"In 1969, Keith served as a machine gunner with Combined Action Platoon 132, III Marine Amphibious Force in Quang Ngai Province, Republic of Vietnam. He was promoted to the rank of Lance Corporal on April 1, 1970," read a statement from the service.
Keith was severely wounded on the morning of May 8, 1970 when his platoon came under a heavy-ground attack… His performance in the face of overwhelming odds contributed, in no small measure, to the success of his platoon defeating a numerically superior enemy force."
The future Miguel Keith (T-ESB-5) will be the fifth expeditionary sea base based on the hull of an Alaska-class crude oil tanker design and the fifth named after a hero of the Marine Corps.
The first Expeditionary Transfer Dock – formerly known as the Mobile Landing Platform – was named for Camp Montford Point, N.C. where the first African-American Marines were trained in the 1940s. The second was named for Marine astronaut John Glenn.
The first ESB was named for the legendary to Lt. Gen. Lewis "Chesty" Puller. USS Lewis Puller (T-ESB-3) and deployed to the Persian Gulf. The second ESB was named for World War II Medal of Honor recipient, Hershel "Woody" Williams.
"Able to accommodate up to 250 personnel, the new ESB ship will support multiple missions, such as air mine countermeasures (AMCM), counter-piracy operations, maritime security operations, humanitarian aid and disaster-relief missions, and crisis response operations," read a statement from the Navy.
"Also, the vessel will be capable of supporting MH-53 and MH-60 helicopters, with an option for future upgrades to support MV-22 tilt-rotor aircraft."
The uncontroversial pick for the for Spencer's first ship name came from recommendations from the Marine Corps community, a service official told USNI News.
Since 1819, the Secretary of the Navy has been solely responsible for the names of ships, often with some controversy.