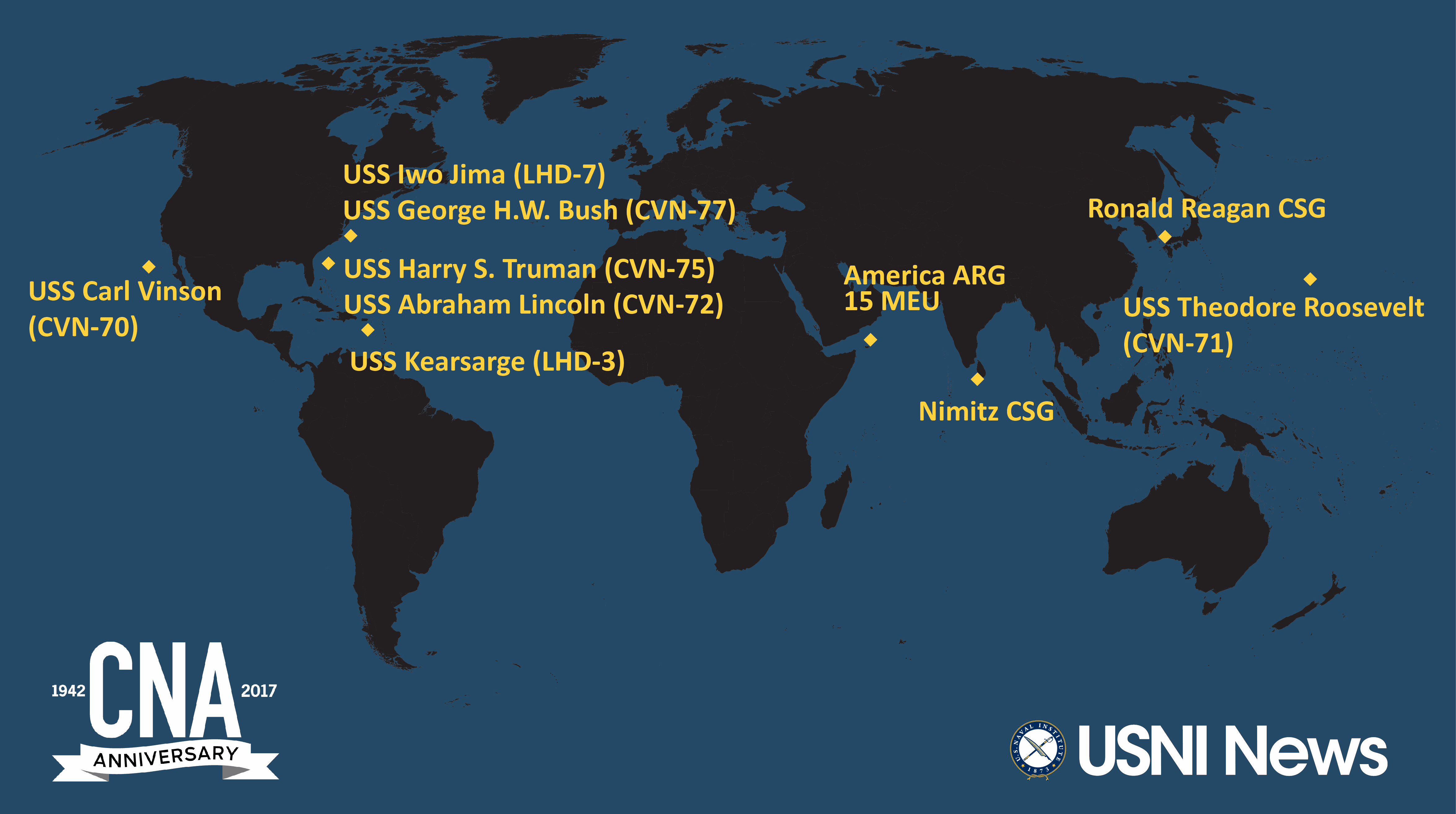 The USNI News Fleet and Marine Tracker is sponsored by CNA.
These are the approximate positions of the U.S. Navy's deployed carrier strike groups and amphibious ready groups throughout the world as of Oct. 30, 2017, based on Navy and public data. In cases where a CSG or ARG is conducting disaggregated operations, the map reflects the location of the capital ship.
Total U.S. Navy Battle Force:
278
Ships Underway
| | | |
| --- | --- | --- |
| Deployed Ships Underway | Non-deployed Ships Underway | Total Ships Underway |
| 50 | 44 | 94 |
Ships Deployed by Fleet
| | | | | | | |
| --- | --- | --- | --- | --- | --- | --- |
| Fleet Forces | 3rd Fleet | 4th Fleet | 5th Fleet | 6th Fleet | 7th Fleet | Total |
| 4 | 0 | 1 | 18 | 14 | 68 | 105 |
In the Sea of Japan
The Ronald Reagan Carrier Strike Group departed the South Korean port of Busan on Thursday, Oct. 26.
USS Ronald Reagan (CVN-76) is operating in the Sea of Japan and could conduct multi-carrier operations with USS Theodore Roosevelt (CVN-71) and USS Nimitz (CVN-68). The U.S. Navy periodically conducts large-scale exercises that involve several carriers. The last time three carriers operated together was during the 2007 Valiant Shield exercise.
Secretary of Defense Jim Mattis and Chairman of the Joint Chiefs Gen. Joe Dunford recently visited South Korea.
"These three carriers are not there specifically targeting North Korea," the chairman said.
"This is a routine demonstration of our commitment to the region."
The chairman did acknowledge closer attention is being paid to Pyongyang in light of its actions, saying, "I think it's fair to say that all of us have a heightened sense of urgency for the past year and a half, and in particular, in the last couple months."
In the Western Pacific
The Theodore Roosevelt Carrier Strike Group entered the U.S. 7th Fleet area of responsibility on Oct. 24. The ship conducted air operations near the U.S. holding of Wake Island on Oct. 26, according to the Navy.
About 7,500 sailors and Marines with the Roosevelt CSG departed Oct. 7 from San Diego for a scheduled deployment to the Western Pacific and the Middle East.
The Roosevelt CSG is expected to resume U.S. carrier-launched strikes against ISIS targets as part of Operation Inherent Resolve when it arrives in the Middle East.
The Theodore Roosevelt CSG is expected to conduct multi-carrier operations off of the Korean Peninsula with the Ronald Reagan CSG and Nimitz CSG later this week.
In the Indian Ocean
The Nimitz CSG arrived in Sri Lanka on Saturday, Oct. 28.
Nimitz CSG arrived in the port of Colombo on Saturday for a three-day port visit – the first U.S. carrier to visit since 1985. Participating in the visit are Nimitz, Carrier Strike Group 11, Destroyer Squadron 9, Carrier Air Wing 11, cruiser USS Princeton (CG-59), and destroyers USS Howard (DDG-83), USS Shoup (DDG-86), USS Pinckney (DDG-91) and USS Kidd (DDG-100).
In the Northern Arabian Sea
The America Amphibious Ready Group (ARG), 15th Marine Expeditionary Unit (MEU) and Amphibious Squadron (PHIBRON) 3 are operating off the UAE.
The ARG includes amphibious assault ship USS America (LHA-6), amphibious dock landing ship USS Pearl Harbor (LSD-52) and amphibious transport dock USS San Diego (LPD-22).
San Diego departed Souda Bay, Crete, on Oct. 21 after mid-deployment maintenance availability.
Other ARG units are participating in Exercise Iron Magic 18, a military exercise between the UAE Armed Forces and U.S. forces that started Oct. 19.
In the Western Atlantic and the Caribbean Sea
Amphibious exercise Bold Alligator 17 off the coast of North Carolina has completed.
USS Harry S. Truman (CVN-75) is underway in the Fleet operations areas off of Norfolk, Va., conducting a Tailored Ship's Training Availability (TSTA). This is the final step in individual ship training and culminates in a Final Evaluation Problem (FEP). The next underway phase of the carrier's training will include other ships as Truman continues deployment work-up.
The amphibious assault ship USS Wasp (LHD-1) and dock landing ship USS Oak Hill (LSD-51) ended their relief missions off Puerto Rico. Oak Hill returned to homeport in Little Creek, Va., on Sunday Oct. 29.
Wasp is ultimately bound for Japan to join the forward-deployed naval forces and likely become the first amphibious warship to deploy with the F-35B Lighting II Joint Strike Fighter.
USS Kearsarge (LHD-3), the Marines of the 24th MEU and Seabees from Amphibious Construction Battalion 2 continue to support the humanitarian relief efforts for Hurricanes Irma and Maria in Puerto Rico.
Hospital ship USNS Comfort (T-AH-20) arrived off Puerto Rico on Oct. 3 and continues to provide full hospital services to support U.S. disaster relief
In the Eastern Pacific
USS Carl Vinson (CVN-70) launched and recovered a F-35C. The Vinson and is set to be the first carrier in the Pacific Fleet to deploy with an F-35C squadron.
Meanwhile, not too far up the coast, exercise Dawn Blitz was in full swing, designed to train the Navy and Marines to conduct a large scale amphibious assault. For the first time, F-35Bs are participating, according to a Navy statement.
Flying from the assault ship USS Essex (LHD-2), six aircraft have provided air support and are fully integrated into the exercise's scenarios. The lessons learned from this exercise will be applied to sea deployment of the F-35B, which could still happen this year.
In addition to these major formations, not shown are thousands of others serving in submarines, individual surface ships, aircraft squadrons, SEALs, Special Purpose Marine Air-Ground Task Forces, Coast Guard cutters and more serving throughout the globe.