The cabinet of Japanese Prime Minister Shinzo Abe has approved a record $42.1 billion 2016 defense budget largely seen as a response to China's rapidly expanding military, particularly the People's Liberation Army Navy (PLAN).
The record high spending plan will further expand Japan's power projection tools, confirms equipment buys that boost cooperation with forward deployed U.S. units.
"We believe the budget includes items that would contribute to enhancing Japan-U.S. cooperation in the area of ISR (information, surveillance and reconnaissance)," Defense Ministry official Tomoki Matsuo said according to The Associated Press.
The new budget includes aviation buys for six Lockheed Martin F-35A Lighting II Joint Strike Fighters for, four Bell-Boeing V-22 Osprey tilt-rotor aircraft, 17 Mitsubishi SH-60K helicopters, the start of a multi-year procurement of three Northrop Grumman RQ-4 Global Hawk surveillance unmanned aerial vehicles (UAVs) and Boeing KC-46A Pegasus refueling tanker, according to an October overview of the budget request.
On the maritime front, the budget pays for the acquisition of a new Aegis capable guided missile destroyer and 12th domestically built Soryu-class diesel electric attack submarine (SSK).
The budget also includes a variety of upgrades for ships and aircraft, munitions purchases and funds to assist in relocating Marine Corps Air Station Futenma on Okinawa and moving additional Marines from the island to Guam.
Much of the new kit is oriented to protecting Japan's Senkaku Islands on the edge of the East China Sea near Taiwan— which Japan occupies but China also claims.
Protection of the remote islands is a key tenant of the spending plan.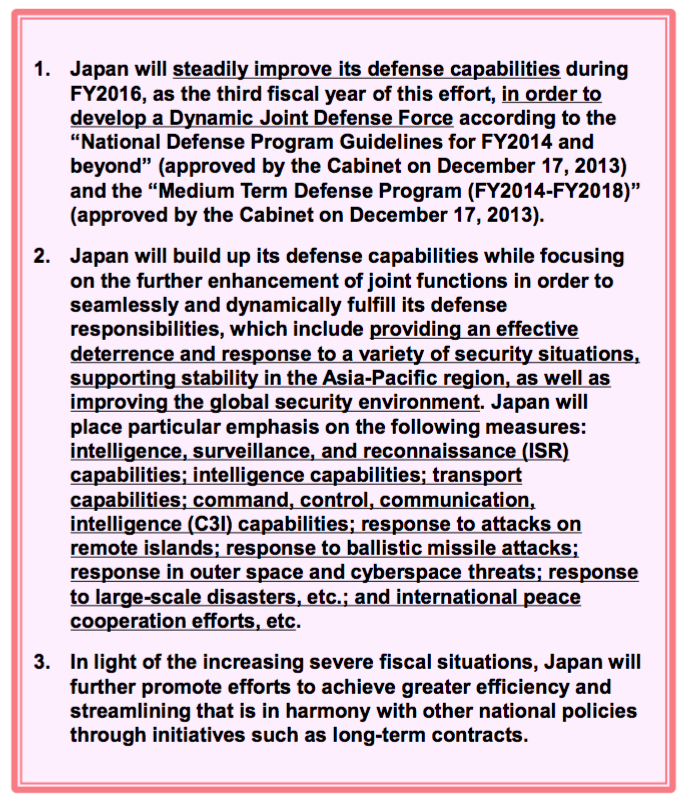 The new budget is the first since the government approved sweeping changes in its defense stance in September.
"Politically, Abe's security agenda is designed to get Japan more involved in the world, and more capable of being a partner operating with the United States," wrote USNI News contributor Kyle Mizokami in August.
"Japan's de facto military, the Self-Defense Forces, would be able to reciprocate American efforts to defend Japan. Abe is also concentrating on increasing SDF interoperability with U.S. forces."
In line with the legislative changes, much of the new defense material Japan is planning to buy can share high-level intelligence and targeting data with forward deployed U.S. forces as part of the emerging Naval Integrated Fire Control-Counter Air concept (NIFC-CA pronounced: nifk-kah).
For its part, Beijing has been critical of the defense plus-up in several public statements that contain not-so-subtle references to Imperial Japan's military actions during World War II.
"Due to historical reasons, Japan's policy moves in the field of military and security have been closely watched by its Asian neighbors and the international community," Chinese Foreign Ministry Spokesperson Hong Lei said in a Thursday statement.
"We hope that the Japanese side would take history as a mirror, stick to the path of peaceful development, and make constructive efforts for regional peace and stability."