This week in a speech in Virginia, Republican presidential nominee Mitt Romney talked about his plan to build a 350-ship Navy, boosting spending on current programs and creating two new ship designs. But affordability is a key detail in any procurement discussion, and it's one piece of the puzzle that the Romney camp is still fleshing out. Romney also did not identify any new requirements for a 350-ship fleet.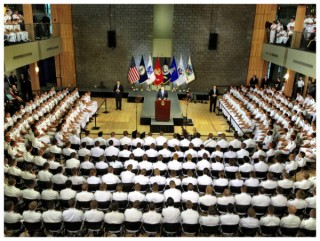 There is no doubt shipbuilding is a priority for whomever occupies the White House for the next four years. The Navy's current roster of ships is near its smallest since 1916, when then-President Woodrow Wilson signed the Naval Act authorizing a massive build-up. At Wilson's behest and with congressional approval, the Navy built 10 battleships, six battlecruisers, 30 submarines, 50 destroyers and other support vessels over three years, tripling the size of the sea service by 1919. Wilson's 752-ship Navy was the high-water mark for decades, and his push leading up to World War I is credited with establishing U.S. naval dominance in the 20th century. But the expansion came at a cost — some $500 million at the time or a mere $10.2 billion in current-year dollars. But today's ships are different by nearly all metrics — mission, capability, sophistication, size and cost among other factors.
Nearly a century later, Congress finds itself in much the same quandary as Wilson — an aging fleet of warships in need of modernization and, some say, expansion. The U.S. fleet as a whole has been on a slow decline since the late 1980s, bottoming out at 278 ships in 2007. The Navy says it needs between 310 and 316 ships to meet all its obligations around the world, a number that has remained roughly unchanged since the 1994 Quadrennial Defense Review.