This week in a speech in Virginia, Republican presidential nominee Mitt Romney talked about his plan to build a 350-ship Navy, boosting spending on current programs and creating two new ship designs. But affordability is a key detail in any procurement discussion, and it's one piece of the puzzle that the Romney camp is still fleshing out. Romney also did not identify any new requirements for a 350-ship fleet.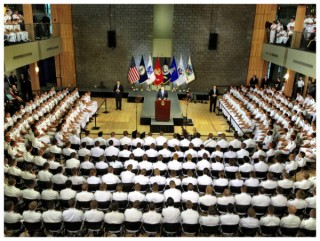 There is no doubt shipbuilding is a priority for whomever occupies the White House for the next four years. The Navy's current roster of ships is near its smallest since 1916, when then-President Woodrow Wilson signed the Naval Act authorizing a massive build-up. At Wilson's behest and with congressional approval, the Navy built 10 battleships, six battlecruisers, 30 submarines, 50 destroyers and other support vessels over three years, tripling the size of the sea service by 1919. Wilson's 752-ship Navy was the high-water mark for decades, and his push leading up to World War I is credited with establishing U.S. naval dominance in the 20th century. But the expansion came at a cost — some $500 million at the time or a mere $10.2 billion in current-year dollars. But today's ships are different by nearly all metrics — mission, capability, sophistication, size and cost among other factors.
Nearly a century later, Congress finds itself in much the same quandary as Wilson — an aging fleet of warships in need of modernization and, some say, expansion. The U.S. fleet as a whole has been on a slow decline since the late 1980s, bottoming out at 278 ships in 2007. The Navy says it needs between 310 and 316 ships to meet all its obligations around the world, a number that has remained roughly unchanged since the 1994 Quadrennial Defense Review.
Each year, the sea service is required to provide Congress with a 30-year shipbuilding plan to accompany its five-year budget projection (FYDP) and its annual funding request. The shipbuilding plan is designed to be the Navy's over-the-horizon look at future force structure, giving lawmakers an idea of how the fleet's topline ship number will shrink and grow over the years. The Navy's five-year FYDP gives lawmakers an idea of how many ships will be procured over that period. The numbers from both sets of plans should mesh, but because only the FYDP is constrained by budgetary realities, ships initially planned for the five-year tranche are frequently deferred to a time outside that spending window. It's essentially a budget trick by the services to balance their books — and an accepted practice on Capitol Hill — but it complicates how we look at Navy shipbuilding plans, budgets and futures.
The Obama administration has laid out a 30-year plan that adds 268 new ships to the fleet. Over 30 years, the plan calls for a build rate of 8.9 ships per year — on par with the requirements for reaching a 316-ship Navy. But two problems keep the current plan from ever achieving the stated topline within the 30-year window: low buy rates in prior years and a build rate of just 8.2 ships a year in the FYDP.
The latter issue is one of budgeting. Fewer ships in the next five years means budget hawks can meet mandated government-wide spending cuts. The prior issue is one of mathematics. Under George W. Bush administration, the Navy purchased a total of 53 ships, a buy rate of 6.2 ships per year. In 2008, just three new ships were added to the fleet, a lower buy-rate than under the Clinton administration's vast defense drawdown. Those slim numbers over the last decade have exacerbated the decline as a number of ships reach the end of their projected service lives without replacements online to fill their mission roles.
The Obama administration's plan includes a new aircraft carrier, nine new Virginia-class submarines, nine new Arleigh Burke-class destroyers, 16 Littoral Combat Ships (LCS), an LHA(R) amphibious assault ship and a handful of other support ships — 41 vessels in all through 2017, the end of the five-year budget window. An additional seven ships have been deferred, including a fast attack sub, two LCSs, a new class of LSD landing dock ships and three new fleet support oilers. A replacement for the Ohio-class ballistic missile submarine (SSBN) is already being designed as well, but the first hull of the new class will not likely be laid until at least 2021. According to the administration's plan, the fleet will number 307 ships in 2042, but never reaches the minimum 310 in the 30-year projection.
An Alternative Plan
Obama's notional 307-ship Navy remains slimmer than many would like, and one of those critics is Romney. "I will restore our Navy to the size needed to fulfill our missions by building 15 ships per year, including three submarines," Romney told a crowd at the Virginia Military Institute on Monday. On the campaign trail, he has repeated calls for his 350-ship plan, but he has been vague about the kinds of ships he envisions in the future force and how he would pay for them. In an interview published this week by Defense News, John Lehman, one of Romney's top advisors on the plan and the architect of President Ronald Reagan's 600-ship fleet initiative, laid out some details of the candidate's proposal, but also acknowledges many ideas have not yet been fully fleshed out.
According to Lehman, a Romney administration would set out to build 15 new ships a year for the next 10 years but does not say when Romney would hope to begin that process. Presumably the ambitious buildup would not start until fiscal year 2015, since the FY 2014 budget proposal is already working its way through the Office of Management and Budget to meet a probable February delivery date.
On the numbers, the Romney proposal would add 49 ships more than the 101 currently in the Navy's 30-year shipbuilding prospectus.
The Romney campaign says it would buy more submarines, including a new ballistic missile submarine and three fast attack boats a year. In his interview Lehman refers back to his time under Reagan, comparing the Romney approach to shipbuilding with that of the 1980s, but when Lehman was Secretary of the Navy, publicly owned shipyards were responsible for the construction of most of the service's new ships. All but four Navy shipyards have been closed through successive base closure and those remaining facilities perform only repair and demil work, not new construction. The only two contractors that build submarines for the Navy, Electric Boat in Groton, Connecticut and Huntington Ingalls Shipbuilding in Newport News, Virginia are both heavily vested in the Virginia-class program and would likely compete for the next generation boomer.
The Romney campaign has promised to boost the number of destroyers in the fleet and takes a similar tack on the LCS, but does not say how many of either ship they would buy in upcoming years. Lehman did say he would grow the amphibious fleet to meet the Marine Corps' requirement for 39 ships but hasn't yet fleshed out the new mix.
The Navy's current plan leaves a near-term shortfall in amphibious ships. According to an Aug. 9, 2012 report by the nonpartisan Congressional Research Service, "the Navy projects that there will be a shortfall of one to four amphibious ships" for at least the next nine years.
The Romney plan calls for a new frigate to replace the Oliver Hazard Perry-class ships that were designed in the 1970s to serve as general-purpose escort vessels. The Navy's current plan is to replace the Perry-class ships with two different versions of the LCS — the trimaran Independence-class and the conventional-hulled Freedom-class – with each costing $538 million, a topline mandated by Congress. The sail-away cost of a new frigate would be between $600 and $700 million each, according to Lehman. The per-copy price tag is on par with Perry-class ships but fails to take into account the Navy's long record with major systems development. New ships invariably cost more.
The last effort to develop a new frigate — the one Romney hopes to replace — ran wildly over budget. According to a June 1977 CBO briefing, "the FFG-7 program… has proved far more costly than originally planned: estimates of its unit cost rose from about $65 million to $168 million in constant dollars in just three years." Today, those woes are echoed in the Gerald Ford-class carrier program, which is $811 million over budget. The 6 percent growth on the new supercarrier is actually lower than most Navy programs. According to a 2006 RAND study, the "annual cost escalation rates for amphibious ships, surface combatants, attack submarines and nuclear aircraft carriers have ranged from 7 to 11 percent in recent decades."
Overruns like those traditionally seen on Navy ship development programs would not likely be welcome in the halls of Congress, where members had little concern over sliding the Ford-class construction schedule out by two years as a cost-cutting measure.
The Romney plan also includes a new missile defense ship based around the air and missile defense radar system (AMDR). The AMDR was designed specifically as a missile defense radar platform for Arleigh Burke-class ships, but Romney wants a platform dedicated to the mission based on the existing hull design for the DDG 1000 or LPD 17, two programs plagued by cost overruns
Manning, Maintenance and Money
The total size of the force is shrinking. In addition to a smaller overall numbers of ships, the topline manpower numbers are also in decline. The House version of the FY 2013 defense authorization bill pegs the Navy's active-duty force structure at 322,700 personnel, down from the 375,700 billets authorized a decade ago. Personnel costs are the biggest driver of Pentagon spending and frequently the first account to be cut by budget-conscious lawmakers. When asked how a Romney administration would man more ships with fewer people, Lehman said they would look to pull sailors out of joint task force assignments across Department of Defense and move them into operational billets.
Maintenance has also been an issue for the current fleet. From January 2008 to March 2012, roughly 22 percent of Navy cruisers inspected were considered "unsatisfactory" and mission equipment failed to work nearly one time in four, according to a Government Accountability Office report. Among amphibious ships, only 67 percent were rated "satisfactory." Rates for frigates and destroyers were better but far from perfect. Part of the reason for the readiness shortfalls has been a habitual shortchanging of ship maintenance accounts by both the Navy and lawmakers. With nearly 70 more ships in the fleet under the Romney plan, the tab for maintenance would almost certainly increase — costs not currently planned for in the FYDP or available should sequestration kick-in next year.
There is also the capital cost of building a 350-ship fleet. Estimates from the nonpartisan Congressional Budget Office say that the current 30-year shipbuilding plan "would cost an average of $20.0 billion per year." A rough extrapolation of those figures concludes that the Romney plan, which would add 50 percent more ships to the fleet over the next decade, could require something closer to $30 billion a year, and that's before taking into account the additional costs associated with development of a the new frigate and missile defense ship.
Given the Defense Department's track record on keeping new programs on cost and seemingly little willingness in Congress to dedicate significant funding levels to the effort, it's hard to guess how palatable Romney's 350-ship fleet would be on Capitol Hill. And without additional details from the Romney camp on ship types, numbers and force mix, it is also difficult to calculate the true cost of his plan. Still, it's clear that the Navy and Marine Corps have a long way to go before their full laundry list of shipbuilding needs can be filled whether it's under the current 30-year plan or one that could be introduced by a new administration.