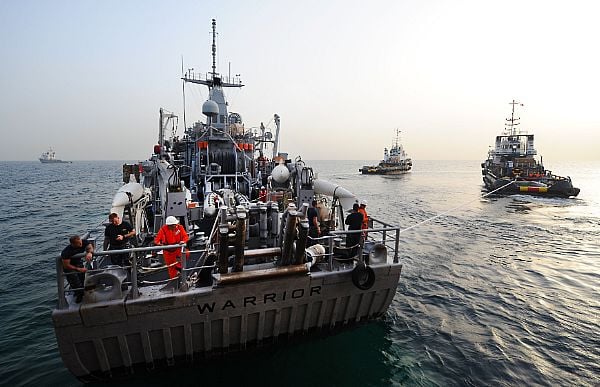 When an obviously lost tourist approached Arthur Rubenstein on a Manhattan street and asked how to get to Carnegie Hall, the piano virtuoso replied: "Practice, practice, practice!"
So it is for the U.S. Navy and partner navies' mine countermeasures (MCM) forces operating in the Arabian Gulf in mid-2012. Hosted by the U.S. Naval Forces Central Command (USNAVCENT), the International Mine Countermeasures Exercise 2012 (IMCMEX 12) is an international symposium and associated afloat exercise of mine countermeasure capabilities, scheduled for 16 to 27 September at multiple locations in the USNAVCENT area of operations. MCM assets from more than 20 countries on four continents will participate, making it the largest MCM exercise to date.
The operation is "a defensive exercise aimed at preserving freedom of navigation in international waterways in the Middle East," Pentagon spokesman George Little said. Washington has warned Tehran not to mine the strategic Strait of Hormuz, which the Islamic republic has threatened to do unless international sanctions against its nuclear program are pulled back.
Although IMCMEX 12 is taking place in the Arabian Gulf, it won't be conducted in the Strait of Hormuz, said Lt. Greg Raelson, Commander Fifth Fleet public affairs in a 20 July telephone interview. "The exercise focuses on a hypothetical threat from an extremist organization to mine the international strategic waterways of the Middle East, including the Red Sea, the Gulf of Aden, the Gulf of Oman and the Arabian Gulf."