These are the approximate positions of the U.S. Navy's deployed carrier strike groups and amphibious ready groups throughout the world as of Oct. 2, 2023, based on Navy and public data. In cases where a CSG or ARG is conducting disaggregated operations, the chart reflects the location of the capital ship.
Ships Underway
Total Battle Force
Deployed
Underway
290
(USS 231, USNS 59)
98
(USS 65, USNS 33)
64
(46 Deployed, 18 Local)
Ships Deployed by Fleet
| | | | | | | |
| --- | --- | --- | --- | --- | --- | --- |
| 2nd Fleet | 3rd Fleet | 4th Fleet | 5th Fleet | 6th Fleet | 7th Fleet | Total |
| 1 | 2 | 2 | 13 | 21 | 59 | 98 |
In the Philippine Sea
USS Ronald Reagan (CVN-76) is back underway after its fall patrol was postponed for unspecified mechanical Issues, Reagan departed Yokosuka, Japan, on Friday, and the Reagan Carrier Strike Group (CSG) is now underway in the Philippine Sea.
In Sasebo, Japan
The America Amphibious Ready Group is in Sasebo, Japan.
In the Western Pacific
Legend-class National Security Cutter USCGC Munro (WMSL-755) is in the Western Pacific on the tail end of a deployment to U.S. 7th Fleet.
In the Persian Gulf
USS Bataan (LHD-5) and USS Carter Hall (LSD-50), with elements of the 26th Marine Expeditionary Unit embarked, are now in the Persian Gulf.
Battan and Carter Hall's arrival earlier this year is the first time an ARG has been in U.S. 5th Fleet since the Essex Amphibious Ready Group departed 5th Fleet in January 2022.
Embarked units include Amphibious Squadron 8, 26th MEU(SOC), Fleet Surgical Team 8, Tactical Air Control Squadron 21, Helicopter Sea Combat Squadron 26, Assault Craft Unit 2, Assault Craft Unit 4 and Beach Master Unit 2. The 26th MEU (SOC), based at Camp Lejeune, N.C., includes Battalion Landing Team 1st Battalion, 6th Marines; Marine Medium Tiltrotor Squadron 162 (Reinforced) and Combat Logistics Battalion 22.
U.S. Coast Guard Sentinel-class Fast Response Cutters (FRCs) are forward-deployed to the region under Patrol Forces Southwest Asia (PATFORSWA). PATFORSWA deploys Coast Guard personnel and ships alongside U.S. and regional naval forces throughout the Middle East. Initially deployed in 2003 to support Operation Iraqi Freedom, PATFORSWA is now a permanent presence based out of the Kingdom of Bahrain.
In the Mediterranean Sea
Carrier Strike Group 12
Carrier
USS Gerald R. Ford (CVN-78), homeported at Norfolk, Va.
Carrier Air Wing 8
The "Ragin' Bulls" of Strike Fighter Squadron (VFA) 37 – F/A-18F – from Naval Air Station Oceana.
The "Blacklions" of VFA 213 – F/A-18F – from Naval Air Station Oceana.
The "Golden Warriors" of VFA 87 – F/A-18F – from Naval Air Station Oceana.
The "Tomcatters" of VFA 31 – F/A-18F – from Naval Air Station Oceana.
The "Gray Wolves" of Electronic Attack Squadron (VAQ) 142 – EA-18G – from Naval Air Station Whidbey Island, Wash.
The "Bear Aces" of Airborne Command and Control Squadron (VAW) 124 – E-2D – from Naval Air Station Norfolk, Va.
The "Rawhides" of Fleet Logistics Support Squadron (VRC) 40 – C-2A – from Naval Air Station Norfolk.
The "Spartans" of Helicopter Maritime Strike Squadron (HSM) 70 – MH-60R – from Naval Air Station Jacksonville, Fla.
The "Tridents" of Helicopter Sea Combat Squadron (HSC) 9 – MH-60S – from Naval Air Station Norfolk.
Cruiser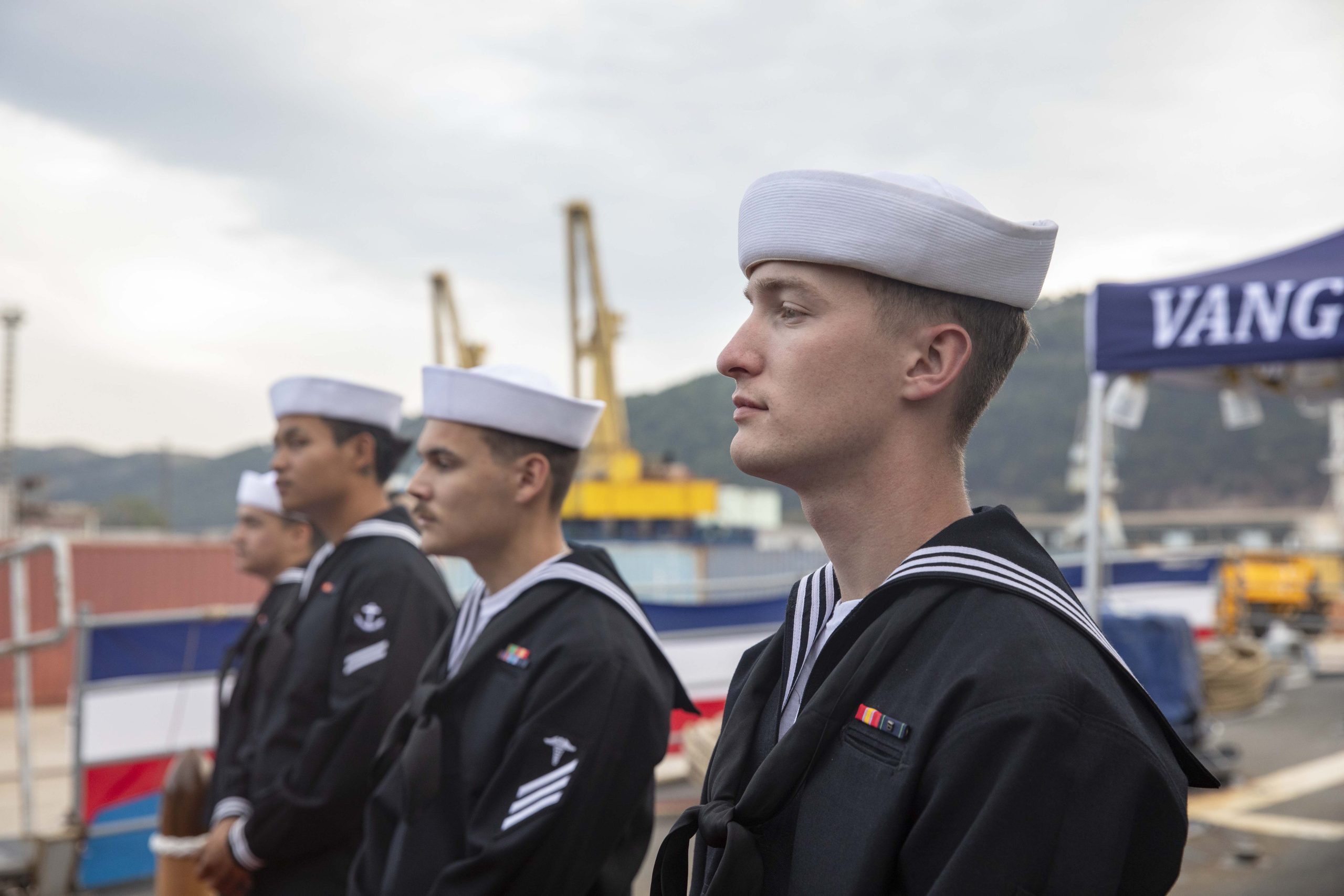 Operations Specialist Seaman Alexzander Combs, assigned to the Ticonderoga-class guided-missile cruiser USS Normandy (CG-60), stands sideboy, as the ship hosts a reception for Montenegrin civic and military leaders in Bar, Montenegro, Sep. 20, 2023. US Navy Photo
USS Normandy (CG-60), homeported at Norfolk, Va.
Destroyer Squadron 2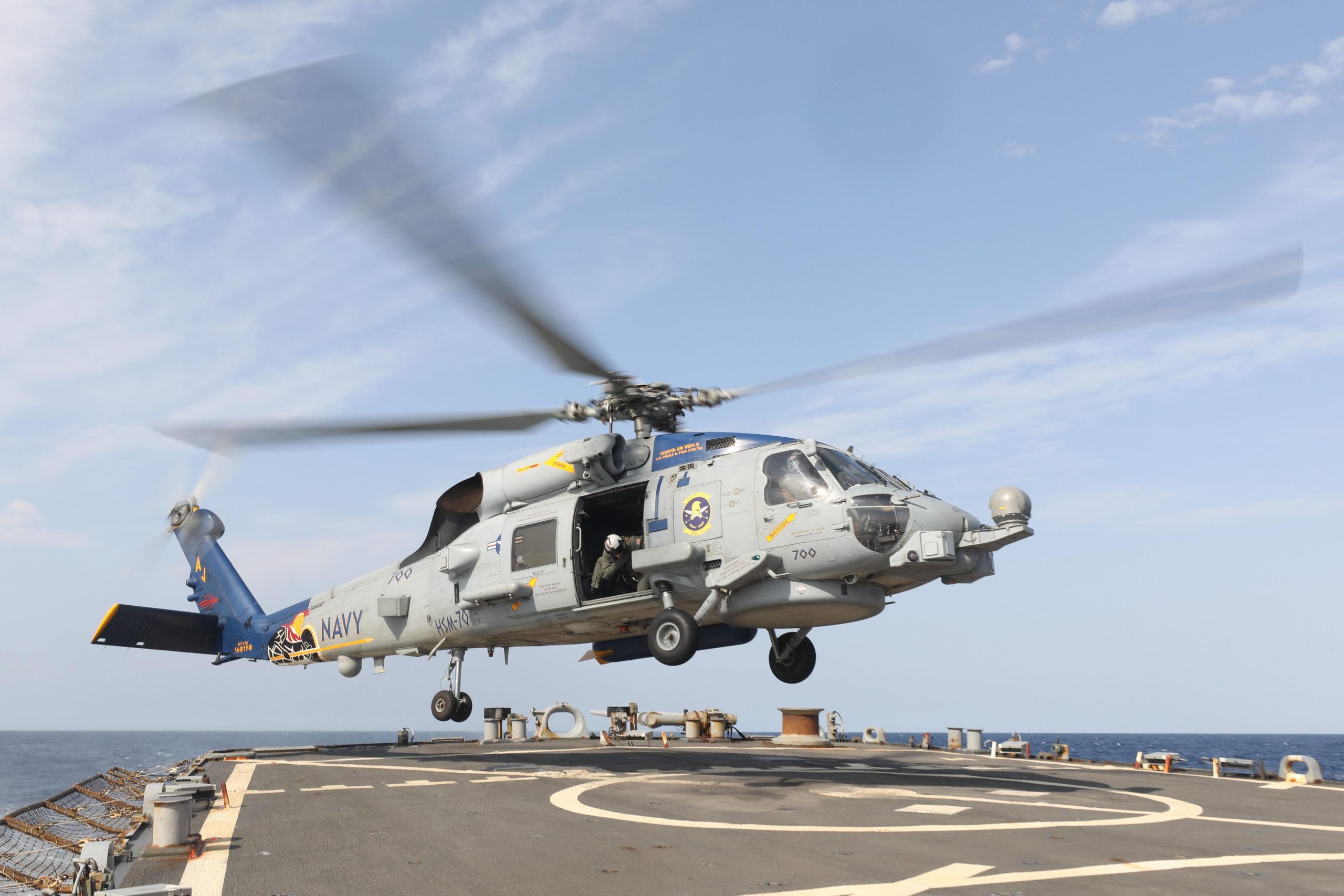 An MH-60R Sea Hawk, assigned to the 'Spartans' of Helicopter Maritime Strike Squadron (HSM) 70, lands for a parts transfer onboard Arleigh Burke-class guided-missile destroyer USS Ramage (DDG-61), Sep. 26, 2023. US Navy Photo
Destroyer Squadron 2 is based in Norfolk, Va., and is embarked on Ford.
USS Ramage (DDG-61), homeported at Norfolk.
USS McFaul (DDG-74), homeported at Norfolk.
USS Thomas Hudner (DDG-116), homeported at Mayport, Fla.
In the Eastern Atlantic
San Antonio-class amphibious transport dock USS Mesa Verde (LPD-19) and embarked 26th Marine Expeditionary Unit (Special Operations Capable) Bravo Command Element completed exercise Northern Coasts 2023 on Sept. 22 and transited the English Channel on Sep 28. The amphibious warship is now off the coast of Spain near Naval Station Rota.
Mesa Verde is part of the Bataan Amphibious Ready Group (ARG). The other two ships in the Bataan ARG are currently operating in U.S. 5th Fleet.
In Tromsø, Norway
Coast Guard icebreaker USCGC Healy (WAGB-20) completed the 2023 U.S. National Science Foundation (NSF) over the weekend. The team aboard serviced the Nansen and Amundsen Basins Observational System (NABOS) and is now in port in Norway.
"The month-long mission's objective was to recover, service, and replace an array of nine long-term subsurface moorings that encircled the Siberian shelf from the Eurasian Basin to the East Siberian Sea," reads a statement from the Coast Guard.
"These moorings provide insight into how warm water from the Atlantic Ocean enters the Arctic, impacting the deep basin interior, upper ocean, and sea ice as it circulates in the region and beyond."
The cutter left Seattle, Wash., on July 11.
In addition to these major formations, not shown are others serving in submarines, individual surface ships, aircraft squadrons, SEALs, Special Purpose Marine Air-Ground Task Forces, Seabees, EOD Mobile Units and more serving throughout the globe.