The Nimitz Carrier Strike Group and Makin Island Amphibious Ready Group are on standby to assist in disaster relief efforts on Guam after Super Typhoon Mawar blew over the island on Wednesday, USNI News has learned.
The Pentagon directed aircraft carrier USS Nimitz (CVN-68), embarked Carrier Air Wing 17 and the carrier strike group escorts to aid civil authorities if requested in a defense support of civil authorities (DSCA), two defense officials confirmed to USNI News.
As of Monday, the strike group was operating just to the south of Japan in the Philippine Sea, according to the Monday edition of the USNI News Fleet and Marine Tracker.
The three-ship Makin Island Amphibious Ready Group and the embarked 13th Marine Expeditionary Unit is also on standby should it need to help with relief efforts, a Navy official confirmed to USNI News. The ARG/MEU was operating in the vicinity of Hawaii as of Monday, according to the Fleet Tracker.
In the ongoing debate over the future amphibious force, the Marines have emphasized the MEU's ability to provide humanitarian aid and disaster relief support for civil authorities. As the Marine Corps in the last few years has overhauled its forces to prepare for potential conflict with China in the islands of the western Pacific, officials have repeatedly maintained the importance of the crisis response mission.
The eye of Mawar blew near Guam with winds as high as 140 miles per hour, according to the National Weather Service.
"Fierce winds and rain reportedly created white-out conditions around the island, and residents were reporting flooding in their homes overnight. NWS Guam reported waves up to 28 feet high, and a flash flood warning was in effect," reported the Guam-based Pacific Daily News.
The island is still under a typhoon advisory, as are the nearby islands Saipan and Tinian.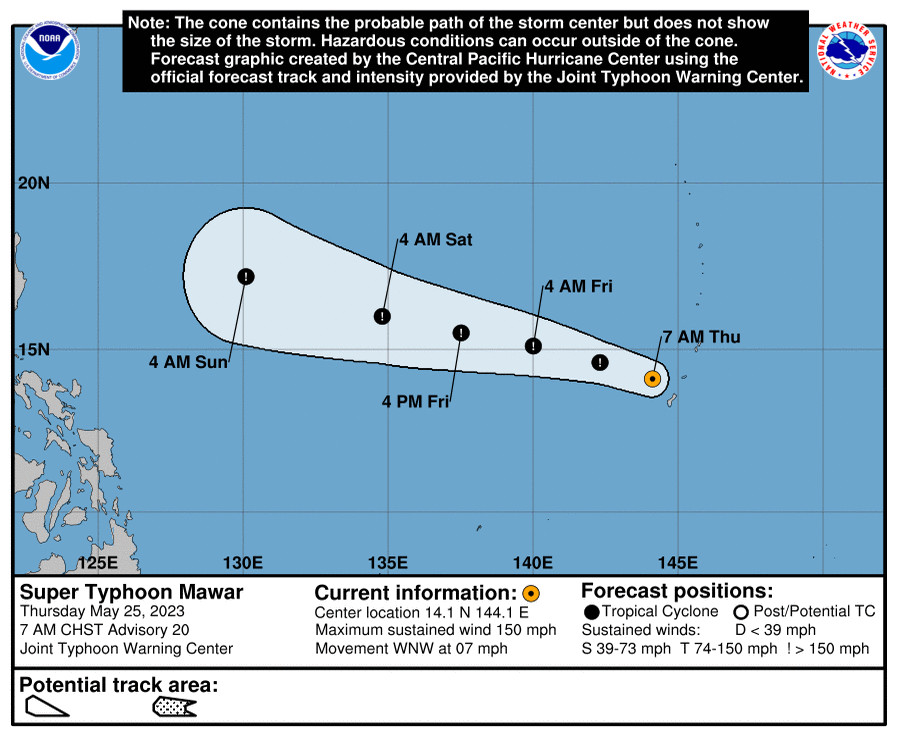 It's still unclear what kind of support the U.S. territory will require, as local officials are still assessing the damage from the typhoon.
Once the federal government determines its response plan, they will then ask the Pentagon for support under DSCA.