The following is the May 2, 2023, Congressional Research Service report, Egypt: Background and U.S. Relations,
From the report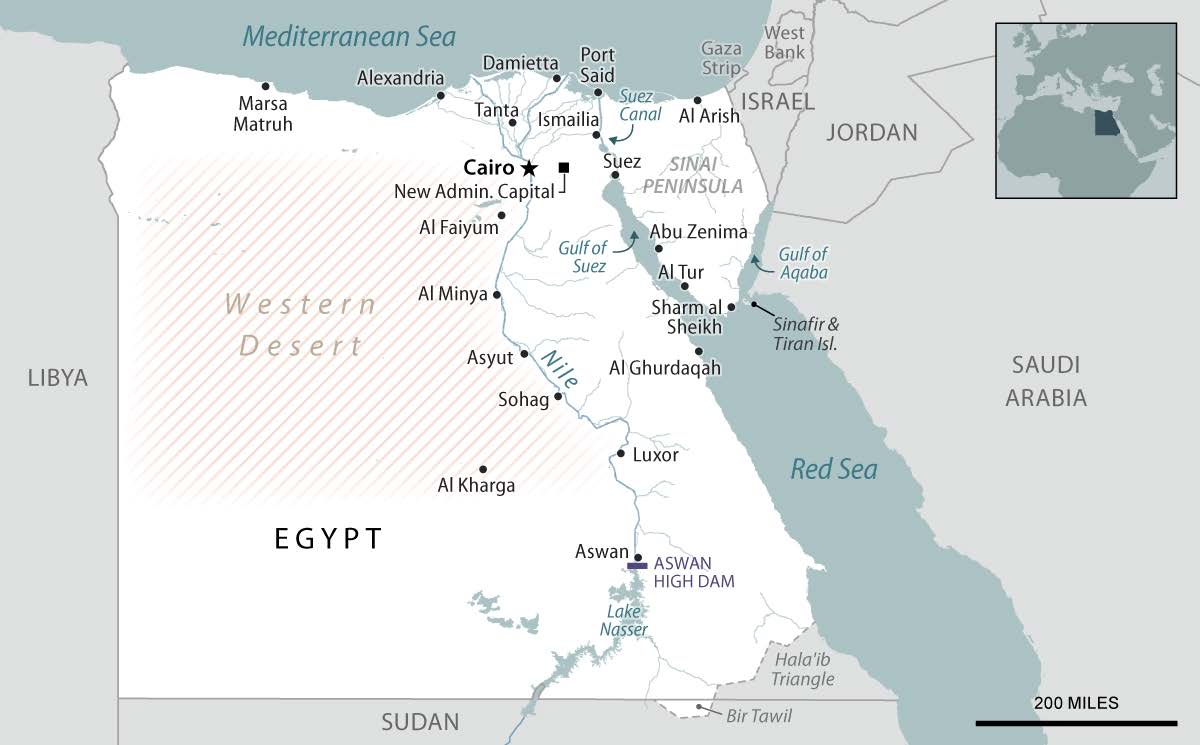 Historically, Egypt has been an important country for U.S. national security interests based on its geography, demography, and diplomatic posture. Egypt controls the Suez Canal, which opened in 1869 and is one of the world's most critical maritime chokepoints, linking the Mediterranean and Red Seas. As of 2023, an estimated 12% of global trade, including 7% of the world's oil, flows through the Suez Canal.
Egypt's population of more than 104 million people makes it by far the most populous Arabic-speaking country. Although today it may play a smaller political or military role in the Arab world than it has in the past, Egypt may retain some "soft power" by virtue of its history, media, and culture. Cairo hosts both the 22-member Arab League and Al Azhar University, which claims to be the oldest continuously operating university in the world and has symbolic importance as a leading source of Islamic scholarship.
Additionally, Egypt's 1979 peace treaty with Israel remains one of the most significant diplomatic achievements for the promotion of Arab-Israeli peace. While people-to-people relations remain limited, the Israeli and Egyptian governments have increased their cooperation against Islamist militants and instability in the Sinai Peninsula and Gaza Strip.
Since taking office, President Joseph Biden has balanced various considerations in his approach to U.S.-Egyptian relations, praising Egyptian diplomacy while signaling U.S. displeasure with Egyptian President Abdel Fattah al Sisi's continued domestic crackdown. In the two-and-a-half years since the United States started facilitating the historic Abraham Accords between Israel and various Arab states, Egypt, which has maintained its peace treaty with Israel since 1979, has earned praise from U.S. officials by increasing its diplomatic outreach to Israel.
Russia's February 2022 invasion of Ukraine and the ensuing war have negatively affected Egypt's food security, economy, and national budget. As a result, in late 2022, the International Monetary Fund (IMF) extended a $3 billion, 46-month Extended Fund Facility to Egypt predicated on a number of key reforms, such as the privatization of state-owned companies, including military-run corporations. Egypt also is looking for additional financial support from the Gulf Arab States, such as Saudi Arabia, the United Arab Emirates, and Qatar. However, these states have made it clear that additional aid to Egypt will no longer be granted unconditionally.
Since 1946, the United States has provided Egypt with over $87 billion in bilateral foreign aid (calculated in historical dollars—not adjusted for inflation), with military and economic assistance increasing significantly after 1979. Annual appropriations legislation includes several conditions governing the release of these funds. Successive U.S. Administrations have justified aid to Egypt as an investment in regional stability, built primarily on long-running cooperation with the Egyptian military and on sustaining the 1979 Egyptian-Israeli peace treaty. All U.S. military aid to Egypt finances the procurement of weapons systems and services from U.S. defense contractors.
For FY2024, the Biden Administration has requested $1.4 billion in bilateral assistance for Egypt, the same amount Congress appropriated the previous year. Nearly all of the U.S. funds for Egypt come from the Foreign Military Financing (FMF) account. Over the past two years, the Biden Administration and Congress have reprogrammed a total of $335 million in FMF originally designated for Egypt based on relevant provisions in appropriations law that withhold the obligation of a portion of FMF until the State Department certifies progress on democracy and human rights.
Download the document here.