The following is the April 26, 2023 Congressional Research Service In Focus report, Taiwan: Political and Security Issues.
From the report
Taiwan, which officially calls itself the Republic of China (ROC), is a self-governing democracy of 23 million people located across the Taiwan Strait from mainland China. U.S.-Taiwan relations have been unofficial since January 1, 1979, when the United States established diplomatic relations with the People's Republic of China (PRC) and broke them with the ROC. As a condition for diplomatic relations with the PRC, the U.S. government agreed to withdraw U.S. military personnel from Taiwan within four months and to terminate the U.S.-ROC Mutual Defense Treaty effective January 1, 1980. The 1979 Taiwan Relations Act (TRA, P.L. 96-8; 22 U.S.C. §3301 et seq.) provides a legal basis for unofficial relations. See also CRS In Focus IF10256, U.S.-Taiwan Trade Relations.
The PRC's stated determination to unify with Taiwan; resistance to that prospect in Taiwan; and U.S. security interests and commitments related to Taiwan have led some U.S. policymakers, including some Members of Congress, to expand efforts to deter armed conflict over Taiwan.
Modern History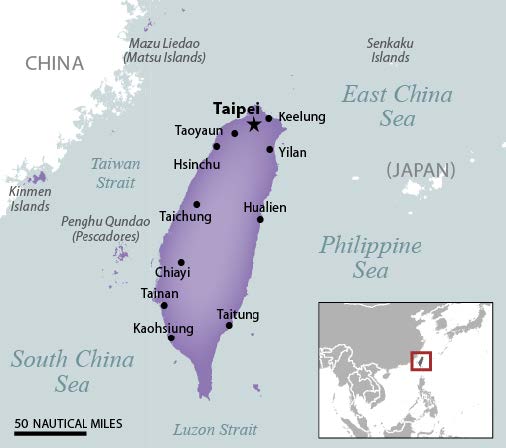 Taiwan was a colony of Japan from 1895 to 1945. The ROC, then based on mainland China, assumed control of Taiwan in 1945, after Japan's defeat in World War II. Four years later, after losing a civil war to the Communist Party of China (CPC), the ROC's then-ruling party, the Kuomintang (KMT), moved the ROC government from mainland China to Taiwan. Until 1991, the KMT continued to assert that the ROC government on Taiwan was the sole legitimate government of all China. In 1971, however, U.N. General Assembly (UNGA) Resolution 2758 recognized the PRC's representatives as "the only legitimate representatives of China to the United Nations," and expelled "the representatives of Chiang Kai-shek," the ROC's then-leader. Taiwan remains outside the U.N.
The KMT maintained authoritarian one-party rule on Taiwan until 1987, when it yielded to public pressure for political liberalization. The May 2016 inauguration of President Tsai Ing-wen of the Democratic Progressive Party (DPP) marked Taiwan's third peaceful transfer of political power from one party to another. Tsai won a second four-year term in 2020, and her party retained its majority in Taiwan's parliament, the 113-member Legislative Yuan.
Taiwan is to hold presidential and legislative elections on January 13, 2024. After two consecutive terms as President, Tsai is ineligible to run again. Vice President Lai Ching-te (William Lai) is the DPP nominee to succeed her. He has sought to present his party as the stronger defender of democracy. The KMT, now Taiwan's main opposition party, has yet to select its presidential candidate. It portrays itself as better positioned to lower tensions with the PRC and head off conflict. Also running is Ko Wen-je of the Taiwan People's Party, a former Taipei mayor, who is seeking to draw voters from both the DPP and KMT.
President Tsai traveled overseas in the spring of 2023, with transit stops in the United States. House Speaker Kevin McCarthy met with Tsai in California, becoming the highest-ranking U.S. official to meet with a Taiwan President on U.S. soil in the era of unofficial relations. The PRC condemned the meeting, with the CPC's Taiwan Work Office citing it as evidence that the DPP is "clinging to U.S. support to seek independence." The PRC's response included three days of joint military exercises around Taiwan and an announcement from a provincial maritime safety administration of a "special joint patrol and inspection operation" of vessels in the Taiwan Strait, an apparent attempt to demonstrate PRC sovereignty over those waters. Taiwan authorities advised shipping companies to refuse PRC attempts to board or inspect their vessels; no such attempts were reported.
Download the document here.