ABOARD USS MOUNT WHITNEY, IN THE BALTIC SEA – Six flag and general officers' staffs roam the ship, moving from individual offices to the operations center hub and back again to command and control multinational forces at sea and ashore.
The complexity of commanding an exercise from a ship at sea is often underestimated, and the technical setup required varies from exercise to exercise based on specifically who is trying to communicate to whom and where.
That's where the experts aboard USS Mount Whitney (LCC-20) come into play.
One of two Blue Ridge-class command and control ships in the fleet, Mount Whitney serves as the U.S. 6th Fleet command ship and would be the platform from which operations would be controlled if a war were to occur in theater.
Commanding Officer Capt. Cassidy Norman told USNI News that, though a war could be commanded from ashore, the LCC provides the American leadership the autonomy of operating from international waters and not politically tying host nations – like Italy, where 6th Fleet is headquartered – to American actions.
"You won't be able to command from ashore unless the host country agrees and has the same position that we take as the United States. And that rarely happens," Norman said while USNI News was embarked on Mount Whitney during the BALTOPS 2019 exercise last month.
"In a real wartime situation, they need to be at least 12 miles off the coast in international waters so that we do not associate the great coasts around the world with our political actions at sea."
Norman said 6th Fleet Commander Vice Adm. Lisa Franchetti has been especially keen on practicing operating at sea and has spent significant time aboard Mount Whitney.
"They just come to work on the ship, and it's not necessarily conducting a large exercise … but they need to work from the ship to make sure that we work together as a unified team. It's very valuable for us to understand what they need, what their current and evolving needs are as time goes on, and it's very important for them to understand the differences between working in a building in Italy near Naples and on a ship out here," the captain said.
Whereas an aircraft carrier offers the embarked air wing a flight deck and maintenance space, and an amphibious ship offers embarked Marines the ability to operate and maintain aircraft and surface connectors, the LCC offers its embarked staffs the ability to connect into the fleet's common operating picture, decide on war plans, and communicate those plans with the rest of the fleet.
The ship's modular design means that the computer gear is constantly being reconfigured to meet the exact needs of whatever staff is embarked for an exercise or at at-sea working period. For BALTOPS, for example, the six starred officers included one Marine general whose focus was the littorals and the land instead of blue waters, as well as a British admiral who did not have access to American-only classified systems and had to be able to communicate through both unclassified and secure networks accessible to all NATO partners.
Norman said it took weeks of preparation ahead of time to make sure the computer systems and other supporting technology were all right, but he said that's what the ship is designed to do.
"We are designed to handle multiple staffs. And it's important to understand that when we have staffs out here, they have multiple roles – even the same commander may be in charge of multiple different organizations, or we may be involved in an exercise with our allies and partners and friends but we have to maintain a real battle watch for actual conditions around the world," he said.
"So this ship gives us the capability to provide those staffs different rooms and different communications suites tailored to their needs so that they can do everything that they need to do ashore and they can be embarked for exercises."
Even as Mount Whitney was sailing from its Gaeta, Italy homeport to the Baltic Sea for BALTOPS, it had a team onboard prepping for Franchetti's 6th Fleet staff to come aboard for at-sea practice just a week after BALTOPS ended.
Executive Officer Cmdr. Alexander McMahon said during the interview that the ship's crew has been much busier than people realize: between being out for exercises and operations and conducting maintenance outside of the Gaeta homeport, the team has been away from home for more than 300 days in the past 16 months.
For as busy as the ship is, it is the second oldest ship in active commission, and the Navy has tried multiple times without success to figure out what kind of replacement it wants for its pair of LCCs.
Norman said Mount Whitney is in good shape for now, but the hull presents some unique challenges.
"We are one of the few ships that still is operated on steam power. We have a single propeller. Our engineering has done a great job maintaining the basics of the ship's performance," he said, but the ship is 48 years old.
The modular nature of the ship means that whatever computer gear a command needs can be brought onto the ship, and the ship just needs to be able to power those systems.
"Really we just need to make sure we have the power generated downstairs to generate the steam that turns the turbines that provides electricity. And this ship is outfitted with what I consider very very large batteries, so those generators provide energy to keep the batteries charged, and if we were to lose our generator power we still have the batteries that provide power to all of our electronics," he said.
"So it's considered a backup … so that our admirals won't lose their ability to speak. We remain that 'voice of the sea,'" he said, referencing the ship's motto.
In 2015 the Navy put Mount Whitney into a maintenance availability meant to extend the ship's life out to 2039 – which would put the ship at 68-years-old at decommissioning. Still, the service and shipbuilders have kicked around ideas since then for new command and control ships, especially those based on existing designs – and some based on existing commercial ship designs, much to the frustration of some in the Navy.
Norman said previous Mount Whitney leadership had been involved in talks with the Navy about what a replacement ship would need.
"There's obviously considerations of using some other ships, off the shelf ships that we have, but none of those (designs) that are recommended seemed very feasible to us because we know what the staffs want," the captain said.
"[The former CO's] recommendation was to use an LPD; instead of being well deck and the capability to deploy Marines and their equipment, convert that to spaces for the staff like we have here, because it's already a tried and true configuration. And it would have the seaworthiness and survivability and seamanship capability that we have here."
McMahon added that, while a commercial vessel design would save money upfront, using the San Antonio-class LPD design would also save money throughout the life of the ship.
"In the study, one of the strengths of using the LPD model is it's a program of record and the training pipelines for sailors would all be very standardized throughout the fleet. So it would make the ability to integrate into the fleet much easier," the XO said.
Norman added that, even though Mount Whitney's arsenal is defensive in nature, the ship needed to be built to warship standards.
"We are operating out in the water well away from land, in rough weather, and being able to host a large number of spaces and communications suites that you need – none of the other ships besides that LPD could actually replicate what we have on this very old, tried and true LCC design," he said.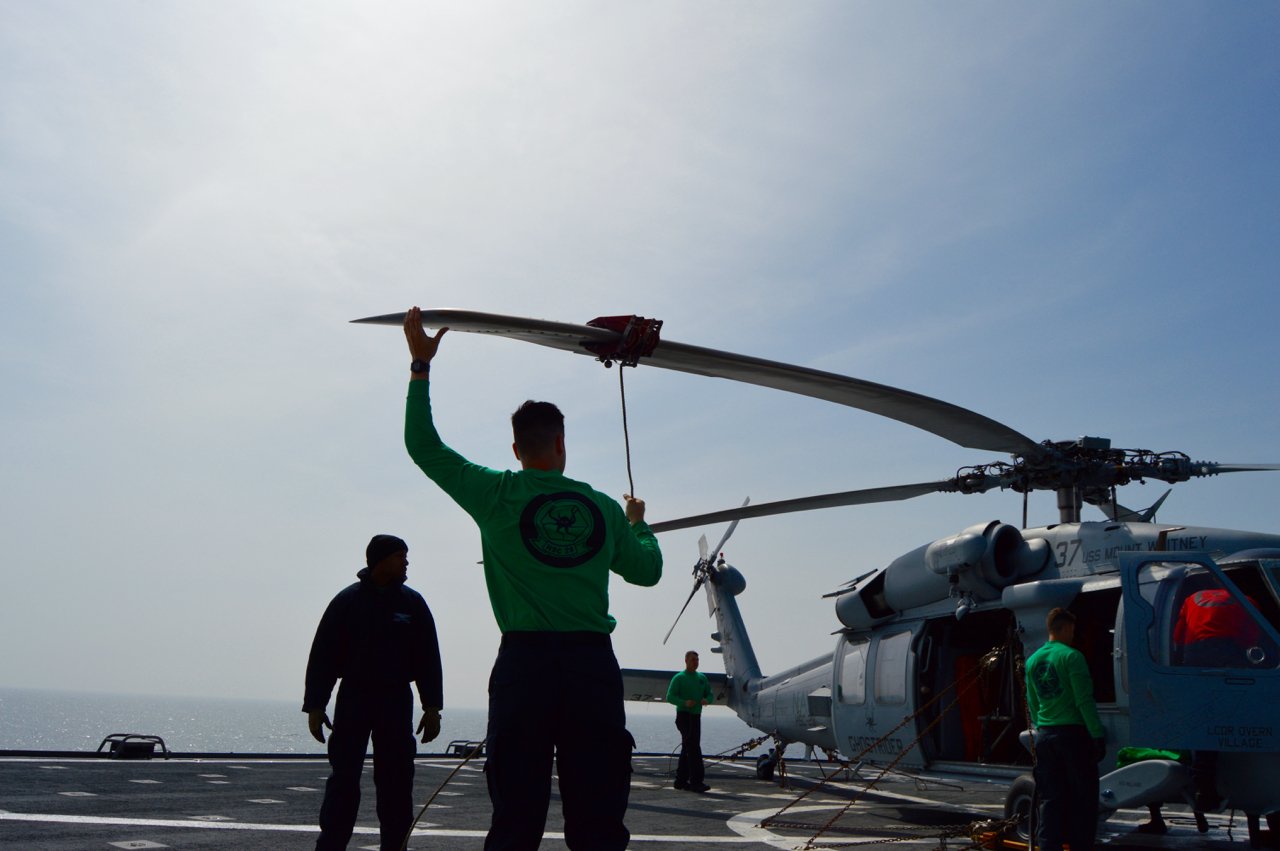 Until the Navy decides what to do next, Mount Whitney will continue supporting operations in Europe and adding to the ship's historical legacy. Norman said the LCC had operated all over the world, from the Caribbean to the North Atlantic and the Mediterranean into Asia.
"She was the first warship to permanently have females as part of ship's company. We were for a long time the flagship for 2nd Fleet and operated off the East Coast of the United States," he said of the ship's history.
"But then we transitioned to hybrid crewing, with both [civilian mariners] and active-duty sailors, and we've been in 6th Fleet for quite a while," he said, noting that BALTOPS was the first time Mount Whitney had hosted 2nd Fleet staff in 15 years.
"This reunion with 2nd Fleet is actually quite interesting. But our main role as a command and control ship hasn't changed much over the years."