The following is the May 28, 2019 report, Defense Primer: 75th Anniversary of D-Day, June 6, 1944 report from the Congressional Research Service.
From the Report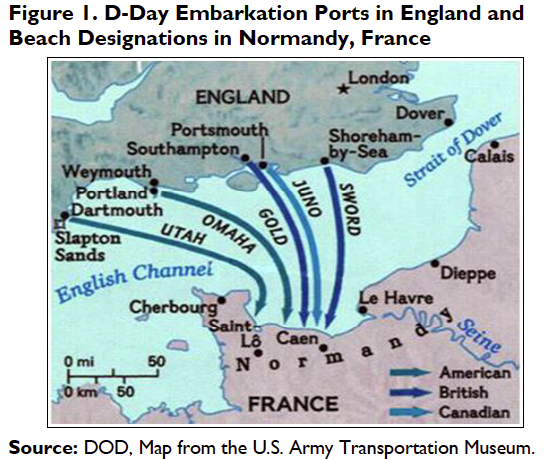 June 6, 2019, marks the 75th anniversary of the historic amphibious landing by Allied Forces on the coast of Normandy, France, on June 6, 1944, during World War II (1939-1945). D-Day marked the beginning of the Allied campaign to liberate Europe from Nazi Germany.
What is the "D" in D-Day?
The "D" in D-Day is the designation for the first day of any important invasion or military operation. The days before and after a D-Day are indicated using minus and plus signs, (i.e., D-1 means one day before (June 5) while D+7 means seven days after D-Day (June 13)).
D-Day Preparation and Operations
At the Tehran Conference in August 1943, Allied leaders decided that a cross channel assault was crucial to defeat Nazi Germany. In January 1944, General Dwight D. Eisenhower became Supreme Allied Commander and took charge of Operation OVERLORD, the codename given to the combined land, naval and air operation. Tens of thousands of troops, with equipment and supplies, gathered in England in preparation for the assault.
Download the report here.