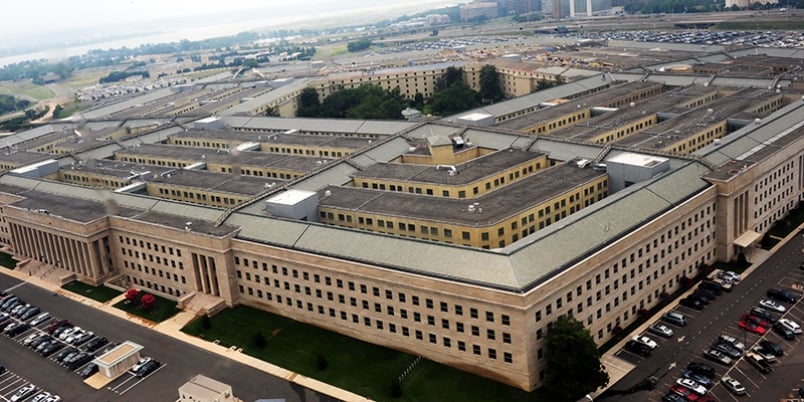 WASHINGTON, D.C. – The Pentagon is banking on billions in savings through operational efficiencies to sustain and modernize the military but if the plan doesn't work the Department of Defense may have to cut major weapons programs to make up the difference, a defense expert told reporters on Thursday.
Between Fiscal Year 2019 and 2023, the Pentagon expects to save roughly $46 billion by cutting waste in the department. But at a time when future budgets are expected to remain flat at best, relying on cutting fat doesn't leave the Pentagon with many choices, Todd Harrison, the director of defense budget analysis at the Center for Strategic and International Studies said. The current defense budget doesn't come close to accomplishing those savings, yet Harrison said future budget projections rely on those savings.
"The biggest problem looking at FY '21 and beyond is they're already assuming those efficiencies," Harrison said of the Pentagon's spending plans. "If they can't find them, they have to either ask for more funding or cut more. They'll have to cut meat instead of fat."
However, Harrison said most of the Navy's major programs, such as the Ford-class nuclear aircraft carrier, the F-35C Lighting II Joint Strike Fighter and the new Columbia-class submarine will likely avoid significant cuts.
"The big program they have is the Columbia-class submarine," Harrison said. "That program, I think, is very protected because that is the most survivable leg of the nuclear triad."
The nuclear-powered Columbia-class is intended to replace the aging Ohio-class ballistic missile submarine and has been called the service's number one budget priority. In a tight budget scenario, Harrison said the Navy would do everything it can to keep the new Columbia-class submarines production on schedule.
The Navy could slow the pace of Virginia-class submarine production, down to one per year, he said. Or, in a funding squeeze, Harrison said the Navy could scrap its plan to build the new next-generation frigate (FFG(X)).
"That's one that since it doesn't have a constituency yet, it's going to be more at risk politically," Harrison.
The Army might have to rethink some of its ground vehicle programs, and the Air Force could face tough choices pitting expanding its force against modernizing its force, Harrison said.
Harrison and CSIS colleague Seamus Daniels were discussing their Analysis of the FY 2019 Defense Budget, which was released earlier in the day. Harrison expects Congress will ultimately hammer out a spending plan for FY 2020 and 2021, similar in size to the approved FY 2019. Complicating the process, he added, are the budget caps, which are still in place from the Budget Control Act of 2011.
In FY 2020, the Pentagon estimates an $84 billion budget increase, Harrison said. For the following year, the Pentagon estimates an $87 billion budget increase. But Congress will need to work out a budget deal to increase the BCA spending caps to approve such increases, Harrison said.
"I think it's going to be a long, hard drawn-out fight," he said.
Harrison's prospect of flat defense budgets is already being talked about inside the defense industry. During a recent spate of conference calls with Wall Street analysts, several defense industry executives echoed the same theme — expect less Pentagon spending.
Huntington Ingalls Industries CEO Mike Petters described the current defense industry budget environment as the most exciting time for shipbuilding, during an August conference call. Petters also said he wasn't sure the increased defense spending would continue into the next budget cycle.
Other defense industry leaders also cautioned analysts about expecting increased Pentagon spending to carry on much longer. Bruce Tanner, the chief financial officer of Lockheed Martin, said the company's recent track record of landing defense contracts is probably the upper end of what to expect for now and future years.
The way the Pentagon has paid for fighting in Afghanistan, Iraq, and more recently against Islamic State forces in Syria will likely cause a budget deal delay or even spur cuts. For years those operations were funded with Overseas Contingency Operations (OCO) money over and above the Pentagon's annual base budget request.
Harrison said the Pentagon plans to move several OCO funded programs into the base budget. Doing so will mean these programs, worth about $53 billion, will also count against the existing sequestration funding caps.
"Not only do they need an additional $84 billion for next year, for FY '20; they need another $53 billion on top of that to cover all that OCO funding coming back into the base budget," Harrison said.
When developing FY 2020 budget requests, Harrison advised the service branches to build flexibility into when programs need to be funded and to plan on being able to scale their funding.
"The FY 20 budget request comes out in February, or it's supposed to, and I don't think we'll have resolution on that until probably a year and a half from now," Harrison said. "I'd be looking at the spring of 2020 of when we might actually get close to a budget deal."