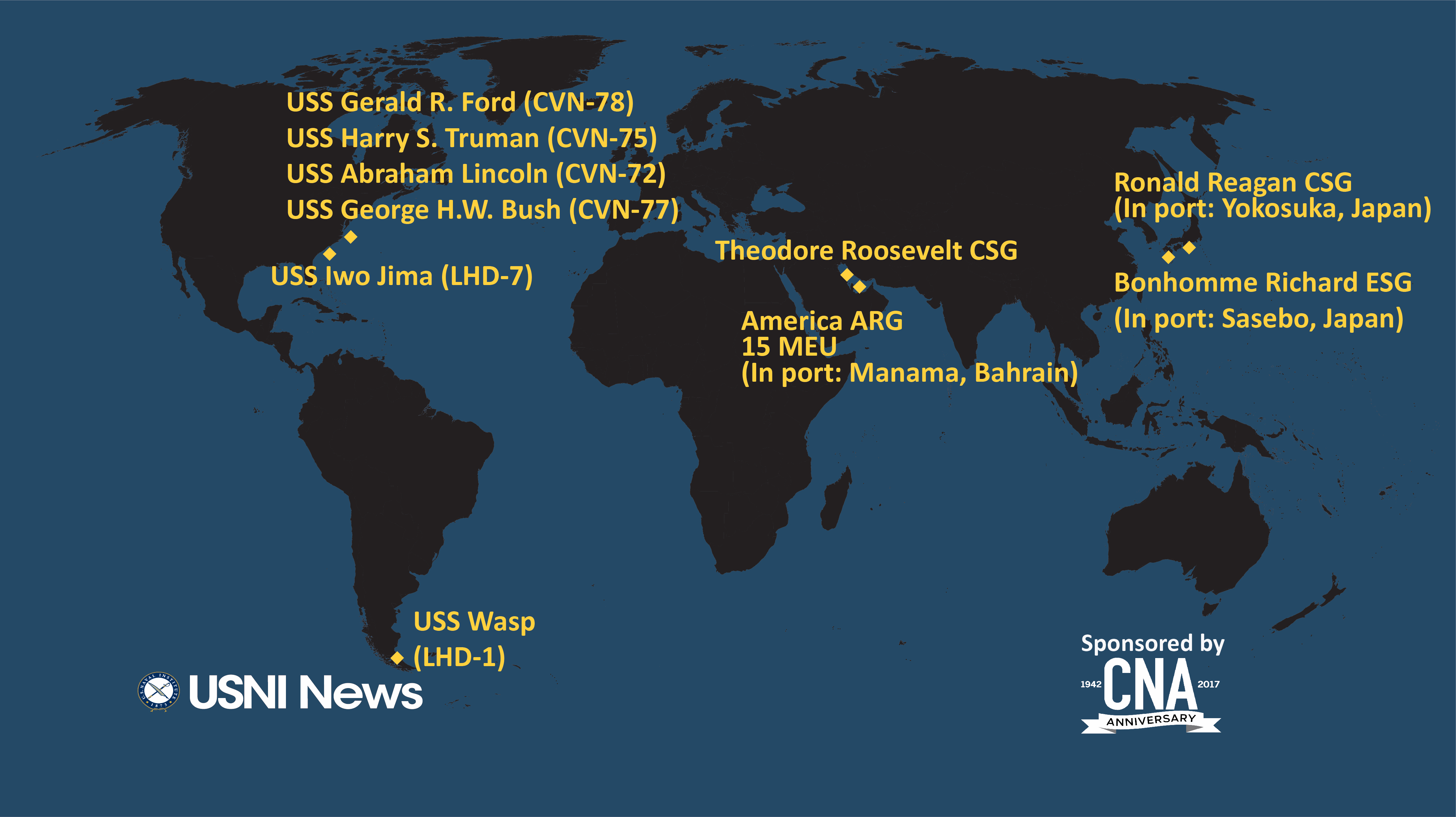 The USNI News Fleet and Marine Tracker is sponsored by CNA.
These are the approximate positions of the U.S. Navy's deployed carrier strike groups and amphibious ready groups throughout the world as of Dec. 11, 2017, based on Navy and public data. In cases where a CSG or ARG is conducting disaggregated operations, the map reflects the location of the capital ship.
Total U.S. Navy Battle Force:
279
Ships Underway
| | | |
| --- | --- | --- |
| Deployed Ships Underway | Non-deployed Ships Underway | Total Ships Underway |
| 35 | 33 | 68 |
Ships Deployed by Fleet
| | | | | | | |
| --- | --- | --- | --- | --- | --- | --- |
| Fleet Forces | 3rd Fleet | 4th Fleet | 5th Fleet | 6th Fleet | 7th Fleet | Total |
| 0 | 1 | 1 | 24 | 14 | 52 | 92 |
In the Western Pacific
The Ronald Reagan Carrier Strike Group is in port in Yokosuka, Japan, after completing a deployment to the Western Pacific.
The Bonhomme Richard Expeditionary Strike Group (ESG) is in Sasebo, Japan.
In the Eastern Pacific
Aircraft carrier USS Nimitz (CVN-68) returned to its homeport of Bremerton, Wash., on Sunday. Destroyer Squadron 9 ships USS Shoup (DDG-86) and USS Kidd (DDG-100) returned to Everett, Wash.
U.S. Navy and Marine Corps helicopters are assisting local officials in fighting the ongoing wildfires in California. In addition to multiple fires blazing in the Los Angeles area, one in San Diego County near Camp Pendleton has burned for several days despite the efforts of fire fighters on the ground and in the air, assisted by military aircraft.
In the Persian Gulf
The Theodore Roosevelt Carrier Strike Group (CSG) is conducting air strikes in support of Operation Inherent Resolve. The CSG commenced air strikes on Dec. 1.
Carrier Strike Group 9
Aircraft carrier:
USS Theodore Roosevelt (CVN-71) homeported in San Diego, Calif.
Carrier Air Wing 17
CVW 17 is embarked aboard Theodore Roosevelt and includes nine squadrons and detachments:
The "Stingers" of Strike Fighter Squadron (VFA) 113 from Naval Air Station Lemoore, Calif.
The "Mighty Shrikes" of VFA-94 from Naval Air Station Lemoore, Calif.
The "Redcocks" of VFA-22 from Naval Air Station Lemoore, Calif.
The "Checkerboards" of Marine Fighter Attack Squadron (VMFA) 312 from Marine Corps Air Station Beaufort, S.C.
The "Cougars" of Electronic Attack Squadron (VAQ) 139 from Naval Air Station Whidbey Island, Wash.
The "Sun Kings" of Carrier Airborne Early Warning Squadron (VAW) 116 from Naval Air Station Point Mugu, Calif.
The "Providers" of Fleet Logistics Support Squadron (VRC) 30 from Naval Air Station North Island, Calif.
The "Indians" of Helicopter Sea Combat Squadron (HSC) 6 from Naval Air Station North Island, Calif.
The "Battlecats" of Helicopter Maritime Strike Squadron (HSM) 73 from Naval Air Station North Island, Calif.
Destroyer Squadron 23
The leadership of DESRON 23 is embarked aboard Theodore Roosevelt and commands the CSG's guided-missile destroyers.
USS Sampson (DDG-102) homeported in Everett, Wash.
USS Preble (DDG-88) homeported in Pearl Harbor, Hawaii
USS Halsey (DDG-97) homeported in Pearl Harbor, Hawaii
Guided-missile Cruiser
USS Bunker Hill (CG-52) homeported in San Diego, Calif.
The America Amphibious Ready Group (ARG), 15th Marine Expeditionary Unit (MEU) and Amphibious Squadron (PHIBRON) 3 are in port Manama, Bahrain. Bahrain is also the home of the U.S. Navy's 5th Fleet.
The ARG includes amphibious assault ship USS America (LHA-6), amphibious dock landing ship USS Pearl Harbor (LSD-52) and amphibious transport dock USS San Diego (LPD-22). In peacetime, ARGs often operate in disaggregated fashion. For instance, on this deployment, San Diego has spent a significant amount of time operating in the Mediterranean Sea, far from the other ARG elements.
In the Western Atlantic
USS Iwo Jima (LHD-7) remains underway conducting a Combined Composite Training Unit Exercise (COMPTUEX) with Marines of the 26th MEU.
USS Gerald R. Ford (CVN-78) is underway – steaming independently – for training. The ship was officially commissioned in July and will conduct significant training prior to the carrier's first fleet deployment in the early 2020s.
USS Harry S. Truman (CVN-75) is "currently underway conducting carrier qualifications in preparation for future operations," according to the service.
USS Abraham Lincoln (CVN-72) is underway – steaming independently – for training. Lincoln returned to the fleet after spending four years in a mid-life Refueling and Complex Overhaul earlier in 2017.
"The aircraft carrier was redelivered on May 12, after four days of sea trials that tested the ship's systems and ensured the carrier was ready to resume training and deploying. The Nimitz-class carriers are built to last 50 years, with an RCOH halfway through its service life to refuel the nuclear power plant, replace the flight deck and modernize computer and warfighting systems throughout the ship," reported USNI News in May.
USS George H. W. Bush (CVN-77) is underway – steaming independently – for training. Bush returned home from its last operational deployment on Aug. 21.
In the South Atlantic
USS Wasp (LHD-1) is off the coast of South America and currently transiting the Strait of Magellan near the southern borders of Argentina and Chile.
"Wasp is transiting to Sasebo, Japan, to conduct a homeport shift with USS Bonhomme Richard (LHD-6) as the flagship of amphibious forces in the U.S. 7th Fleet area of operations," according to the Navy.
When Wasp joins the Forward Deployed Naval Forces in Japan, the ship will be the first FDNF ship capable of operating the Marine variant of the F-35B Lighting II Joint Strike Fighter.
In addition to these major formations, not shown are thousands of others serving in submarines, individual surface ships, aircraft squadrons, SEALs, Special Purpose Marine Air-Ground Task Forces, Coast Guard cutters and more serving throughout the globe.