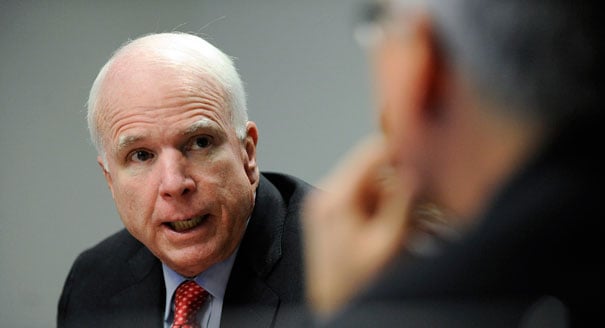 Outspoken Littoral Combat Ship and frigate critic Sen. John McCain (R-Ariz.) said today he is "cautiously optimistic" after reading the Navy's first official account of what the updated frigate requirements may look like, according to a statement from his office.
The Navy on Monday released a request for information to industry that included significant detail about the revised frigate, which has now been upgraded to a guided-missile frigate program and will included enhanced capabilities such as a more powerful radar and some type of missile launcher system, the details of which have yet to be determined.
The Senate Armed Services Committee chairman said in a statement that "I am cautiously optimistic regarding the request for information on a new Frigate program that the Navy released yesterday. This new Frigate must be more capable than the Littoral Combat Ship (LCS) program, with minor modifications. For example, the new Frigate's ability to perform local area air defense for convoys of ships would provide a necessary and clear capability improvement over the LCS program. I look forward to learning more about the new Frigate requirements and acquisition strategy, including how the Navy will deliver on time and on budget."
McCain has long criticized the LCS program, both due to cost overruns and schedule delays and due to the basic role of the ship in the Navy fleet. Back in 2010 McCain said the LCS program "has a long, documented history of cost overruns and production slippages." In 2014 he nearly blocked the confirmation of former Deputy Defense Secretary Robert Work over the LCS program, which Work had long championed.
In an LCS oversight hearing in December 2016, McCain stated that "Since the early stages of this program, I have been critical of fundamental LCS shortcomings. And here we are 15 years later with an alleged warship that according to [director of operational test and evaluation] assessments can't survive a hostile combat environment and has yet to demonstrate its most important warfighting functions, and a program chosen for affordability that, as the [Government Accountability Office] has reported, has doubled in cost with the potential for further overruns. Like so many major programs that preceded it, LCS's failure followed predictably from an inability to define and stabilize requirements, unrealistic initial cost estimates, and unreliable assessments of technical and integration risk, made worse by repeatedly buying ships and mission packages before proving they are effective and can be operated together."
Though this year in hearings he advocated a quick transition from the LCS to the frigate, McCain noted lingering concerns about the frigate requirements, saying in February that "the frigate acquisition strategy should be revised to increase requirements to include convoy air defense, greater missile capability and longer endurance. When you look at some of the renewed capabilities, naval capabilities, that both the Russians and the Chinese have, it requires more capable weapon systems."
The Navy had previously decided to build a frigate that would take either the Lockheed Martin Freedom-variant design (LCS-1) or Austal USA Independence-variant design (LCS-2) and turn it from the LCS – with interchangeable mission packages for either mine countermeasures, surface warfare or anti-submarine warfare – into a multi-mission frigate that would have both surface and anti-submarine warfare weapons permanently on the ship, as well as additional self-protection and offensive fire power. McCain did not feel the frigate plans went far enough, particularly disagreeing with the decision to not incorporate vertically launched missiles that could aid the ship in conducting air defense. The Navy's RFI in may ways does read like the previous frigate plans but does include requirements for a powerful radar and asks for industry input on how to best incorporate vertically launched missiles.
The two LCS builders, Austal USA and Lockheed Martin, released statements Monday following the Navy's RFI. Both companies intend to compete for the frigate program, which has been opened up to allow other domestic and foreign ship designers to compete as well.
Austal USA President Craig Perciavalle said, "Austal USA welcomes the Navy's FFG(X) RFI. With our hot LCS production line and highly skilled workforce, we are well prepared and very excited for this great opportunity to take the next step into future warfighting by expanding the capabilities of the Independence-variant LCS. We will work hard to provide a highly capable ship that answers the Navy's future needs for the FFG(X)."
Lockheed Martin spokesman John Torrisi told USNI News, "we look forward to sharing our vision for FFG(X) based on our Freedom-variant design with the U.S. Navy. Built to U.S. Navy shipbuilding standards, the Freedom-variant was designed from the keel up to be adaptable, scalable and responsive to the fleet's needs. We look forward to leveraging this flexibility and our naval systems integration experience to deliver a capable and low risk Frigate solution designed to support the Navy's vision for distributed fleet operations."