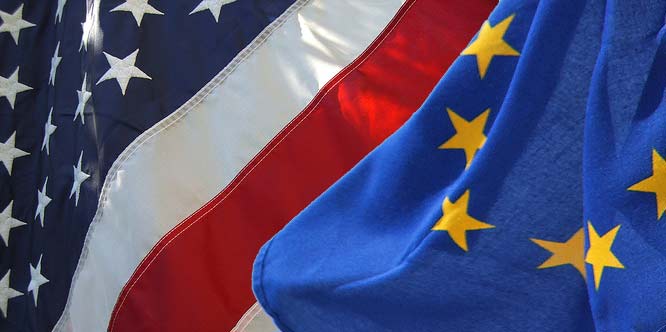 The U.S. and the European Union need to do a better job of sharing information immediately and in a secure way to best deter terrorist attacks, two senior international security officials said Monday.
But even after years of effort, the E.U. and the United States are not yet there.
Speaking at the Center for Strategic and International Studies, a Washington, D.C., think-tank, Francis Taylor, undersecretary for intelligence and analysis at the Department of Homeland Security, said, "the world of terrorist-inspired attacks has changed." While still including al Qaeda and its affiliates and the Islamic State, the threat is morphing to add "self-radicalized" men and women who are "often difficult to detect" as terrorists. Their attacks, such as that in San Bernardino, Calif., in December, can "occur with little or no warning."
H.W. M. "Dick" Schoof, the Netherlands coordinator for security and counterterrorism, said the evolving threat also is rising from fighters returning from Syria and Iraq, in part, because the Islamic State is losing ground there and because it wants to take its campaign for a caliphate to Europe.
Some fighters have entered Europe posing as refugees, and others as returning vacationers. In a number of cases, they have worked with or directed self-radicalized extremists to carry out attacks such as those on soft targets in Paris, Brussels and Istanbul, he said.
Schoof said it was important "to take all necessary steps that the right people have the right information at the right time." He listed such data as aircraft passenger information, persons returning from other abroad, refugee processing, fingerprints taken and lost or stolen passports.
He added that the EU, using a plan developed in the Netherlands, is working toward that goal while protecting civil liberties. It involves sharing of information with police, customs and border security inside a nation, across borders and with international law enforcement agencies such as Interpol and Europol, and keeping statistics on this data in all EU countries.
"There is a close connection between terrorism and crime."
Schoof said there is a new emphasis on interoperability of these various information systems across Europe and with partners such as the United States. He added that now security networks to share information about terrorist activities are secure.
Taylor, in answer to a question about what lessons have been learned from the early 20th century's wave of terrorist attacks, said today's advanced technology "is a force multiplier" for terrorists. He cited as an example al Qaeda's continuing effort to place undetectable explosives aboard aircraft.
In addition, there is the impact of social media. He estimated that 90,000 messages daily were being posted by radical extremist groups. Those messages play a role in the self-radicalization for young men and young women who download them "in the comfort of their own homes."
"What worries me is . . . how many young people are being taught hate in failed states" through social media, Taylor said. That "does create a longer term problem than we had in the past."
Schoof warned, "Government should not create its own fear" of different ethnic, racial and religious groups and danger all around, but "at the same time should underestimate that threat."
As for the United Kingdom's pending withdrawal from the EU, Schoof said, "We will work around it." Taylor said he United States has bilateral agreements with London to address terrorism.
While nations can mitigate the risk of terrorist attacks, they can't eliminate them, he said. "In the short, [the risk] is not going to get better."