The Navy's new planned class of ballistic missile submarines will be named in honor of the District of Columbia, two Navy officials confirmed to USNI News on Thursday.
According to a notification memo to Congress obtained by USNI News, the first ship in the next planned class of Navy nuclear ballistic missile submarines (SSBN(X))– also known as the Ohio replacement program — will be named USS Columbia.
Secretary of the Navy Ray Mabus' office is not releasing further information until the naming announcement, one Navy official told USNI News.
While the name Columbia for a U.S. ships and aircraft is not new – at least eight U.S. ships, a Space Shuttle and the Apollo 11 command module have all shared the name – it will be the first time the name has been used to commemorate the U.S. capital, the sources told USNI News.
The fleet's current USS Columbia (SSN-771) – a Los Angeles attack submarine – is named in honor of Columbia, S.C., Columbia, Ill and Columbia, Mo. The submarine is expected to decommission before the first SSBN(X) enters service.
Other ships in the fleet were named after the romantic female personification of the Americas – Columbia.
The Columbia-class is set to replace the current crop of 14 Ohio-class boomers starting with the first acquisition of Columbia in Fiscal Year 2021.
"The Navy's proposed FY2017 budget requests $773.1 million in advance procurement (AP) funding and $1,091.1 million in research and development funding for the Ohio replacement program," according to a May Congressional Research Service report.
The new boomers will feature a new life-of-boat reactor, an electric drive and field 16 Trident II D5 ballistic nuclear missiles as one leg of the U.S. strategic nuclear deterrent triad.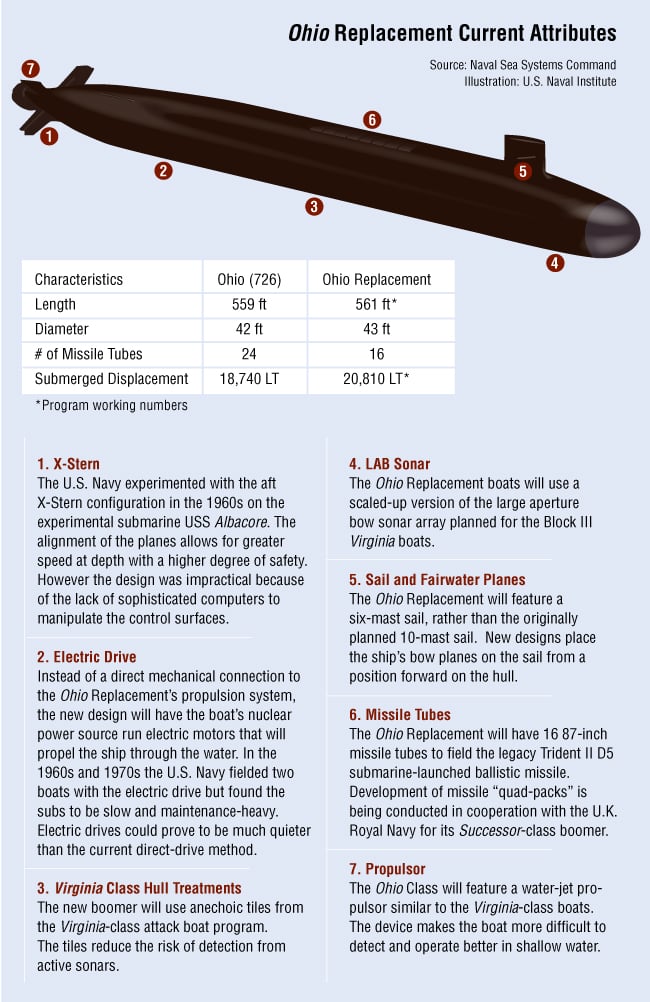 In March, the Navy announced that General Dynamics Electric Boat would be the prime contractor for the class.
According to early estimates, the 12 boat class will cost the Navy about $100 billion and is the service's number one acquisition priority, a claim Navy leadership has repeated often.