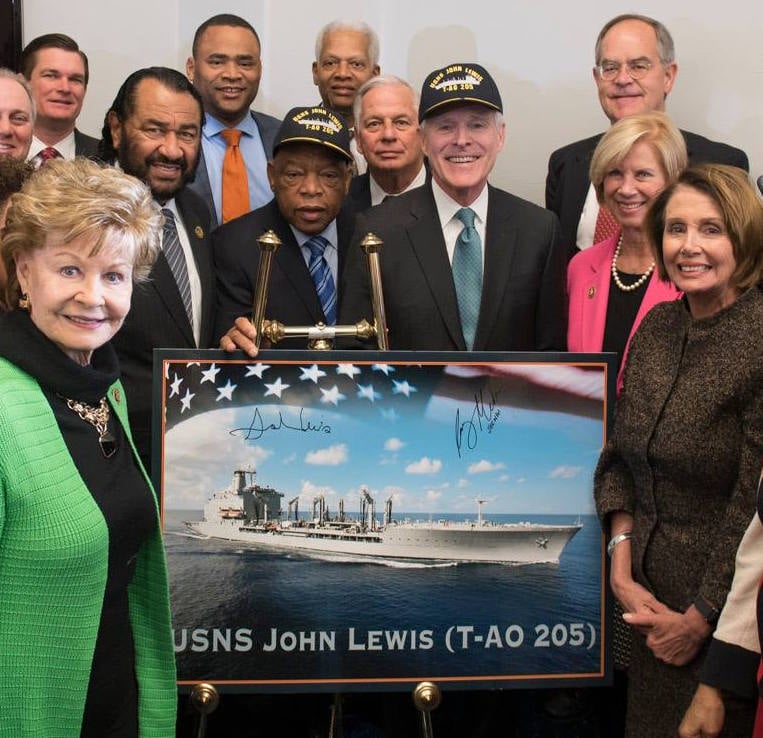 The name of the first in a class of new oilers planned for the U.S. Navy will be after Rep. John Lewis (D-Ga.), a sitting member of the House of Representatives, Secretary of the Navy Ray Mabus announced on Wednesday.
The future Military Sealift Command operated USNS John Lewis (T-AO-205) will be the first in a new class of fleet oilers set to being construction in 2018.
"As the first of its class, the future USNS John Lewis will play a vital role in the mission of our Navy and Marine Corps while also forging a new path in fleet replenishment," Mabus said during.
"Naming this ship after John Lewis is a fitting tribute to a man who has, from his youth, been at the forefront of progressive social and human rights movements in the U.S., directly shaping both the past and future of our nation."
Lewis has served in Congress since 1987 and was one of the "Big Six" civil rights leaders of the mid 1960s and was instrumental in organizing the 1961 Freedom Rides, the 1963 March on Washington and the March 7, 1965 march across the Edmund Pettus Bridge in Selma, Ala.
During his tenure as Secretary of the Navy, Mabus has named ships after other civil and workers rights icons, including the Lewis and Clark-class dry cargo ships USNS Medgar Evers (T-AKE-13) and USNS Cesar Chavez (T-AKE-14)
Naming ships after living retired politicians is not unheard of. Attack submarines USS Jimmy Carter (SSN-23) and USS John Warner (SSN-785) and the Nimitz-class aircraft carriers USS Ronald Reagan (CVN-76), USS George H.W. Bush (CVN-77), USS Carl Vinson (CVN-70), USS John C. Stennis (CVN-74) were named during their namesakes lifetimes.
Six ships of the planned 17-ship Lewis-class – formerly known as the T-AO(X) – are part of a complicated shipbuilding deal between General Dynamics NASSCO and Huntington Ingalls Industries. Either yard is set to build the half dozen oilers or the unnamed LHA-8 amphibious warship follow-on to the two America-class (LHA-6) amphibs.