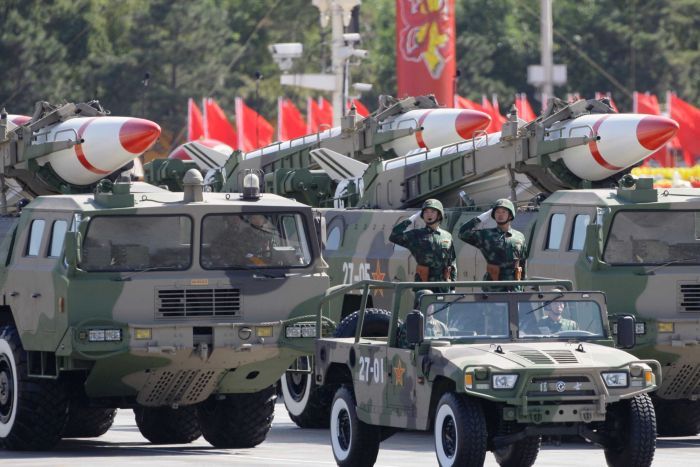 This week's visit by People's Liberation Army Navy (PLAN) to the Russian port of Novorossiysk comes amid reports Russia is considering a purchase of PLAN Type 054A frigates. Unthinkable just ten years ago, it's a reminder of how far China's domestic arms industry has come since the West imposed an arms embargo.
In the past five years the People's Republic of China has announced a series of arms deals cementing its position as a major player in the global arms market. Among others deals, China will supply Argentina with offshore patrol vessels, Nigeria with corvettes, and Pakistan with submarines.
China's long push to create a domestic arms industry is bearing fruit, and Chinese ships, aircraft, radar, and missiles are seen as an affordable alternative to Western offerings. While Chinese designs are likely inferior to Western—and even Russian counterparts—they are cheap, can be purchased in quantity, are delivered more quickly, and are attached to fewer political strings.
In the early 1980s, Chinese leader Deng Xiaoping began opening China up politically and economically to the rest of the world. For a brief period China's defense industry enjoyed considerable cooperation with its Western counterparts, as the prospect of arming the massive People's Liberation Army was a lucrative prospect.
The arms embargo imposed in the aftermath of the 1989 Tiananmen Square massacre ended that cooperation. China was left with few options other than to develop an industrial base capable of fully meeting the needs of the entire PLA. Toward that end China has spent a great deal of effort modifying Western equipment, conducting espionage against Western defense contractors, importing Russian technology and talent, and innovating to produce a new generation of post-Tiananmen weapons.
Overseas sales are welcome to offset research and development costs. According to the Stockholm International Peace Research Institute, China's arms exports have risen 143 percent worldwide in the past five years. China is now third in exports of military equipment worldwide— behind the United States and Russia.
The proliferation of inexpensive, technologically advanced Chinese weapons will eventually prove a challenge for Western countries, particularly the United States and United Kingdom. The sale of advanced ships, missiles, and planes to Argentina, for example, will complicate the U.K.'s defensive plan for the Falkland Islands.
Algeria
In 2012, Algeria and China negotiated an order of three C-28A corvettes. Based on the P-22 Zulfiquar-class frigates built for the Pakistani navy, the ships were to be built by the Hudong Zhonghua shipyard in Shanghai.
The C-28A class is 123 meters long and displaces 2,800 tons. Armament consists of one NJ-16 76mm dual-purpose gun, four C-802 or C-802A anti-ship missiles, an eight round FM-90N launcher for HQ-7 surface-to-air missiles, two Type 730B close-in weapons systems, six anti-submarine torpedo launchers, and two 24-barrel anti-missile decoy launchers.
Like the Zulfiquar class, the C-28A class will have a flight deck and hangar. Unlike most Chinese naval construction projects, the corvettes for Algeria will incorporate Thales radar systems, command, control, and communications systems.
The first of the corvettes was launched in August 2014, and is scheduled to be delivered to the Algerian navy this month. Negotiations are currently under way for three more.
Argentina
The Malvinas class will be a variant of the P-18 export frigate, which itself is a derivate of the Type 056 corvette. A standard PLAN Type 056 displaces 1,400 tons and is equipped with one H/PJ-26 76mm dual purpose gun, one AJK-10 surface-to-air missile launcher with eight HQ-10 missiles, four YJ-83 anti-ship missiles, two 30mm remotely operated weapons systems, and two triple 324mm anti-submarine torpedo tube launchers. It is capable of speeds up to 25 knots. The class features a helicopter landing pad but not a hangar. A towed sonar array was added in 2013.
Produced by China Shipbuilding Industry Corporation, at 1,800 tons the P-18 is slightly heavier than the Type 056. A model of the Malvinas class depicts a helicopter hangar; according to the Brazilian site Naval Power, "Argentina has requested a larger flight deck to handle its 10-tonne Sea King helicopters and a towed sonar to increase its anti-submarine capability."
Argentina also reportedly is in talks to purchase Chinese fighter planes. Neglected for decades, the South American country's fighter force has deteriorated to where it can field less than two dozen Mirage fighters. Argentina is reportedly considering the FC-1 "Fierce Dragon" fighter and the J-10 "Vigorous Dragon" multirole fighters.
Developed by China and Pakistan, the FC-1 (known in Pakistan as the JF-17) made its maiden flight in 2004. A single RD-93 turbofan gives it a top speed of Mach 1.6, and it has a combat radius of 1,350 kilometers (about 840 miles).
The FC-1 is equipped with an internal GSh-23-2 twin barrel cannon and has seven hard points for weapons and fuel. Weapon options include up to four PL-5, -7, -8, or -9 short-range air-to-air missiles or four PL-12/SD-10B medium-range air-to-air missiles. Air-to- surface weapons include two C-802 anti-ship missiles, two anti-radiation missiles, and up to 2,000kg (4,400 lbs.) of guided or unguided bombs.
The J-10 "Vigorous Dragon" is a heavier, more capable fighter than the JF-17. Powered by a single Russian AL-31FN engine producing 50 percent more thrust, the J-10 has a shorter combat radius of 1,000km (620 miles). It does have more advanced avionics than the JF-17 and a more advanced active electronically scanned array (AESA) radar. The J-10 has the same GSh-23 internal gun and eleven hard points for air-to-air and air-to-ground weapons.
Bangladesh
In recent years Bangladesh has embarked on a substantial effort to improve its naval forces. The country has purchased six surface ships from China since 2009, and is in talks to procure a pair of submarines.
In 2012 Bangladesh purchased two used Chinese frigates. Based on the old Soviet Riga-class ships, the Type 053H2 frigates are armed with four 37mm guns, two twin-barrel 100mm gun mounts, four YJ-81 anti-ship missiles, and anti-submarine rocket launchers. Although minimally capable by modern standards the ships can still patrol and fulfill presence missions on behalf of the Bangladeshi navy.
Bangladesh also purchased at least two Shadhinota ("Independent")-class corvettes from China. The ships were ordered in October 2012 and both had been delivered by January of this year. The Shadhinota class is, like the Malvinas class, a variant of the P-18 export corvette. Shadhinota is equipped with one H/PJ-26 76mm dual-purpose gun, two 30mm remotely operated weapons systems, one FL-3000N point defense missile system, and four C-803 anti-ship missiles. It will also reportedly be equipped with one Type 730 close-in weapon system and two Type 3200 anti-submarine rocket launchers. It has a helicopter landing pad but no hangar.
Finally, Bangladesh purchased two Durjoy-class patrol boats. Built at the Wuchang Shipyard, the Durjoy ships are similar to the Type 056 but at only 211 feet long and 650 tons significantly smaller. Designed as coastal patrol vessels with modest anti-surface and anti-submarine warfare capabilities, both were delivered by 2013.
China and Bangladesh announced a $240 million deal in 2013 in which the latter would acquire two Type 035G Improved Ming-class diesel submarines. The submarines are used and previously served with the PLAN's South Seas Fleet. The submarines will be paid for by 2018 and delivered in 2019.
The two submarines displace 1,584 tons surfaced, have a range of 8,000 miles snorting, and are armed with eight 533mm torpedo tubes and carry 18 torpedoes. A Bangladeshi defense site reports the submarines may be modified to carry C-0802 or C-803 missiles.
The Bangladesh Air Force has also received nine Hongdu K-8 jet trainers. The K-8 will in part be used to train pilots for 16 new F-7BGI multi-role fighters also being purchased. The F-7BGI will replace older F-7 fighters and feature beyond-visual-range engagement capability and the ability to carry precision guided munitions.
Myanmar
The Myanmar Navy received two ex-PLAN Type 053H frigates in 2012. The Type 053 ships are 1,700 ton ships optimized for anti-surface warfare, with two 100mm guns, four 37mm guns, a two of anti-submarine warfare rocket launchers, two of ASW mortars, and two depth charges.
Nigeria
Nigeria ordered two P-18 export corvettes from the China Shipbuilding and Offshore International Company (CSOC) in 2012. The first corvette, NNS Centenary, was delivered in early February of this year. A second ship will be built with CSOC assistance at the Nigerian Navy Shipyard at Port Harcourt.
The Nigerian corvettes have a range of 3,000 nautical miles at 14 knots, and are less well-equipped than the average P-18. Armament is stripped down to a single H/PJ-26 76mm dual purpose gun, two 30mm remotely operated weapons systems, and two 20mm guns. No anti-submarine systems, including sonar, are installed.
In 2008, the Nigerian Air Force received 12 F-7NI Airguard fighters and three FT-7NI trainers to replace aging MiG-21s. Total cost was $252 million, with $220 million for the aircraft and $32 million for munitions.
Pakistan
Last month, in the wake of Chinese President Xi Jinping's visit to Pakistan, China announced the sale of eight Type 039B/041 Yuan-class submarines to Pakistan. That is worth anywhere from $2­–$4 billion, with delivery dates unspecified.
According to U.S. Naval Institute's Combat Fleets of the World, the Type 041 class is a 3,600 ton diesel electric attack submarine, fitted with an air-independent propulsion system (AIP). The Yuan class outwardly resembles the Russian Kilo-class submarine, which is also in Chinese service. Yuan submarines are capable of being equipped with the YJ-82 anti-ship cruise missile, Yu-4 passive homing and Yu-8 active and passive homing torpedoes. Approximately 12 are currently in service with the PLAN, with reports suggesting an eventual inventory of 20.
The Yuan-class will be a considerable upgrade for Pakistan's submarines force, which currently consists of two Agosta-70 and three Agosta-90 submarines. The Agosta-90 submarines are less than 20 years old and outfitted with an AIP, but the two Agosta-70s are old and in need of replacement.
A final price tag for the eight submarines is unknown, but Jane's quotes a retired Pakistani army general as saying it was "difficult to imagine a price of less than $500 million (U.S.), if not more." A Pakistani defense analyst quoted by DefenseNews, on the other hand, pegged the submarines at a more affordable $250 to $325 million. By comparison, Vietnam purchased six Improved Kilo/Type 636.1 submarines from Russia in 2009 for $1.8 billion.
Pakistan's push for new submarines is likely motivated by India's strategic nuclear deterrent going to sea; India's first ballistic missile submarine, Arihant, started sea trials in December 2014 and four submarines of the class are anticipated by 2023.
Last month it was also announced the Pakistani air force would receive 110 JF-17 fighters from China. A joint China/Pakistan project JF-17 is already built in Pakistan but local industry cannot provide enough fighters in time. China is expected to deliver 50 fighters over the first three years, with the balance delivered by a date unannounced.
Thailand
The 2014 military coup in Thailand has strained relations between it and democratic countries. China has taken the opportunity to improve ties with Bangkok, and has proposed a raft of arms sales to the country.
The Thai navy has long desired a submarine fleet, going so far as to build a $16 million USD submarine headquarters before it even has a single submarine. It is reportedly lobbying for 1-3 conventionally powered submarines with a procurement budget of approximately $1 billion.
China's state-run China Shipbuilding Industry Corporation has submitted the S-26T in the Thai submarine competition, which is understood to be an export version of the Yuan-class "specifically designed for the Thailand navy".
Venezuela
Venezuela's maverick political stance makes procuring weapons from traditional vendors Spain and the United States unlikely. China has increased ties with the South American country and a look at the Venezuelan navy's fleet shows there are opportunities for Chinese shipbuilding firms.
Venezuela's submarine fleet is quite old and in need of replacement. Venezuela's two aging Type 209 submarines date to the 1970s and could be replaced by the more advanced Yuan-class. Venezuela's six Mariscal Sucre-class frigates could be replaced by a variant of the P-18 export corvette.
The Venezuelan Navy also has nine Z-9 anti-submarine warfare helicopters on order from the Harbin Aircraft Manufacturing Corporation. First deliveries are scheduled in 2015.
The Venezuelan Air Force has ordered 36 K-8 jet trainers from China. The first 18 were ordered in 2008 and delivered by 2010. A second batch of 18 was ordered in 2010 at a total cost of $82 million. The K-8 can also be equipped with an external gun pod and a total of 1,000kg (2,200 lbs.) of air-to-ground rockets, unguided bombs and infra-red guided air-to-air missiles.
In 2014, Venezuela placed an order for 24 Hongdu L-15 advanced trainers. Designed to provide advanced training to fighter pilots, the L-15 has an afterburning engine capable of propelling it to supersonic speeds. It is capable of carrying a heavier air-to-ground payload than the K-8, with up to 3,000 kilograms of air-to-air and air-to-ground weapons. No deliveries have yet been made.