Gen. Joseph Dunford was nominated the next Chairman of the Joint Chiefs of Staff on Tuesday after only serving as the Commandant of the Marine Corps for six and a half months – leaving many to wonder who will follow him as the next commandant.
The Marine Corps only has two four-star generals other than Dunford: Gen. John Paxton, the assistant commandant, and Gen. John Kelly, commander of U.S. Southern Command.
It's not a given that one of them will succeed Dunford, though.
The Marine Corps has only two statutorily established positions for four-star generals – the commandant and assistant commandant – but throughout the wars in Iraq and Afghanistan many Marines have been promoted to take on four-star joint staff jobs, retired Gen. James Mattis told USNI News.
Two years ago, in fact, the Marine Corps had six four-stars generals, which was a rarity.
The service has about a dozen statutory spots for lieutenant generals, and there are currently more than that – 17 as of last fall, due to a handful of Marine three-stars in joint staff jobs.
Mattis said commandants historically are selected from the pool of lieutenant generals, so the cadre for the president to select from is actually quite large.
"They've got plenty to choose from," Mattis said, calling the current generals and lieutenant generals "very, very capable."
Typically, the commandant comes from the ground community and the assistant commandant is an aviator. Gen. James Amos, an aviator, nomination as the 35th commandant was an anomaly in that regard.
Another aviator replacing Dunford is unlikely as the next top Marine. However, if Paxton were bumped up, the pool of candidates to serve as ACMC (pronounced: Ack-Mac) would be wide open.
Similarly, if Kelly were selected as either commandant or assistant commandant, any number of Marine lieutenant generals – as well as three-stars from the other services – would be qualified to take over SOUTHCOM.
Below are some possible contenders for the job of 37th Commandant of the Marine Corps:
Gen. John Paxton
Paxton has served as the assistant commandant since 2012 and therefore would be well prepared to step into the role of top Marine. Paxton being selected as the next commandant would continue the recent trend of picking a previous ACMC. Among other jobs, Paxton commanded the 1st Battalion 8th Marines in support of operations in Somalia and Bosnia, directed the programs division of Headquarters Marine Corps' programs and resources, and commanded Marine Corps Forces Command and Fleet Marine Force Atlantic.
Gen. John Kelly
Kelly has served as SOUTHCOM commander since 2012. He enlisted in the Marine Corps in 1970, was discharged two years later, and was commissioned in 1976 after graduating from the University of Massachusetts. He led forces in the initial invasion of Iraq as assistant division commander of 1st Marine Division, and then returned to the country as commanding general of I Marine Expeditionary Force (Forward). Kelly also led the Marine Forces Reserve and Marine Forces North.
Lt. Gen. Thomas Waldhauser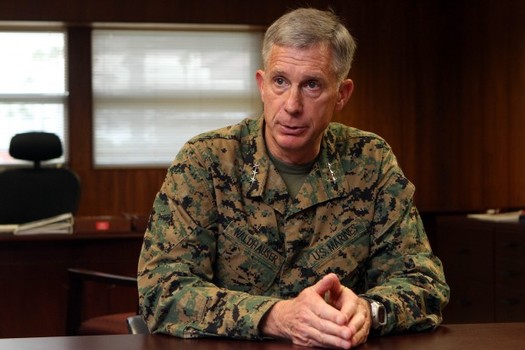 Waldhauser serves as the director of joint force development on the Joint Staff and has worn his third star the longest of all the current lieutenant generals. As an infantry officer, he commanded the 15th Marine Expeditionary Unit beginning in 2000, a job that included participation in the initial invasions of Afghanistan and Iraq. He has led the Marine Corps Warfighting Laboratory, 1st Marine Division, I Marine Expeditionary Force and Marine Forces Central Command.
Lt. Gen. Ronald Bailey
Bailey serves as the deputy commandant for plans, policies and operations (PP&O). Though he is a more junior three-star, several retired officers still mentioned his name as a serious contender for the top job. Prior to his current job, Bailey commanded the 1st Marine Division, the Marine Corps Recruiting Command and 3rd Marine Expeditionary Brigade. Bailey's selection as the next commandant would make history, as he would become the highest-ranking black Marine.
Lt. Gen. Robert Schmidle
Schmidle serves as the principal deputy director for Cost Assessment and Program Evaluation (CAPE) in the Office of the Secretary of Defense. He has worn his third star the second-longest, behind Waldhauser, and comes from the aviation community. Though an unlikely candidate for commandant, Schmidle may be a good option for ACMC if Paxton is tapped for a promotion.
Lt. Gen. Kenneth Glueck
Glueck currently serves as the commanding general of Marine Corps Combat Development Command (MCCDC) and deputy commandant for combat development and integration. Glueck will step down from that post later this year when his replacement arrives, but the Marine Corps has not announced a next assignment for Glueck. The general, also an aviator by trade, has served in the Marine Corps since 1976 but has not formally said if he would retire or accept another assignment.
Lt. Gen. Jon Davis
Davis has served as the deputy commandant for aviation since last summer and would therefore be an unlikely pick for commandant but could be selected for assistant commandant if that job opened up. Davis began his career as an AV-8B Harrier pilot and commanded several aviation units. In 2006 he was made deputy commander of the Joint Functional Component Command for Network Warfare, and in 2012 he was appointed deputy commander for U.S. Cyber Command.