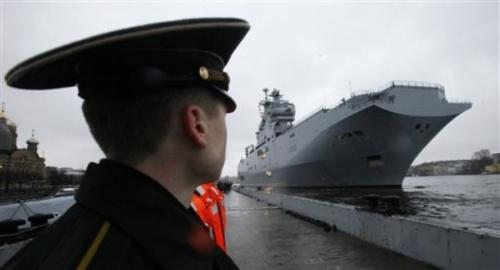 The Russian defense minister said legal action could against France over the stalled delivery of two Mistral-class amphibious warships within six months, according to a report in the Russian TASS wire service on Thursday.
"There is a contract, so everything must be strictly complied with," minister Sergei Shoigu said.
"If the contract is abused, naturally a lawsuit follows."
The comments from Shoigu follow an earlier January demand from Russia to France for an official explanation of stall in the $1.56 billion deal.
The contract France signed with Russia includes up to $311 million penalties if the ships aren't delivered, according to the BBC. Russian press claim the penalty could be much higher.
Since September, French president François Hollande has blocked the anticipated October delivery of the first Russian Mistral — Vladivostok — over the ongoing conflict in eastern Ukraine.
"The delivery of the helicopter carriers to Russia is connected with implementation of the Minsk accords," Hollande said according to French newspaper Le Figaro in November.
The Minsk accords outline conditions of the ceasefire between the Ukrainian government and Russian-backed separatists.
The Hollande government renewed the suspension in November citing the ongoing strike in eastern Ukraine.
"The President of the Republic believes that the current situation in the east of Ukraine still does not allow the transfer of the first Russian Mistral-type ships to Russia," read a translation of the November statement from Élysée Palace.
"He has decided that it is appropriate to suspend, until further notice, the examination of the request for export authorization for the first [Mistral] to the Russian Federation."
In mid-December, more than 400 Russian Navy sailors trained to
operate the first Russian left the port of Saint-Nazaire in the training ship Smolny.
The two 21,000-ton ships are modified from the original French design to carry heavier Russian helicopters and are optimized for Arctic operations.