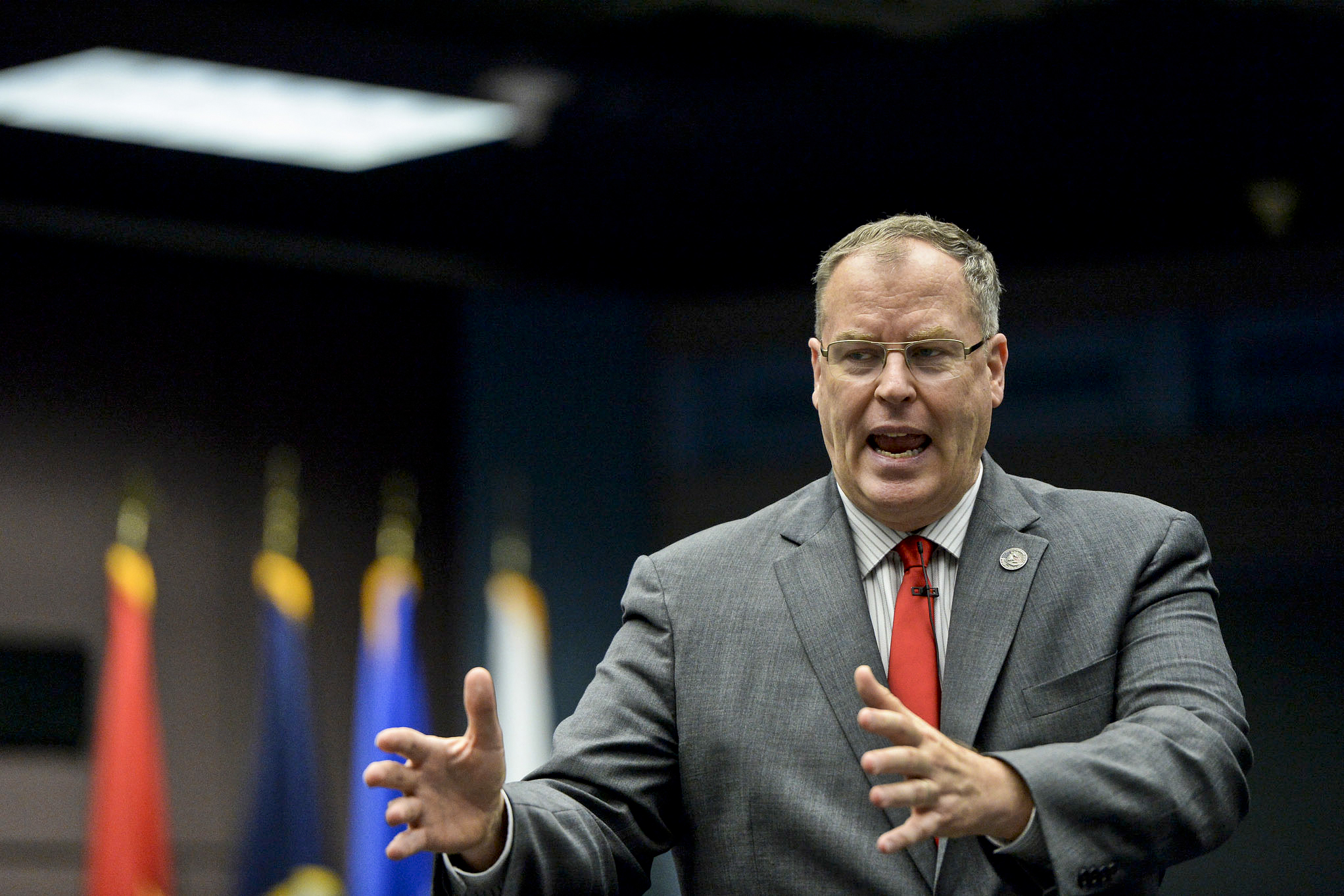 If the Pentagon does not receive financial help from Congress relatively quickly, the department will be compelled to cut modernization spending even further and eliminate infrastructure, the Defense Department's number two civilian said on Wednesday at the Center for Strategic and International Studies (CSIS).
Without action from Congress, "then that's what we're going to have to do" was Bob Work's — the deputy secretary of defense and former under secretary of the Navy — sober assessment of the way ahead for Fiscal Year 2015 (FY 2015) and beyond.
"Our technological dominance is no longer assured" in the wake of Chinese "double digit growth" in defense spending and Russia and China's fielding of new weapons systems and capabilities, Work said.
"We're underinvesting," particularly in research and development, he said.
"Time in not recoverable in this regard." A return to the 2011 Budget Control Act levels [but not including sequestration] would be damaging to the department in keeping U.S. forces ready and modernized.
He told the audience at the defense forum at the Washington think tank that Secretary of Defense Chuck Hagel will be unveiling a Pentagon innovation initiative in the coming weeks similar to the initiatives that led to the development of nuclear weapons in the 1940s and stealth in the 1970s. "We don't want to be fair" in seeking a technological edge in warfare.
Work estimated that modernization efforts needed 2 to 3 percent real growth to keep necessary programs alive, but personnel costs and operations and maintenance costs are rising faster than the rate of inflation squeezing the department into "high risk" areas of readiness. He defined "high risk" as including longer time to respond to crises and potential risk to mission.
"We're in a time problem as well as a resource problem because of the hole we're in," he said.
Six of the Navy's 11 carriers were in some stage of maintenance now and one-third of the amphibious force is in a similar state because routine maintenance had been delayed while operating tempo remained high.
"We're flying the wings off our old airplanes," a situation that is "particularly acute" in the Marine Corps because of delayed maintenance on its Boeing F/A-18 Hornets and the slip in the delivery schedule of the Lockheed Martin F-35 Lighting II Joint Strike Fighter.
Even adopting President Barack Obama's budget submission, Work said readiness would still be an issue into the early 2020s.
Work said the charge that Pentagon is, "crying wolf" on readiness for its follow-on forces is wrong.
He said that when the Budget Control Act and later sequestration kicked in several years ago it was not a big blowout in military capability and preparedness as some had predicted, "but more like a slow leak."
Work said at that time "we made a bad bet [that] sequestration would never occur."
Since then, the department has worked often under a series of Continuing Resolutions as it is doing now that limits how it can spend the money is has, a third straight year of flat growth in the program. It is also assuming that sequestration will return in 2016.
He called on Congress, "to stop the madness" and give the Pentagon the time and flexibility it needs in eliminating the Fairchild Republic A-10 Warthog, laying up 11 Navy cruisers, approving a new round of base closures and slowing the growth of personnel costs to free billions to make modernization investments.
Work said the department has already taken much slack out of the budget, reducing the size of the Navy and Air Force first and now the ground forces.
Without that Capitol Hill relief and internal reforms in acquisition and accounting, "there is no strategic planner on the planet who can plan" in that environment.
Looking back at the presidency of Dwight Eisenhower, Work saw parallels to today with a series of crises around the globe and tough fiscal times, but "he was playing the long game" and exercising "strategic patience" in how defense spent the money it had.
"We have faced enormous challenges in the past [and] we've managed our way through all of them," he said.