Military grooming standards made news this summer when African American women in the Army and Navy complained about revisions in the regulations governing hair. At least one sailor was discharged for a hairstyle that was unauthorized when the Navy said she couldn't wear a gas mask properly.
The instance is the latest in a long line of revisions and controversies over military grooming standards in the U.S. Navy going back more than a century.
Most sailors in the early decades of the U.S. Navy stayed clean-shaven, pulling their long hair back into a tail. That had more to do with the fashion of the time rather than official regulations. It was common for American seafarers to adopt the British custom of dipping their tails in tar to keep them in place and out of the rigging—which may be the origin of "tars" as a nickname for sailors. It is also believed the practice led sailors to protect their uniforms from the improvised hair gel by adding a long collar to their shirts. The collar eventually was incorporated by the Navy and still exists today as the flap on the back of the distinctive "crackerjack" uniforms.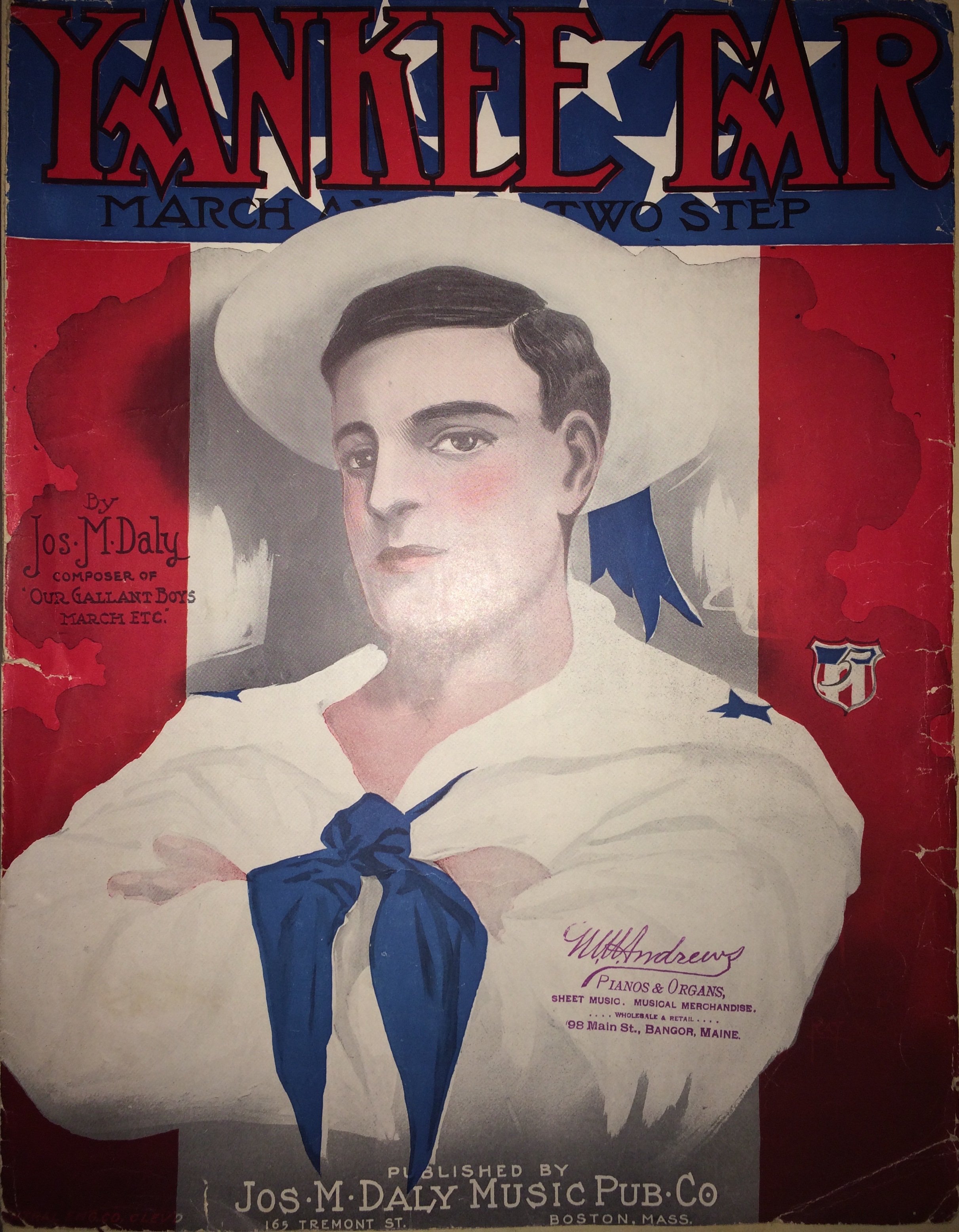 It was not until 1841 that the Navy began to issue service-wide regulations about grooming. Secretary of the Navy George Badger established that hair and beards had to be cut short, but whiskers could "descend more than one inch below the tip of the ear, and thence in line towards the corners of the mouth." Whiskers had always been popular, but the Navy was now entering the era of epic sideburns.
The regulations were modified in 1852, banning officers from wearing mustaches and imperials, but Secretary James Dobbin later relaxed the ruled to allow men to wear "neatly trimmed" beards at their discretion.
Throughout the Civil War there was quite a broad interpretation of what constituted "neatly trimmed," as evidenced by photos and illustrations from the period.
From the 1880s through the 1960s, sailors were required to keep hair, beards and moustaches short and trimmed, though there we often exceptions due to circumstance.
In 1893, midshipmen of the U.S. Naval Academy requested permission to grow longer hair. Their reasoning was that the extra tresses would serve as padding for their heads in their football game against Army. It had not yet occurred to anyone to wear a helmet for more effective protection.
Submariners were allowed to grow longer beards because their limited access to fresh water made shaving difficult. Sailors deployed to colder climates also were permitted to have fuller facial hair to protect them from the elements.
Beard-growing was often viewed as a sport on those deployments and a judge would decide who had the most impressive beard at the end of the cruise.
By the late 1960s, the military was struggling with a negative public perception because of the U.S. involvement in Vietnam. The conservative military appearance was also contrasting sharply with civilian fashion, making sailors feel like misfits in society.
Because of those developments, PXs on many bases experienced a boom in wig sales. Sailors were buying longer-styled wigs to better fit in and avoid derision when they were off duty. Conversely, their sons, who often had trendy long hair would buy short wigs in order to get jobs at the establishments that still maintained that "hippie-types" need not apply.
When Admiral Elmo Zumwalt became Chief of Naval Operations in 1970, he began issuing his famous "Z-grams" containing initiatives that he thought would help reduce racism and sexism in the ranks while improving the Navy's image. He also reasoned that eliminating the more stringent policies would boost recruitment and retention.
In addition to allowing longer hair, beards and sideburns, Zumwalt dropped many uniform regulations. Dungarees that once were restricted to designated work areas could be worn anywhere. Sailors were also no longer required to wear dress white uniforms when entering port.
Zumwalt also recognized the importance of the Afro as symbol of black pride and identity, so African-Americans were no longer ordered to keep their hair "high and tight."
Secretary John Chafe stated that the relaxed rules would improve the Navy's fighting ability by encouraging more men to remain in the service. He also claimed that the liberal grooming standards were in line with tradition, given that the "Father of the Navy"—John Paul Jones—had long hair.
It did not take long before Navy ships began to look like they were crewed by hippies who had crashed their bus into a military surplus store. Even Zumwalt realized that the liberalization of grooming standards had gone too far and needed to be scaled back. Hair and beards were ordered to be neat while "eccentricities" such as mutton chop sideburns were outlawed.
Throughout the 1970s, more restrictions were placed on hair and beards. In 1981, CNO Adm. Thomas Hayward sought to institute "Pride in Professionalism" by tightening regulations even further. No one under the rank of petty officer 3rd class was permitted to have a beard, nor were officers of "special authority or highly visible positions."
The razor finally dropped in 1984 when CNO Adm. James D. Watkins banned all beards. The concern that a sailor with a beard would not be able to gain a proper seals with his emergency breathing apparatus frequently was given as the reason. However, the blunt-speaking Secretary John Lehman said that it was simply due to aesthetics. Lehman said that master chiefs had been complaining that beards made the Navy look "extremely un-uniform" so it was decided that having clean-shaven sailors would bring "a general sharpening of appearance." Moustaches were allowed, but could not extend beyond the upper lip line.
The decision was not well received. Some sailors shaved their heads in protest while others threatened to send their whiskers to the CNO. Wives cried when their once rugged seamen were shorn to reveal baby faces and double chins. One sailor on an aircraft carrier yelled that the CNO would have to come get his beard if he wanted it, then stepped off the flight deck and plunged into the sea (he was later fished out of the water).