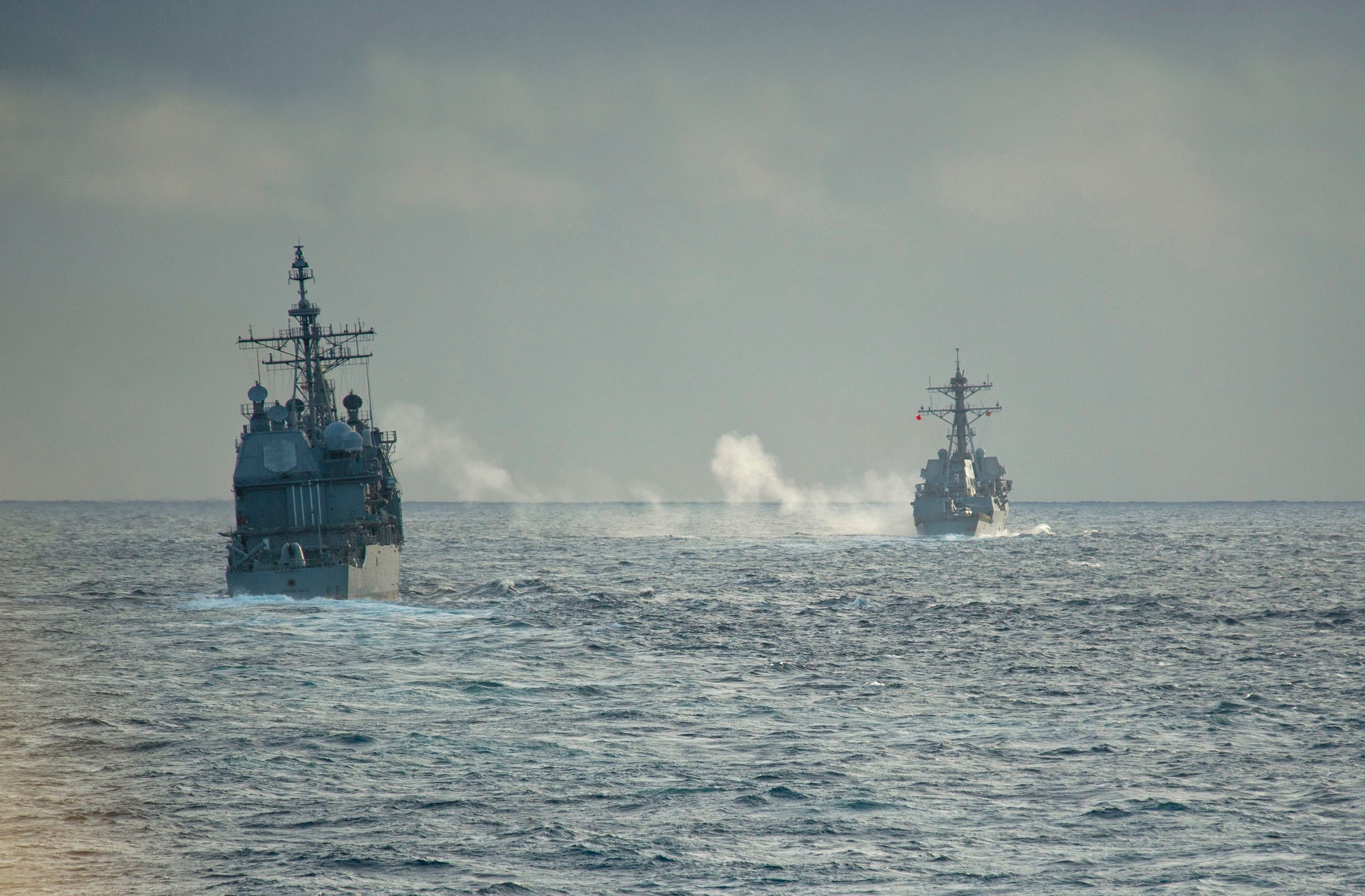 Without relief from automatic budget cuts and money from sources other than its shipbuilding account to pay for the Ohio-class Replacement program (ORP), the Navy could find itself sending only four new ships in almost all classes to the fleet sometime in the 2020s.
Testifying before the Senate Armed Services Seapower Subcommittee on Thursday, Sean Stackley, assistant secretary of the Navy for research, development and acquisition, said that would mean "entirely reshaping the Navy's force structure" and bringing the fleet down to 240 ships.
The Obama administration's shipbuilding plan calls for a fleet of 306 ships by the end of the decade. The fleet size is now about 280.
The one ship class excepted in Stackley's equation would be aircraft carriers, which are on a five-year production schedule, he said.
The replacement for the ballistic-missile submarine remains the Navy's top priority. "That's the first layer of bricks," he said using an analogy of constructing a building. He said he was assuming a shipbuilding budget remaining at $13 billion annually. Then comes the carriers as second priority, followed by Virginia-class submarines—but on a construction rate of 1½ per year instead of the two called for in current shipbuilding plans.
"We have to start making decisions" soon with the two shipyards capable of building the ballistic-missile submarine—Newport News and Electric Boat—Stackley said, inspecting facilities at each and detailing how they built the Virginia class (SSN-774).
Complicating matters right now is not the shipyards, but the removal of $150 million from the Department of Energy's budget, some of which possibly as little as $20 million, would go into designing the reactor for that submarine in this cycle, Vice Adm. Joseph Mulloy, deputy chief of naval operations for integration of capabilities and resources, said.
That quirk dates back to a law passed in the late 1940s. The Navy pays for the ship, its propulsion and weapon systems in nuclear-powered vessels, but the Energy Department is responsible for the reactors.
Any delay here, even six months, Stackley warned, "cannot be recovered downstream [in terms of cost and production schedule]. . . . Today we're staring at this coming our way."
"We spent the whole afternoon talking about budget not strategy" at a time when other nations are expanding their navies and exploring new technologies. But budget considerations are "becoming more of an issue each day," subcommittee chairman Sen. Jack Reed, (D-R.I.) said as the hearing wrapped up.
It was that way from the moment the panel was called into session.
In his opening remarks, ranking member Sen. John McCain, (R-Ariz.) said cost containment and quality control "remain elusive" in the shipbuilding program and throw into question whether the administration can meet its fleet size plans.
He specifically cited the aircraft carrier Gerald R. Ford's (CVN-78) cost of $12.8 billion, although its price was supposed to be capped at $10.5 billion, as set in 2006. Stackley said the Navy is totally committed to having John F. Kennedy (CVN-79), the follow-on to Ford, coming in at or under its budget of $11.498 billion.
When asked about the refueling of the carrier George Washington, Stackley said, "We are leaning forward to put that carrier back" in the Fiscal Year 2016 budget. But if sequestration kicks in and Congress keeps a requirement that the Navy have 11 carriers, Mulloy said, he has to assess "what subs I won't have, what aircraft I won't have for the carriers."
Vice Adm. William Hilarides, commander Naval Sea Systems Command, and Stackley testified that quality has risen and costs have come down on delivery of ships in the LPD-17 class and both variants of the littoral combat ship, as well as the LHAs.
"We made a modest increase [in trained staff to assign to the Navy's supervisors of shipbuilding in the yards] allowing them "to push decisions down to the waterfront," Hilarides added. "That's been a long-term effort to get . . . eyes on site," Stackley said.
Although questions were raised about the LCS's vulnerability, Hilarides said its survivability was "roughly equal" to a frigate. Stackley said it would fill the Navy's largest gap—countermine warfare, and those existing vessels are more vulnerable than the LCS.
As shipbuilding programs such as LCS, now capped at 32, or the LPD wind down, Stackely said, "I'm very worried about" the industrial base. "Half of our shipyards are one contract from going out of business" and the situation with vendors below them "is more ominous the deeper you go."