Retired Adm. Kinnaird Rowe McKee — the former head of Naval Reactors and the U.S. Naval Academy superintendent who oversaw the introduction of women to the school — died on Dec. 30.
He was 84.
"Adm. McKee was a true hero of the Cold War, excelling at all levels of command and engaged on the front lines of that conflict," current head of Naval Reactors, Adm. John Richardson, said in a statement provided to USNI News on Thursday.
"It's an honor to be among those that succeed him here at Naval Reactors."
McKee was born in Lexington, Ky. in 1929, attended the now-closed Gulf Coast Military Academy before graduating from the Naval Academy in 1951.
After a brief stint in the surface navy, McKee entered the submarine force and served on USS Picuda (SS-382), USS Sea Cat (SS-399) and USS Marlin (SS T2), before moving to command the experimental midget submarine USS X-1.
McKee was an early part of the nuclear submarine navy serving on commissioning crew of USS Skipjack (SSN-585) and as executive officer USS Nautilus (SSN-571) and USS Sam Houston (SSBN-609). McKee led Submarine Group 8 during the 1973 Yom Kippur war.
In 1975 McKee became superintendent of the Naval Academy and oversaw the admission of the first 81 midshipmen in 1976.
"My time as Superintendent was wonderful, but my arrival was preceded by some apprehension among the faculty and staff," McKee said in his oral history with the Naval Historical Foundation.
"Not everyone was happy to see me arrive at the Naval Academy. I was only forty-five years old — the youngest officer who had ever become Superintendent and I was going to bring women into the brigade."
McKee also saw a Pentagon mandated refresh of the curriculum at the service academies.
"Dad just loved the job, the midshipmen and everything it stood for," son Jim McKee, who was a midshipman when his father took the job, told the Biloxi Sun Herald. "[His time as Superintendent] was huge and pivotal because, to use a cliche, he was forging all these naval officers out of my classmates."
Following the Naval Academy, McKee took over Naval Reactors after the legendary Adm. Hyman Rickover, who led the Navy's nuclear program for more than 30 years.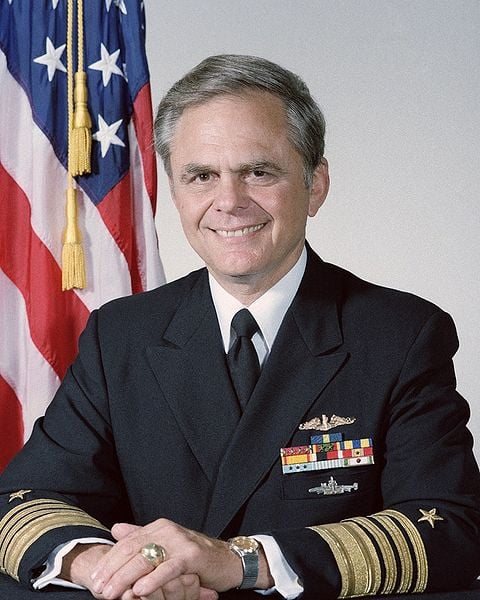 "Filling Adm. Rickover's shoes was a formidable task, and ADM McKee was the perfect leader for this job; the program thrived under his watch," Richardson said.
"His contributions continue to shape the way we do business today."
As the head of Naval Reactors, McKee was instrumental in creating a new generation of naval nuclear reactors for the Seawolf-class of attack submarines.
"[Naval Reactors] had not designed a new attack submarine propulsion plant since 1964. The Russians were creeping up on us and we were still trying to get as much as we could out of 688 [Los Angeles] class," McKee said in a 2001 Naval Historical Foundation oral history.
"That ship was still a fine submarine but it would not last forever."
The Navy built three of the attack submarines before shifting focus to the Virginia-class submarine.
McKee retired from the Navy in 1988 and eventually settled in Annapolis.
He's survived Patti Bailey McKee, son James H. McKee, daughter, Anne A. McKee of Springfield, Va. and his sister, Mercer Trapp of Augusta, Ga.
"He will be sorely missed by all those whose lives he touched so deeply," Richardson said.
A memorial service will be held at the Naval Academy's chapel on Jan. 28.