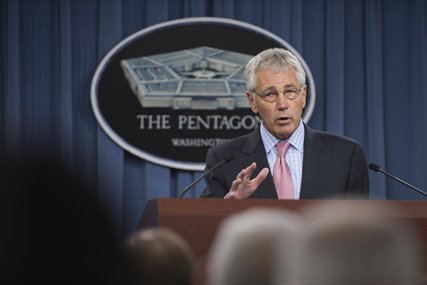 Secretary Chuck Hagel did not paint a rosy picture for the future as the Pentagon is held to last year's spending levels following the Thursday passage of a new Continuing Resolution to end the government shutdown.
"I am deeply aware of the harm that this shutdown [of 16 days] inflicted… And we'll work to repair the damage," Hagel said in a Thursday Pentagon press briefing.
Hagel said the new Continuing Resolution limits the Department of Defense's ability to start new programs including shipbuilding or the ability re-program money from one large account to another. The Pentagon also has to still wrestle with "the damaging cuts of sequestration" that directly affect military end strength and the number of civilian workers the department can afford, Hagel said.
"People have to have some confidence that they have a job that they can rely on," Hagel said.
He said the continued uncertainty about their future may drive many top workers out of the department and make recruiting them more difficult.
Likewise there has been an impact on service members' morale. Hagel said that at one of his roundtables with junior and mid-level enlisted service members he was asked, "What is the future for me as an E-5 starting a family?" and another service member said his wife told him to ask, "Do we have a future?"
Hagel warned Congress that it needed to remove the shadow of uncertainty so civilian workers and service members can better decide their career course.
"We're going to get smaller, but we just don't know how much," said Robert Hale, the Pentagon's comptroller at the Thursday briefing.
Hale said that at some point the department would slow down recruiting to meet those lower numbers if spending is kept at Fiscal Year 2013's $496 billion level but declined to say when.
The Marine Corps has already announced future cuts dropping its size from 182,000 to 174,000.
Under one scenario in Hagel's Strategic Choices and Management Review, the Marine Corps could drop to 150,000 and the Army to 380,000 — 100,000 soldiers below current projected cuts.
"I think all of us are aware that it will be a somewhat different, somewhat small military if we have to go through with those cuts," Hale said.
"Our allies are asking the question … will America fulfill its commitments" to them in an emergency if another fiscal showdown ends in a crisis," Hagel said. "We have to plan and prepare … with the realities as they are."
Hale said the only estimates immediately available on the shutdown costs covered the first four days when about 350,000 employees were furloughed. He put the figure at $600 million in lost productivity. There also were delays in some testing, but no major programs were affected. Unless directly connected to Afghanistan and other current operations, training for all components was curtailed and classes canceled at military schools. Travel was severely restricted.
He expects the popular tuition assistance programs offered by the services to remain in place at current levels.