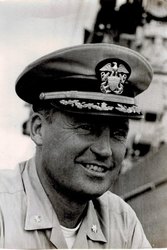 The author of the classic book, The Big E: The Story of the USS Enterprise, "embarked on his final voyage," his wife wrote the U.S. Naval Institute recently, on Sept. 24 at his home in Melbourne, Florida. He was 95.
Ed Stafford wrote for Naval History and the U.S. Naval Institute Proceedings, as well as regular contributions for National Geographic. He is best known, however, for naval books, including Subchaser, Little Ship, Big War: The Saga of DE-343, and The Far and the Deep. Ed wrote not only with flair, but authority, too.
In World War II, he commanded a subchaser in the Caribbean and Mediterranean seas before he was executive officer of a destroyer escort in the Pacific. After the war, Ed graduated from Dartmouth College and was commissioned a lieutenant commander in December 1946. After serving as executive officer in a destroyer, he was ordered to flight training and assigned to hurricane-tracking with a patrol squadron.
What most people don't know about Ed is that he was "a successful contestant," as he once characterized it, on the TV quiz show "The $64,000 Question" in 1957. Even with all the success he'd enjoyed in the Navy and on the literary front, Edward Peary Stafford, the grandson of Rear Admiral Robert E. Peary, pursued a lifetime passion: preserving the honor of his family.
From the time then-Commander Peary claimed to "discover" the North Pole in 1909, "every few years," Stafford wrote in the December 1971 Proceedings, "someone has come forth in public print to doubt or deny that he did so." His article was a rebuttal to a piece that appeared in the June 1970 issue titled "Peary and the North Pole: The Lingering Doubt," written by astronomer Dennis Rawlins. His major criticism was that no proof appeared to exist that would substantiate Peary's claim.
On the heels of an official report issued by the National Geographic Society in 1989, providing "photogrammetric" analysis of images taken of the Peary expedition (and thus proof of the claim), the Naval Institute revisited the dispute with "All Angles: Peary and the North Pole," a panel discussion that highlighted its April 1991 Annual Meeting. Nearly 20 years after Ed's rebuttal appeared, the most vocal panelist that day was one Dennis Rawlins.
The debate often grew heated, with all apparent living members of the Peary/Stafford families on hand, and it reconvened after the allotted time in a Naval Academy classroom. The families put an offer on the table. Rawlins or anyone in the room would get a check for $35,000 on the spot if conclusive evidence could disprove Peary's claim. No money ever changed hands.