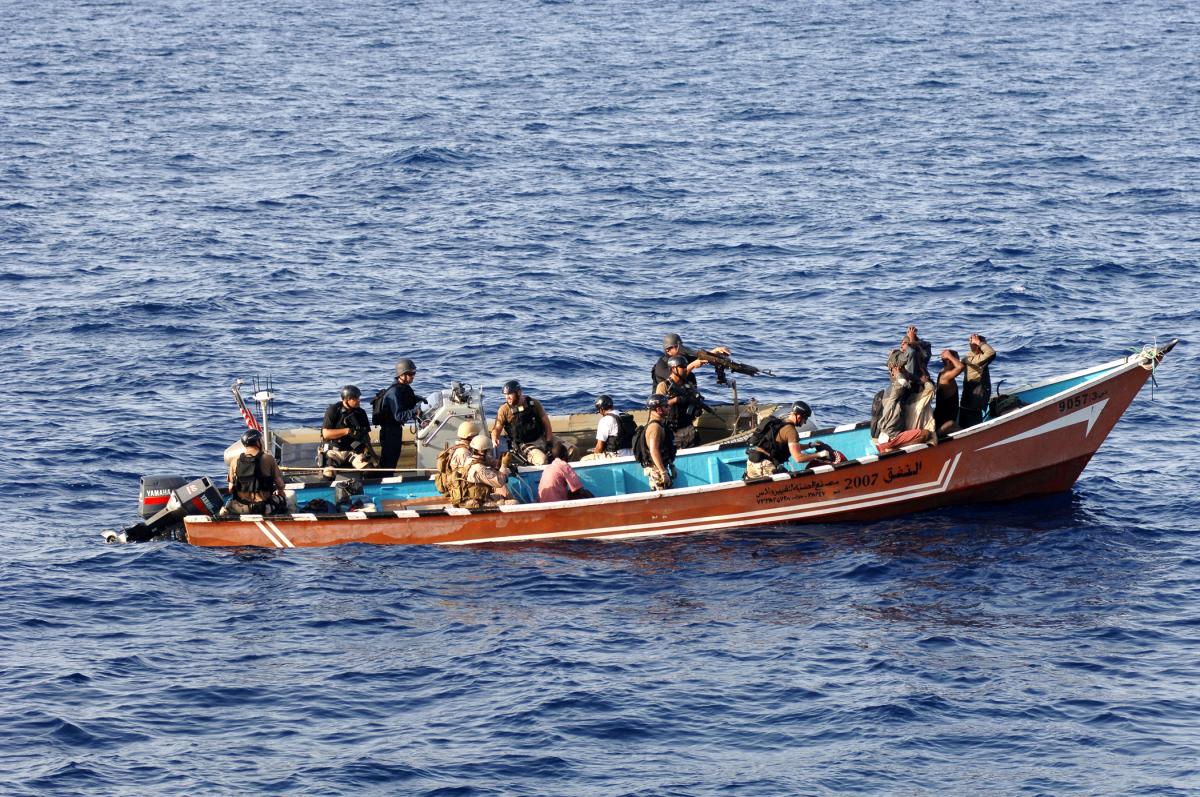 Force, or the threat of force, is an important factor in countering pirate attacks off Somalia.
That unsurprising conclusion can be inferred from the International Chamber of Commerce International Maritime Bureau's (IMB) global piracy report for 2011. IMB noted that incidents off Somalia increased in 2011, but the number of successful hijackings decreased from 49 to 28. Pottengal Mukundan, director of IMB's Piracy Reporting Center, credited "pre-emptive naval strikes, the hardening of vessels in line with the best management practices and the deterrent effect of privately contracted armed security personnel" with the drop in successful hijackings.
Vigorous action by international naval forces in the Gulf of Aden and northwest Indian Ocean, weather, and shipboard defensive measures likewise helped reduce attacks year-over-year during the first quarter of 2012. Increasingly, those defensive measures have included armed security teams embarked on merchant vessels; anywhere from 15 to 35 percent of the ships transiting the region now rely on them. And according to industry sources, no ship embarking armed guards has been hijacked to date.
But the international naval force cannot cover entire region, especially as Somali pirates employ "mother" ships and skiffs that allow them to range farther into the Indian Ocean basin. Major General Buster Howes, former commander of European Union Naval Force Somalia, told Parliamentary investigators that the Coalition Maritime Force (Combined Task Force 151) would have to deploy 83 helicopter-equipped frigates or destroyers to the region to be able to respond to every pirate attack on a merchant vessel within an hour. Currently, the force fields between 15 and 20 ships.
As for armed guards, there are still many ship owners and operators that do not want them on their ships. Cost is one reason—estimates for embarking an armed security team range from $18,000 to $60,000 for a single transit.
Liability is another reason. Dense traffic patterns in the northwest Indian Ocean mean that commercial vessels often encounter a bewildering tangle of small boat traffic—up to 40,000 small craft, according to an Omani estimate—most of it legitimate. Misidentifying the intentions of those craft could lead to mistaken engagements by armed teams, which almost invariably will have legal consequences for owners, operators, and security companies. The case of the tanker Enrica Lexie—in which embarked Italian marines mistakenly opened fire on an Indian fishing boat, killing two—serves as a warning in this regard. The two marines currently are on trial in India for murder.
There is an alternative for owners not wishing to rely on embarked armed guards, which involves the escort of commercial vessels by armed, private vessels. Several companies are offering this alternative to ship owners, or have done so in the recent past. The latest version—and perhaps most elaborate to date—comes from London-headquartered Convoy Escort Program, Ltd., or CEP.
The CEP Offer
Facilitated by insurance broker Jardine Lloyd Thompson Group, CEP promises to provide dedicated patrol-boat escorts to ships transiting the 480-nautical mile Internationally Recommended Transit Corridor (IRTC), which channels east- and westbound traffic in the Gulf of Aden into protected lanes. CEP also will provide its customers an insurance guarantee, shipboard security training and advice based on Best Management Practices for Protection Against Somalia Based Piracy 4, and access to a standby salvage tug in the event of a vessel casualty during the transit.
The program has been more than three years in the making as company principals garnered the support of insurance underwriters, law and accounting firms, ship managers, security firms, and salvage providers, among others. They also obtained the acquiescence of a flag state—Cyprus—under whose flag the patrol boats will operate, as well some assistance from the Baltic and International Maritime Council, a shipping industry trade group.
Obtaining financial backing has been another key prerequisite. Fundraising will occur over two rounds—the first aims to raise $30 million and the second another $40 million. CEP reportedly is nearing its first-round goal, which would allow it to begin operations with seven patrol boats late in 2012. That would permit the company to escort approximately 220 vessels per month. With full funding, CEP will add 11 more vessels, allowing it to escort 470 vessels per month, or about 25 percent of the vessels transiting the IRTC.
According to CEP, the initial seven patrol boats will be ex-Royal Norwegian Navy Super Hauk (Hawk) patrol boats. The craft have an overall length of approximately 119 feet and displace about 176 tons. They have a crew of five, and carry an armed security team of eight. The patrol craft will be fitted with a Long Range Acoustic Device, flare guns, and a .50-caliber heavy machine gun.
Each patrol boats also will carry a customized MST 800 Seaboat, a rigid-hull inflatable boat (RHIB) that can carry eight. The Super Hauks will be modified to allow the RHIBs to launch and recover from their notched sterns. All told, the CEP fleet will be equipped with 29 RHIBs, which will be able to data-link closed-circuit TV video back to their "mother" patrol boats.
CEP has secured permission to operate this force from Djibouti, taking advantage of that port's logistical services and its proximity to the western terminus of the IRTC. The plan is to deploy one patrol boat escort for every four customer vessels, with additional assets in support, thus forming a layered "deterrent screen" that can investigate suspicious boat traffic and interpose CEP assets between approaching boats and escorted ships. As CEP chief executive Angus Campbell explained in an email:
Our role is deterrence, while exercising our right of freedom of navigation on the high seas. This is our only role. For a pirate attack to reach an escorted merchant vessel, they will have to get through the deterrent screen. If we are attacked, we will react in self-defense. All reasonable graduated non-lethal methods of deterrence will be used before considering the use of force. Comprehensive recording facilities will be used to allow incidents to be reconstructed, and demonstrate that we have acted responsibly and proportionately.
CEP also will be keeping coalition naval forces informed of its activities on a daily basis and alert them as incidents develop. Campbell also emphasized that the company will not interdict, arrest, or hunt pirates. "That," Campbell wrote, "is the sole preserve of naval forces in the area."
Convoy Escort Program advertises its services as covering the IRTC, which is already under the protection by coalition forces. But Campbell said that the service is likely to extend beyond the corridor's endpoints "to cover as much of the high risk area as possible, which will probably include the southern Red Sea." The company will adjust its escort areas to take seasonality and pirate activity into account, he added.
As for pricing, CEP will charge $30,000-$40,000 for each ship in a convoy, which in some cases is less expensive than embarking armed guards. The company also provides an insurance-backed guarantee to reimburse any damage sustained by a customer's vessel—costs either caused by pirates or associated with a pirate hijacking, including ransom payments—up to $60 million.
Latest in a Line
CEP is not the first company to pursue vessel-escort activities in the region. Several existing services rely primarily on for-hire regional military forces. Companies such as Lotus Maritime Services and Gulf of Aden Group Transits either have used or are still advertising for-hire Yemeni naval escorts.
Similarly, in December 2008, Maersk Tankers paid for the food and fuel consumption of a Tanzanian navy patrol boat hired to escort one of its product tankers, Brigit Maersk, into the port of Mombasa, Kenya. Maersk said that action was a one-time move, prompted by an earlier pirate attack on Maersk container ship 200 nautical miles off Mombasa.
Other escort operators, including firms such as Britannia Maritime Security and Naval Guards Ltd., tout their use of private patrol craft—including ex-navy patrol boats and former mine-sweeping vessels—and security personnel for escort duties. Britannia Maritime Security also offers a range of security consulting services, while Naval Guards advertises its well-trained ex-Ukrainian navy crews.
Several years earlier, Blackwater Worldwide (now Academi) from the United States tried to establish one of the first private escort services in the Gulf of Aden. The company deployed a modified, ex-National Oceanic and Atmospheric Administration survey vessel, McArthur, to the Red Sea, equipped with aviation capability, RHIBs, and armed security personnel. Hugh Middleton, who formerly marketed the service for Blackwater, noted that when the company presented its concept to shipping company and insurance executives, many thought the idea had merit.
Ultimately, however, the Blackwater name doomed the endeavor. "No one wanted the risk of being associated with a Nisour Square-type shooting on the high seas," Middleton said, referring to a September 2007 incident in which Blackwater guards in Iraq opened fire in a crowded square, leading to the deaths of 17 Iraqi civilians.
Middleton also noted that, in addition to Blackwater's reputational problems, the company's lawyers worried that liability stemming from a mistaken pirate engagement in international waters—and even worse, another country's territorial seas—would overwhelm any business benefit that Blackwater would obtain by providing the escort service. Those problems, and some well-publicized personnel disagreements on board McArthur, led the company to cancel the project and sell the ship in a Spanish port.
Not Everyone Is Excited
The same legal concerns that plagued Blackwater may continue to dog private escort providers such as CEP. Intertanko, the tanker industry's largest trade group, cited liability questions as a reason for not supporting the private escort concept. Intertanko also questions whether private escort programs might give cash-strapped navies an excuse for reducing their efforts in the region.
Others have raised more prosaic concerns, such as patrol boat sea-keeping. As Major General Howes warned:
There are big seas out there and the sea-keeping capabilities of small, fast craft are an issue. Not only is it a pretty difficult existence, but the sea conditions are such that it is difficult to optimize the utility of one of those ships. It just does not have the sea-keeping capabilities.
For his part, Campbell does not believe that bad weather will stymie CEP's operations. "The escort service will not be affected by monsoon conditions at merchant vessel speeds," he wrote, noting that in fair conditions the patrol boats and RHIBs—which will only be launched when a suspicious boat approaches—can operate in excess of 35 knots.
Whatever the case may turn out to be, Campbell firmly believes that the CEP package will fill a critical gap in existing piracy-protection schemes, asserting that "the scale and frequency of the CEP escort model, with integral insurance coverage for the merchant vessels, is unique at this time.