In a dry dock near the entrance to the Persian Gulf, Iran's sectarian naval force is converting a former merchant container ship into a drone aircraft carrier, according to satellite and open source photos published last week by USNI News contributor H I Sutton.
Iranian Revolutionary Guard Corps Navy ship Shahid Mahdavi is a former Iranian-flagged container ship that is getting converted into a warship to carry both helicopter and fixed-wing unmanned aerial vehicles at the Iran Shipbuilding & Offshore Industries Complex Co (ISOICO) at Bandar Abbas near the Strait of Hormuz, according to November photos Sutton published on Monday.
Shahid Mahdavi has been in the dry dock since at least May undergoing the conversion from a merchant vessel to a warship, reported The Maritime Executive.
The new photos show the deck of the merchant ship removed ahead of the installation of a surface to launch aircraft.
"The conversion adds a large cantilever flight deck on the port side. It is currently unclear whether an overhang will be added to the starboard side also," wrote Sutton.
"The fact that the superstructure spans the original deck means that a traditional aircraft carrier layout is not possible. The angles on the added flight deck are also not traditional. Possibly this hints at a flight deck running across from port to starboard ahead of the superstructure."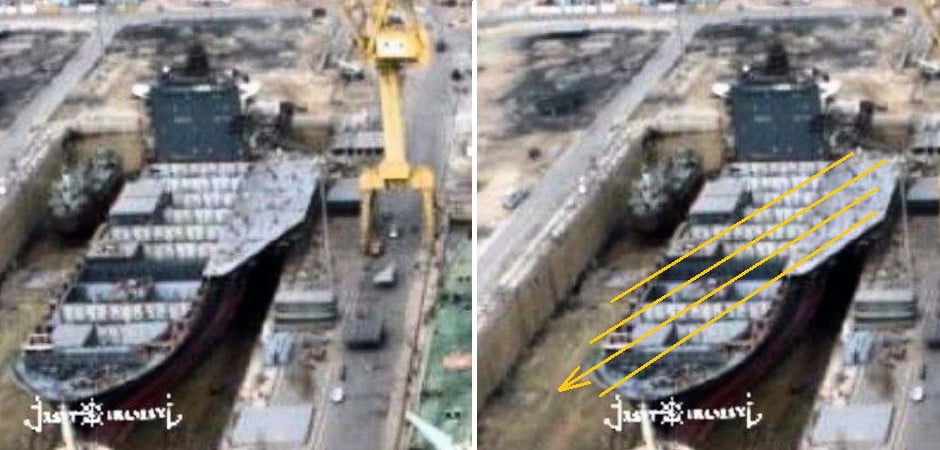 Social media photos of Shahid Mahdavi suggesting the construction of an angled flight deck. H I Sutton Photo IllustrationIran has developed a variety of aerial drones, including the Shahed 136 explosive-tipped drone that has been responsible for a string of merchant ship attacks in the Middle East.
The photos line up with Iran's expressed use for the ship in the local press, Behnam Ben Taleblu, an Iran expert at the Foundation for the Defense of Democracies, told USNI News on Tuesday.
"Iranian media had talked about it being used to store drones to grow the long-range strike capabilities of the country," he told USNI News.
"The world should be looking at how Iran plans to use merchant vessels and tankers to grow its long-range strike capabilities."
Taking a page from the U.S. expeditionary sea base model, the Iranian Navy and the IRGCN have converted merchant ships that the Iranians have been unable to use due to international sanctions.
Perhaps best known of the converted merchant ships is the IRINS Makran, a former petrochemical tanker Iran turned into warship.
Last year, Makran and Iranian Navy frigate IRINS Sahand deployed to the Atlantic for four months, traveling as far north as the Baltic Sea to represent Tehran in a Russian Navy fleet review.
Shahid Mahdavi could be launched as early as this year, Sutton wrote. A second drone carrier, Shahid Bagheri, is slated to join Shahid Mahdavi.