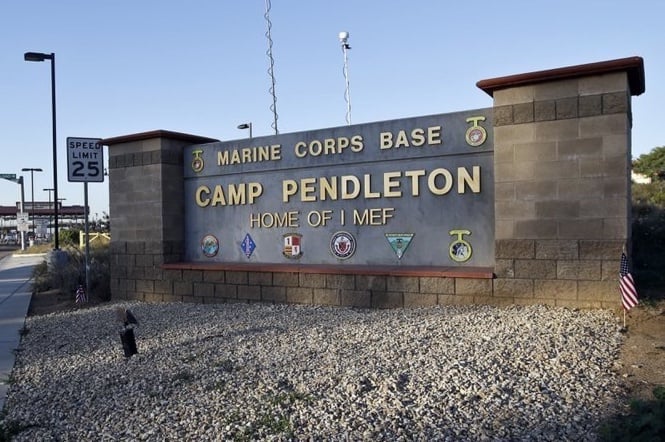 The Marine Corps levied military criminal charges against 13 junior Marines arrested in July at Camp Pendleton, Calif., for allegedly participating in operations to smuggle undocumented immigrants into the United States.
Twelve members of 1st Battalion, 5th Marines – all in the rank of lance corporal – along with a Marine assigned to 1st Battalion, 1st Marines, "will face military court proceedings for UCMJ violations" for offenses that include failure to obey an order, drug offenses, endangerment, larceny, perjury and allegedly transporting or conspiring to transport undocumented immigrants, 1st Marine Division officials said in a Friday statement.
Nine of the Marines remained in confinement in the military brig at Camp Pendleton, a division spokeswoman, Maj. Kendra Motz, told USNI News Monday.
A decision has not yet been made whether to handle the legal proceedings for all 13 Marines individually or as a group, Motz said. Pending are Article 32 preliminary hearings that would recommend to the convening authority whether the charges should be addressed at a court-martial or nonjudicial proceeding or dismissed.
The charges stem from an investigation linked to the July 3 arrests of two 1/5 Marines – Lance Lance Cpls. Byron Daniel Law II and David Javier Salazar-Quintero – who was detained by U.S. Customs and Border Protection agents patrolling for illicit smuggling in a remote area east of San Diego. Agents spotted them in the front seats of a car with three male residents of Mexico, seated in the back seat, who lacked documentation to be legally in the U.S. All five were arrested and charged in U.S. District Court in San Diego.
Three weeks later, during 1/5's morning battalion formation on July 25, Marine Corps officials and Naval Criminal Investigative Service agents arrested 16 Marines and detained another eight for their alleged involving in the illegal human smuggling and related drug-related offenses.
Both Law and Salazar-Quintero are charged with allegedly transporting and/or conspiring to transport undocumented immigrants, a violation under Uniform Code of Military Justice's Article 134.
According to redacted charge sheets, which the 1st Marine Division provided to USNI News, both Marines face a total of 13 counts of violating Article 134, alleged offenses that occurred between May 30 and July 3. The charges indicate
Ten other Marines with 1/5 also have been charged with offenses.
Five of the Marines are charged with Article 134 for their alleged involvements in human smuggling operations, during a period stretching from May 25 to July 3. Another is charged with the theft of military equipment – four smoke grenades, 20 blank 5.56mm rounds and a parachute flare – failure to report UCMJ violations and conspiring with another Marine to transport and move immigrants illegally in the U.S.
Three other Marines are charged with the destruction of cellphones with the intent to obstruct justice. And another Marine is charged with two counts of distributing the hallucinogenic drug LSD at Camp Pendleton from March 1 to July 25.
The Marine with 1/1 had been detained by U.S. border patrol agents on July 10, the Division statement said. No other details were provided. That Marine since has been charged with alleged human smuggling, disobeying an order and endangerment, according to 1st Marine Division.
According to the redacted charge sheet, that Marine is accused of transporting several illegal immigrants who had crossed into the United States in exchange for "private financial gain." The Marine also had a concealed Sig Sauer 9mm handgun, which he had kept in his vehicle and barracks room at Camp Pendleton in violation of base regulations.
The arrests and smuggling investigation involving Marines drew broader national attention because of the military's ongoing mission to bolster federal efforts at the U.S.-Mexico border and expanding border fencing. However, "none of the Marines arrested or detained for questioning served in support of the Southwest Border Support Mission," Division officials said in the statement.