NATIONAL HARBOR, Md. – Littoral Combat Ship builders are researching how to cram in additional lethal power into the existing Freedom- and Independence-variant ships.
Lockheed Martin and Austal USA are each conducting a two-phase look at how to upgrade the original LCS hulls, Joe DePietro, Lockheed Martin vice president of small combatants and ship systems, told USNI News earlier this month. The move came from a call in 2017 from Chief of Naval Operations Adm. John Richardson to backfit more capabilities onto the LCS.
"What they did is, underneath our class design services contract that we already have, they issued a technical instruction, where we were awarded roughly $2 million to go start the work on Phase 1 to develop the packages that would be for the installation and integration of those systems," he said.
Those systems include Raytheon and Kongsberg's anti-ship Naval Strike Missile, the Nulka MK 53 Decoy Launching System (DLS), the SLQ-32(V)6 Surface Electronic Warfare Improvement Program (SEWIP) system, and a modification to the ship's fire control system for its 57mm guns.
The work also includes a look into a possible upgrade of the ship's TRS-3D combat radar.
"They haven't made a final decision on what they would want to do on radar upgrades," DePietro said, noting that Lockheed Martin's LCS-17 and beyond are already set to use a solid-state version of the radar, the TRS-4D.
"And then the Austal USA ship has the [SAAB] Sea Giraffe radar, which has also gone into a solid-state version. So they're having us look into those two options as well as, you know, future technologies which could include other rotating solid-state arrays."
Additionally, Lockheed is installing the Component-Based Total-Ship System – 21st Century (COMBATSS-21) combat system, derived from the Aegis Combat System common source library, on the Austal-built Independence-variant ships to create a common training and logistics infrastructure for both variants.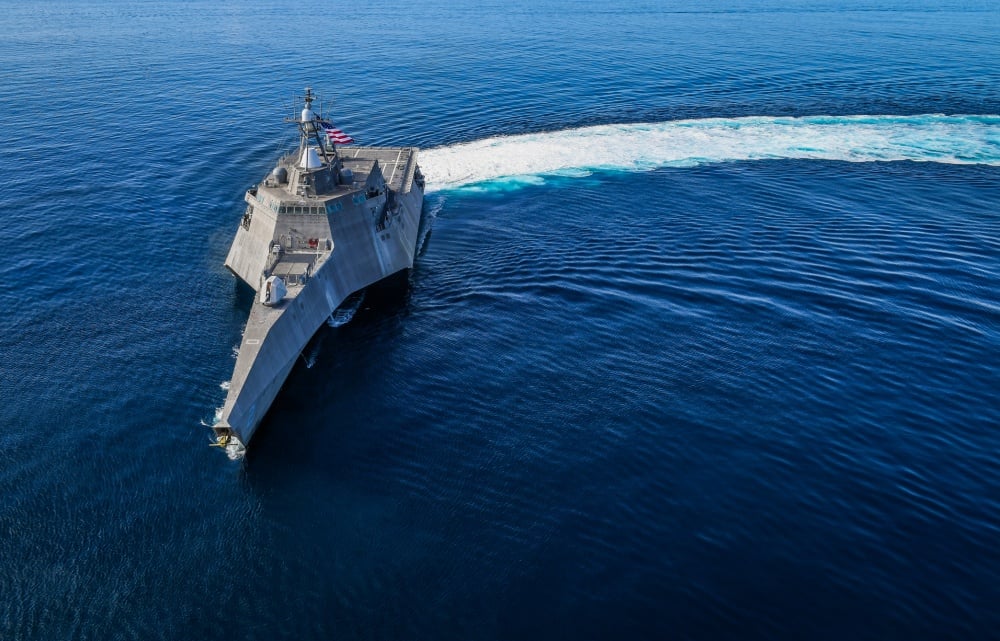 USS Independence (LCS-2) sails in the eastern Pacific on Feb. 27, 2019. US Navy PhotoA spokesman for Austal USA declined to comment on the company's work on the Independence variant when reached by USNI News.
The Navy is set to review the upgrade plans this month, ahead of a planned draft request for proposal, DePietro said.
The second phase of upgrades could include backfits of laser weapons and the installation of an eight-cell Mk-41 Vertical Launch System on the Freedom variant, or newly developed single-cell Mk-41 launchers throughout the ship.
In addition to the lethality upgrades, Lockheed is studying using the LCS platform as a mothership for the Navy's planned fleet of unmanned surface vehicles.
"We're trying to study that under our own investment while the Navy looks at these. To really try to offer, what's the right capability for the right price for the LCSs so they're relevant tomorrow, today, et cetera," DePietro said.