NATO partners are teaming up for a high-end anti-submarine warfare exercise that will test the ability of surface ships and ASW aircraft to find attack boats in deep water.
Dynamic Mongoose 2018 kicked off last week off the coast of Norway and includes forces from Denmark, France, Germany, the Netherlands, Norway, Spain, Turkey and the U.S.

"The aim of this exercise is to provide all participants with complex and challenging warfare training to enhance their interoperability and proficiency in anti-submarine and anti-surface warfare skills," according to a news release from NATO Allied Maritime Command.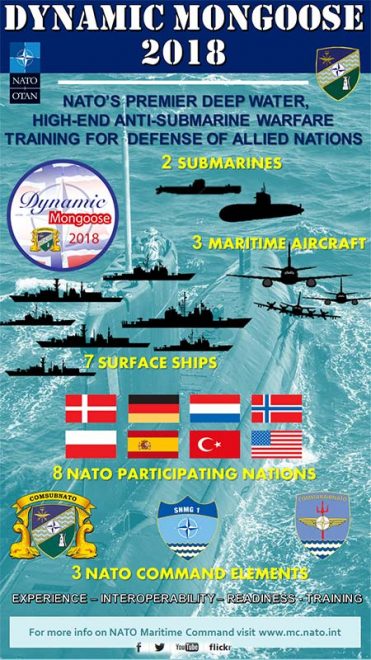 The exercise includes seven surface combatants, three ASW aircraft and two submarines. The U.S. contribution is a P-8A Poseidon ASW aircraft, a U.S. 6th Fleet spokesperson told USNI News on Tuesday.
"This valuable training opportunity will allow us, in conjunction with our NATO allies and partners, to enhance our ASW capabilities, improve interoperability and ultimately strengthen the alliances that bind our nations together in mutual commitment to regional security," Cmdr. Chad Donnelly, commanding officer of Patrol Squadron (VP) 10, said in a Navy statement.
While NATO gave a thin outline of this year's exercise, previous descriptions of the Dynamic Mongoose series give hints to the nature of the drills.
"During the exercise, submarines will have to transit from one point to another, while surface vessels try to track them down and simulate an attack," reads a description of the exercise from 2016. "Surface units will also have to transit between two points while under submarine threat."
Navy officials confirmed to USNI News none of the carrier escorts from the Harry S. Truman Carrier Strike Group are participating in the exercise. The strike group entered the Atlantic last week and is expected to participate in an exercise series with allied partners in the coming months. Truman deployed with a larger-than-average complement of escorts that are all capable of high-end submarine warfare.
Dynamic Mongoose follows the March iteration of the larger ASW exercise Dynamic Manta in the Mediterranean Sea.
U.S. and NATO forces have placed a greater emphasis on ASW exercises in the last several years as Russia has stepped up its submarine operations.
"It's important for us to have the situational awareness of where those platforms are operating at all times," U.S. Naval Forces Europe-Africa Commander Adm. James Foggo told Stars and Stripes last month.