The 13th San Antonio-class amphibious warship will be named after a World War II sailor who received the Medal of Honor for actions off Okinawa in 1945, the service announced on Wednesday.
The future San Antonio-class amphibious warship Richard M. McCool Jr. (LPD-29) will be named for Capt. Richard McCool, who commanded a landing craft support ship and saved several lives following an Imperial Japanese kamikaze attack on U.S. ships operating off the coast of Okinawa.
"Lt. McCool aided materially in evacuating all survivors from a sinking destroyer which had sustained mortal damage under the devastating attacks," read his MoH citation.
"When his own craft was attacked simultaneously by two of the enemy's suicide squadron early in the evening of 11 June, he instantly hurled the full power of his gun batteries against the plunging aircraft, shooting down the first and damaging the second before it crashed his station in the conning tower and engulfed the immediate area in a mass of flames."
McCool retired from the Navy as a captain after serving in the Korean and Vietnam wars.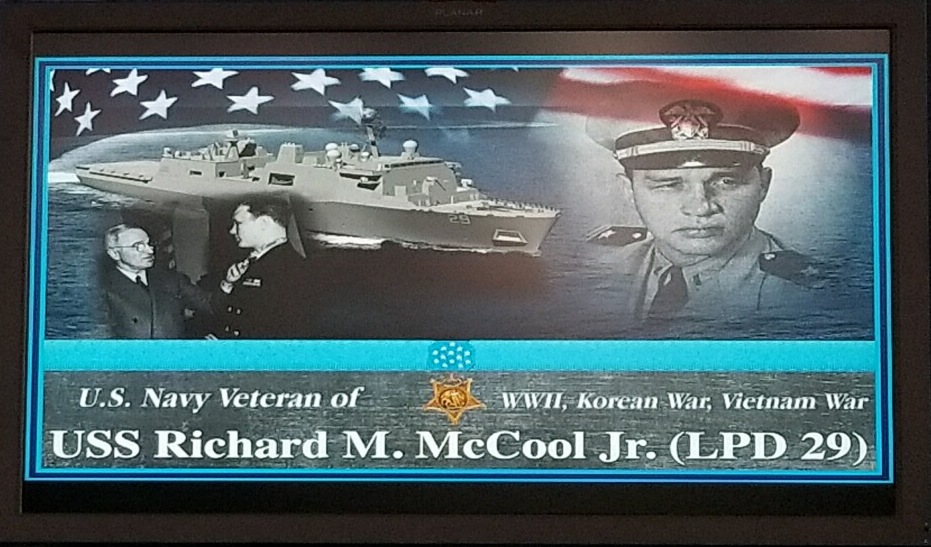 "Capt. McCool served his nation with honor, distinction and an unparalleled sense of duty," Spencer said in a Navy statement.
"His exemplary service in defense of our nation spanned 30 years and three wars. His legacy will live on in the future USS Richard M. McCool, and his heroic actions will continue to inspire sailors and Marines for decades to come."
The decision to name the ship after a war hero comes as a break in tradition, with the rest of the LPD-17 ships being named after U.S. cities.
In February, the Navy signed a $1.4-billion contract with Huntington Ingalls Industries for the construction of the future McCool. With the Navy moving into an LPD Flight II design to replace the aging Whidbey Island-class LSDs, the future McCool will be built with many but not all of the features of the Flight II design as the shipyard eases into the new design.