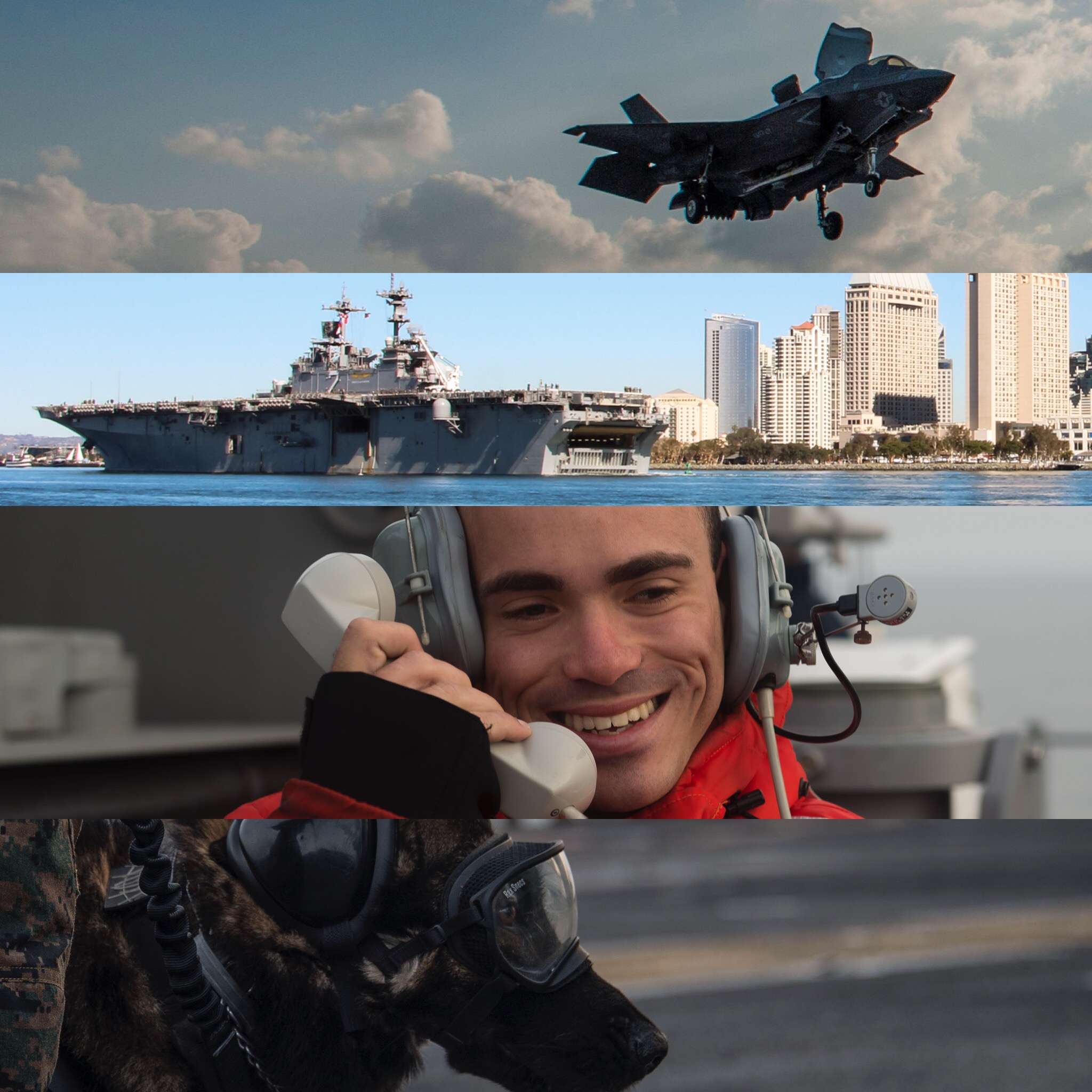 WASHINGTON, D.C. — The future of amphibious warfare was on display this week as three Wasp-class ships were underway in significant training and operations actions around the globe.
Warding off missiles, improving the seamanship of sailors on deployment, and integrating a detachment of F-35B Lightning II Joint Strike Fighters into routine patrol operations were happening this week aboard a trio of amphibious assault ships USS Iwo Jima (LHD-7), USS Essex (LHD-2) and USS Wasp (LHD-1).
The deployments and exercises are vital for the Marine Corps to be successful in future conflicts said Commandant Gen. Robert Neller while speaking Thursday to the National Defense Industrial Association's 2018 Expeditionary Warfare Division's annual meeting.
Since becoming commandant, Neller said he's asked his staff review the virtually all aspects of the Marine Corps operations. After spending more than a decade engaged in conflicts in Iraq and Afghanistan, Neller said, "We did not feel we could fight from the sea."
This week's amphibious assault ship operations involve the type of activities Neller said the Marine Corps is going to be asked to do in future conflicts.
When Iwo Jima arrived Tuesday off the coast of Israel, it's mission was to work with Israeli forces taking part in the exercise Juniper Cobra 2018, an exercise focused on improving ballistic missile defense.
"Israel and the United States are strong allies, and I'm looking forward to seeing everything our Navy-Marine Corps team will accomplish with them to increase our capabilities and build our relationship," said Capt. Joseph O'Brien, commanding officer of Iwo Jima, the flagship of the Iwo Jima Amphibious Ready Group (ARG).
Joining Iwo Jima are embarked units including the 26th Marine Expeditionary Unit (MEU) and the staff of commander, Amphibious Squadron (PHIBRON) 4. The Juniper Cobra series has been regularly conducted since 2001 with the last iteration held in 2016.
Meanwhile, the Essex ARG departed Naval Base San Diego on Monday to take part in the first ARG Surface Warfare Advanced Tactical Training (SWATT) exercise. The exercise is focused on advanced tactical training at sea to improve warfighting proficiency, lethality, and ship interoperability before further training in the ARG's deployment cycle.
"Providing watch teams and warfare commanders the reps-and-sets they need to exercise and build their combat muscle is critical," said Rear Adm. John Wade, commander of the Naval Surface and Mine Warfighting Development Center (SMWDC) in a statement.
"It's easy to look at a group of sports teams and see who's been putting time in at the track and the weight room. That's what this is – spring training to ensure these ships are fit, ready and lethal."
Joining Essex in the ARG SWATT are PHIBRON 1, USS Anchorage (LPD-23), and USS Rushmore (LSD-47). They will also operate with embarked forces representing elements of the 13th Marine Expeditionary Unit (MEU) and Marine Fighter Attack Squadron 211 (VFMA-211).
Also on Monday, when a detachment of F-35B jets with Fighter Attack Squadron 121 (VMFA-121) landed aboard Wasp, they didn't just join the Wasp Expeditionary Strike Group, but marked the first time F-35 aircraft have deployed aboard a U.S. Navy ship and with a Marine Expeditionary Unit operating in the Indo-Pacific region, according to the Navy.
The Wasp ESG is an example of what the Navy call an upgunned Expeditionary Strike Group concept. U.S. Pacific-fleet initiated the concept, which aims to provide lethality and survivability to the traditional three-ship amphibious ready group. This is accomplished by integrating multi-mission surface combatants and F-35B aircraft into amphibious operations, according to a Navy statement.
The goal is improving the amphibious force's ability to defend against adversarial threats in the undersea, surface and air domains, while also providing offensive firepower to strike from the sea, according to a Navy statement.
"Pairing F-35B Lightning II's with the Wasp represents one of the most significant leaps in warfighting capability for the Navy-Marine Corps team in our lifetime," said Rear Adm. Brad Cooper, commander, Expeditionary Strike Group 7, in a press release. "This fifth-generation stealth jet is extremely versatile, and will greatly enhance and expand our operational capabilities."
VMFA-121 Pilots are scheduled to conduct a series of qualification flights on Wasp over a multi-day period. Then, the F-35B's and 2,300 Marines in the 31st MEU will deploy aboard ships of the Wasp Expeditionary Strike Group for follow-on operations in the Indo-Pacific region as part of a routine patrol.