The first squads of infantry Marines fielding the latest in small, lightweight drones took them to the air this week during a training course at the Marine Corps' desert warfare training center.
Marines with 3rd Battalion, 7th Marines, put their InstantEye quadcopters through the rigors on Wednesday during a two-day course cramming the basics of operating the drones, which were outfitted with three electro-optical and infrared cameras and forward-looking infrared (FLIR) thermal imaging.
The small drones, weighing about one pound stripped down, will provide organic "eyes in the sky" – and "over the hill" – to small units. It's supposed to enable Marines to do intelligence, surveillance and reconnaissance with portable, battery-powered systems they can easily handle and quickly employ when needed for day and night operations. Squads would use them, perhaps, to scan ahead over a hill or building, get a closer look at a suspect threat or recon a potential target.
The Marine Corps is beginning to field the InstantEye to infantry units across the Fleet Marine Force in a program dubbed "Quads for Squads," or Q4S as Marines call it, and endorsed by the commandant. Gen. Robert Neller wants every deploying squad – a unit with 11 to 14 Marines – to be equipped with an organic, small UAS capability.
Later this month, Marines with 2nd Battalion, 4th Marines, 5th Marine Regiment will receive and train with the quadcopters at its Camp Pendleton, Calif.-base, 2nd Lt. Sam Banks, a 1st Marine Division spokesman, told USNI News.
"We're just pushing it out at a much faster rate," Banks said of the drone systems. "They're going to all of the deploying battalions first."
Along with I Marine Expeditionary Force units on the West Coast, infantry squads with Camp Lejeune, N.C.-based II MEF, Japan-based III MEF and Marine Corps Forces Reserve battalions will be fielded the InstantEye by this summer.
The Marine Corps is getting 800 InstantEye Generation 3 systems – technically, it's the Mk-2 GEN3-A0 – through an order from the Navy and Marine Corps Small Tactical Unmanned Aircraft Systems Program Office, PMA-263, officials said. Each InstantEye system consists of two vertical take-off and lift quadcopters, along with a small ground control station and spare batteries and parts, according to the Marine Corps.
On Wednesday, Marines with 3/7 were taking part in a two-day course at Range 102 at Marine Corps Air-Ground Combat Center, in Twentynine Palms, Calif. The battalion is slated to deploy as part of a Special Purpose Marine Air Ground Task Force-Crisis Response-Central Command.
The battalion got 38 quadcopters from I MEF, which received funding in early January for 100 InstantEye quadcopters "to deploying infantry battalions," according to 1st Marine Division. That fielding by I MEF included training 40 Marines with 3/7 who will take the system with them when they leave for the battalion's upcoming SPMAGTF-CR-CC 18.2 deployment.
In the past year, some groups of Marines trained with the small drones, including during operations in Afghanistan. Even as more units field the quadcopters, officials say, the Marine Corps continues to develop a concept of operations for the systems as well as tactics and procedures.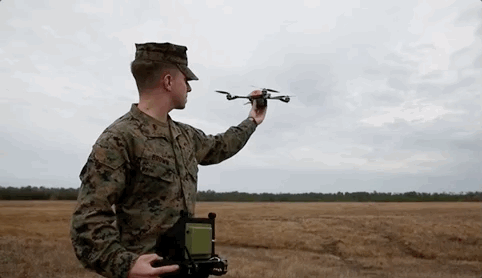 InstantEye Robotics, an Andover, Mass.-based manufacturer, describes its small drone in a Feb. 8 announcement of the Marine Corps' order as "all-weather, day/night systems that are affordable, rugged and easy to operate." It has various payloads, like small cameras, depending on a mission. Its onboard systems, however, store no data, which makes the drone one that's considered "expendable," if it's damaged or lost or ends up in unfriendly hands. Its sensors will help in targeting, but it won't carry any weaponry, according to the Marine Corps.
The quadcopters weigh about one pound and can operate up to five to 10 kilometers away and up to 12,000 feet in altitude, depending on payloads, according to the Marine Corps. Batteries can last up to 30 minutes, depending on payload and weight. A Marine launches the drone by hand and can fly it manually or set a preprogrammed route, for hands-off flying. Imagery from onboard sensors and cameras are viewed and can be shared by the ground control station operator and remote terminals receiving the imagery feed.
The training is conducted by the Navy and Marine Corps' Small Tactical UAS Training and Logistics Support Activity, or TALSA, which manages small UAS training courses. The Marine Corps is training two operators for every quadcopter, with one main operator and an additional squad member who is familiar with operating the system and can serve as a backup. The two-day course is condensed from the typical three days, and with smaller classes, a move that Banks said is enabling more Marines to be trained.
TALSA instructors teach the Marines "everything they will need to know to operate the system, become Basic Unmanned Qualified Level 1 (BUQ-1), and understand how to schedule ranges to operate the systems safely. This training provides our small-unit level leaders the capabilities necessary to allow us to persevere in the future operating environment by deterring and defeating our adversaries," 1st Marine Division officials said in a statement. TALSA has been providing small UAS training since 2012 for Marines on various UAS, including RQ-20 Puma, RQ-11B Raven, RQ-12A Wasp, SkyRanger, InstantEye and PD-100 Black Hornet.
InstantEye is considered a Group 1 UAS, or sUAS, a category of small aerial drones that are small enough to be carried in a pack and operated by one person. It is one of several small systems the Marine Corps is eyeing to equip its small-units across the Marine air-ground task force.
"Quads for Squads" stems from an 18-month experimentation with 3rd Battalion, 5th Marines, which served as an experimentation unit for the Marine Corps Warfighting Laboratory's ongoing Sea Dragon innovation program. The Marine Corps equipped 3/5 with various quadcopters and micro UAS – including InstantEye – along with other innovative gear, equipment and vehicles, including remotely-operated and autonomous systems and energy-producing technologies, in the experimentation that including the battalion's unit deployment to the Western Pacific.