More than a dozen homemade drones attempted to attack two Russian military bases in Syria in the past week, while a swarm of three remote-control boats in the Red Sea rushed a Saudi-flagged oil taker.
While both attempts ultimately failed, the inexpensive wooden and plastic drones and small, speedy patrol boats rigged with explosives are examples of what is becoming an increasingly common worry for governments around the globe: attacks using difficult-to-trace commercial technologies from non-state actors that could have a disastrous effect on military operations or critical infrastructure.
The attack in Syria came just weeks after Russian president Vladimir Putin proclaimed the Islamic State defeated in Syria, and as his government is pushing rebel groups to come to the negotiating table to end the six-year civil war.
The drone swarm buzzed in under the cover of darkness on Jan. 6., the Russian Ministry of Defense explained this week. Ten drones aimed for the Hmeimim Air Base in Latakia, while three others targeted the Russian naval base in Tartus. The Russian military claims to have shot down seven drones using Pantsir-S anti-aircraft missile system, while the remaining six were jammed with electronic countermeasures and landed. The Russian Ministry of Defense quickly posted photos of them on its Facebook page.
While there was no damage to the bases – unlike a New Year's Eve mortar attack on another Russian base in Syria that killed two soldiers and damaged several aircraft – the political fallout came quickly.
Russian President Vladimir Putin said, according to Russian media outlets, that his forces pinpointed the source of the GPS-guided drones, suggesting outside forces were to blame for the technology transfer.
"These aerial vehicles were disguised – I would like to stress that – as homemade. But it is obvious that some high-tech equipment was used," Putin said.
But photos show crude aircraft made of plywood, plastic, and duct tape, with small rockets attached to the wings, the kind of DIY project easily undertaken by groups awash in spare munitions in a war-torn country like Syria. Pentagon officials have adamantly denied supplying any rebels with materials.
And no outside help would be needed to build the small drones, experts told USNI News.
"The Syrian conflict has never really been about access to weapons," Aaron Stein, a fellow at the Atlantic Council who has tracked rebel groups in Syria closely, said in an interview.
"All of the groups have always been able to get weapons without depending on foreign governments" for supply. Munitions have for years been looted from government warehouses, and are traded an active online black market.
"We've seen non-state actors all over the world use unmanned systems," P.W. Singer, a military futurist, told USNI News.
"ISIS has conducted hundreds of drone missions, some were strikes."
For years, groups from the Islamic State to Hezbollah to environmental groups to people trying to smuggle drugs into prisons have used drones to do things once thought impossible.
In September, Israel used a Patriot missile defense battery to shoot down what it claimed was a Hezbollah drone that approached the Israeli border. And in June, American F-15s shot down two Iranian-made drones in Syria. One of the drones had dropped munitions near a joint U.S. and Syrian Democratic Forces patrol.
In both the Israeli and American shoot-downs, "that's a win that's not a win," Singer said, since the countries were forced to use expensive weaponry to down cheap aircraft. It's a tradeoff that small groups would likely keep making.
Unlike the attempted attacks on Russian bases – which were first of their kind – the Jan. 6 incident near the mouth of the Red Sea was the latest in a line of remote-control boat attacks launched by Yemen-based Houthi rebels against Saudi and Emirati vessels.
It was the first, however, against a commercial vessel.
Col. Turki Almalki, the spokesman of the Saudi-led coalition battling to oust the Houthis from power in Yemen, blamed the "Iranian-Houthi militia" for launching the three boats which were destroyed by a Royal Saudi Navy ship escorting the tanker.
The ship had been passing the Houthi-controlled port of Hodeidah, currently under blockade by the Saudi-led coalition.
"It is the responsibility of the United Nations and the international community to hold Iran accountable to UN Resolution 2216 and abide by the requirements of international law," Almalki said.
American officials have long agreed with their Saudi counterparts that Iran has provided technology assistance to the Houthi rebels, allowing them to fire cruise missiles into Saudi Arabia and launch a series of drone boat attacks.
One American defense official who spoke on background said the United States would likely send investigators to attempt to recover and study any wreckage left behind.
The official pointed to similar teams dispatched to examine Houthi missiles fired into Saudi Arabia, reportedly finding indications of Iranian technologies. In December, United Nations Ambassador Nikki Haley showed off the remains of one such cruise missile, pointing out what she claimed was evidence of Iranian involvement in supplying the components. Those claims were not backed up by a recent United Nations report that found the evidence of direct Iranian support less convincing, however.
Last weekend's attack was at least the sixth time Houthis used remote-controlled boats to attack shipping and oil assets in the Red Sea, according to a tally of Saudi and Gulf region news reports.
In January 2017, a remote-controlled boat struck a Saudi navy frigate in the Red Sea, killing two sailors. In April, the Saudis scuttled another explosives-leaden remote-control boat headed for an oil platform in the Red Sea. In July, another remote-control boat drove into piers at the Saudi-controlled Yemeni port of Mokha, and that month there were at least two more boats destroyed by warships from Saudi and the UAE, according to reports.
In March, the UAE invited a team from Conflict Armament Research, an independent firm that examines weapons found or captured on battlefields worldwide, to study a captured Houthi remotely-piloted boat. The group concluded that there was no direct evidence of Iranian involvement, but the materials used "suggests that certain components were sourced from Iran or through Iranian channels."
The 30-foot long patrol boat, originally manufactured by the UAE-based company Al Fattan Ship Industry, was one of at least 60 donated by the UAE Coast Guard to the Yemeni Navy before the civil war kicked off in 2015.
The boat's control unit was connected to a remotely operated video camera and a Garmin GPS antenna, suggesting the operator was able to stream live footage of the boat's progress during the attack, and was fitted with a Soviet-manufactured P-15 Termit anti-ship missile and shaped explosive charge.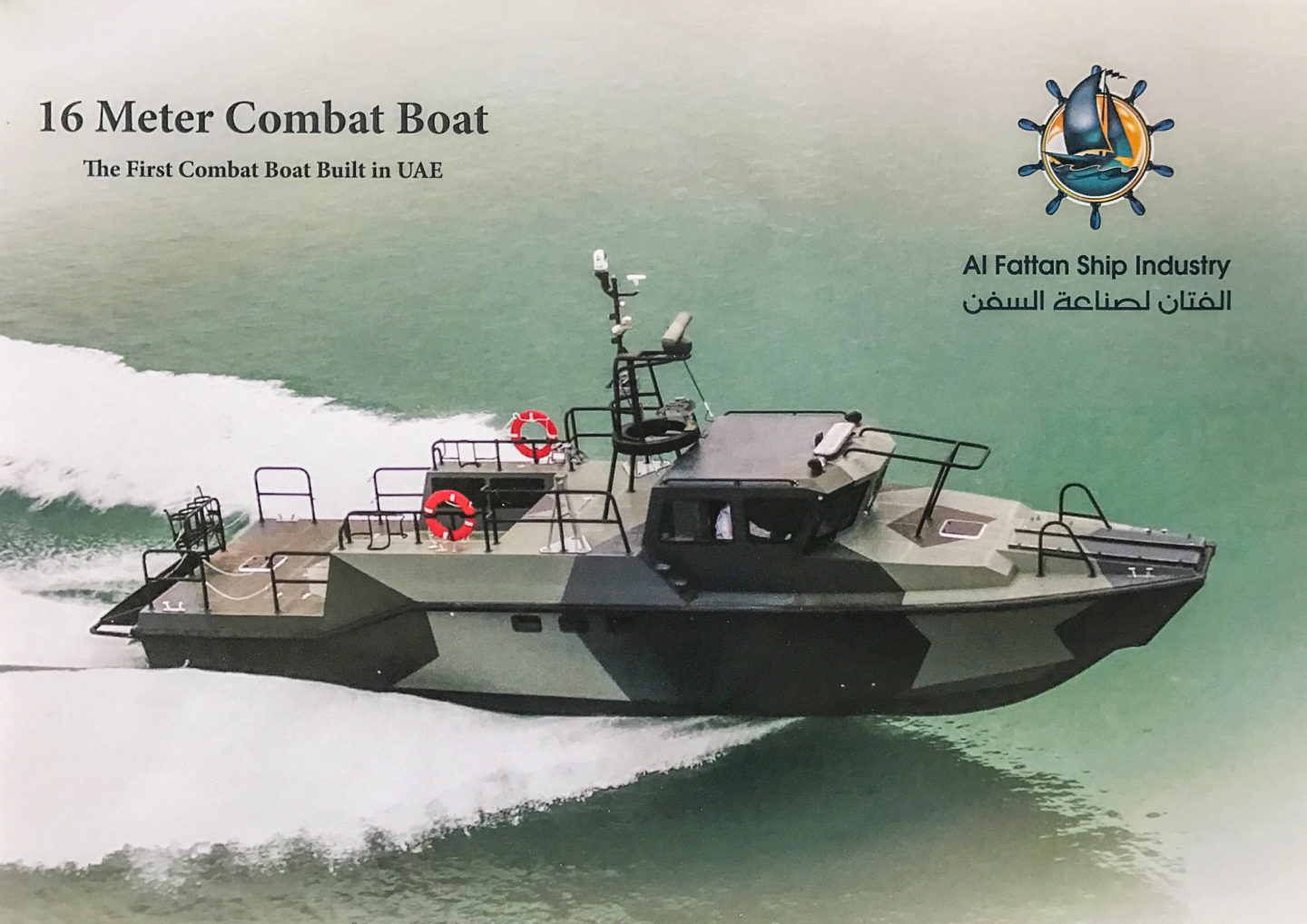 In November, the Houthis pledged to attack Saudi commercial shipping in the Red Sea in response to the blockade of Yemen's ports. The United Nations blames the blockade for worsening the dire humanitarian situation in Yemen, which the U.N. called "the worst humanitarian crisis in the world," last month. Overall, more than 11 million children are in danger of starvation without increased supplies of aid, and 16 million people do not have safe water and proper sanitation. Over 1 million Yemenis have contracted cholera over the past 18 months.
There is no indication that any American assets were involved in stopping the suicide boats, but U.S. Central Command spokesman Lt. Col. Earl Brown said that "freedom of navigation is a key U.S. national security interest, and the U.S., along with our allies and partners, remains well positioned and postured to preserve the free flow of commerce throughout the U.S. Central Command area of operations."