For more than 200 years the signal lamp was used by navies the world over to silently send messages over stretches of distant seas. But since the close of World War II the fundamentals behind the signaling device haven't changed much, as new types of radio and digital communications surpassed the speed and reliability of visual signaling.
Now, a new project from the Office of Naval Research is set to bring new life and operational relevance to the signal lamp by giving it a 21st-century upgrade to automate sending and receiving messages.
In the modern U.S. Navy the lamps are still important for radio silent operations where ships are close together – like underway replenishments – but outside specific instances they're not often used.
"Whenever you were around another ship at night, you made the signalmen do it," Bryan McGrath, the former commander of the guided-missile destroyer USS Bulkeley (DDG-84), told USNI News on Tuesday.
"We'd go to talk to the other signalmen for the hell of it because it's so rare that you got do it."
Acting on a 2016 request from the Naval Surface and Mine Warfighting Development Center (SMWDC), the ONR TechSolutions office ran a test in June to replace a trained signal operator with a camera and a digital tablet to send messages back and forth in dots and dashes of Morse code.
The Flashing Light to Text Converter (FLTC) was developed as part of $750,000 effort with ONR, Naval Surface Warfare Center Panama City, Fla., and Creative MicroSystems Corp.
"Our tablet has the text messaging interface software on it. It has a USB camera that mounts to the searchlight, and it's got a signal cable to the controlling mechanism," ONR TechSoultions assistant program manager Jason Payne told USNI News on Tuesday.
"A sailor types a message on the tablet. Hits send and then one of those… variants automates the flashing to transmit the Morse code from one signal lamp to be picked up by the camera mounted to the opposing signal lamp, which sends [the signal] back to the tablet for translation."
The initial June test proved basic Morse code can be sent back and forth between ships – in this case cruiser USS Monterey (CG-61) and destroyer USS Stout (DDG-55) as the ships sat pierside at Naval Station Norfolk, Va.
ONR told USNI News that early feedback from sailors was positive and that they wanted additional capabilities like being able to send pre-written common messages and having the tablet come equipped with a translator for foreign ships. Marines are interested in using the lamps to signal to ships from deployed units ashore.
The next series of tests will swap the lamp's xenon light bulb for an LED array for a more complex test that could transmit thousands of characters a second using visible light.
"We're doing a follow-on effort, a Phase 2 to pursue the LED solution to achieve a 1khz rate of transmission – or about 1,200 words per minute – using the Morse code scheme, but we would like to explore a binary method or even modulation of the frequency of the LED," Payne said.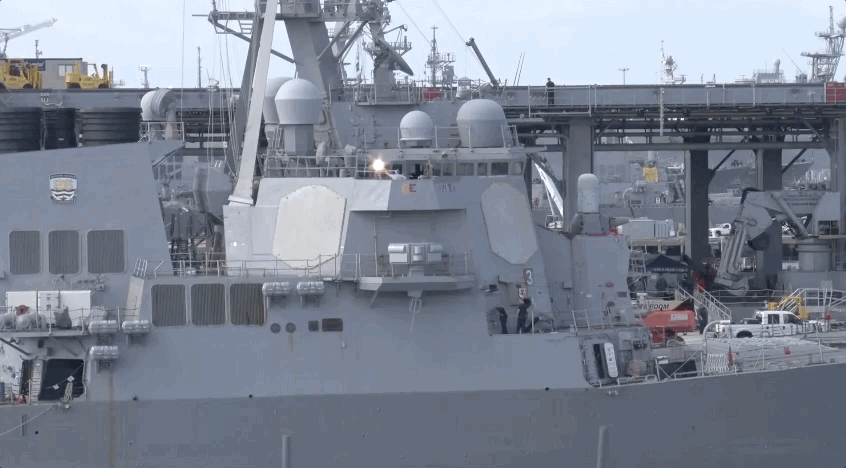 Modulating the output of LED lights as a transmission medium for massive amounts of information is an emerging in the commercial world.
"With LEDs, it is possible to control light brightness at a frequency much higher than conventional light bulbs: LEDs can be switched on and off at very high rates. As result, LED-based lighting can be used for wireless communication services by modulating the intensity of the emitted light," according to Disney Research, who is using the technology to develop children's products.
"We call this concept Visible Light Communication (VLC) with LED-to-LED networking. … VLC creates opportunities for low-cost, safe, and environmentally friendly wireless communication solutions."
In other words, VLC – or LiFi – is communication that can move major amounts of data without using electromagnetic signals that could be detected and deciphered by adversaries listening in. The modification of the signal lamp and the inclusion of sensors that can read the LED information passed via the visual light – or near infrared – could provide ships an avenue to move significant amounts of data beyond the 120 characters a minute that could be sent with an exceptional Morse code operator.
"I think it's genius," McGrath said.
"In an era which signal control is going to be at a premium and we're going to want, when we want to be able to thoroughly cut off as much the exploitable signals as we can on surface ships, this is true genius."
ONR is set to run its next test in September.