A U.S. Navy unmanned buoyancy glider was taken by Chinese forces in international waters earlier this week, two defense officials confirmed to USNI News on Friday.
The glider was operating with U.S. Military Sealift Command ship USNS Bowditch (T-AGS-62) about 50 miles off of Subic Bay in the Philippines when a People's Liberation Army Navy ship took the glider both defense officals said.
"A Chinese naval ship that had been shadowing the Bowditch put a small boat into the water. That small boat came up alongside and the Chinese crew took one of the drones," CNN reported on Friday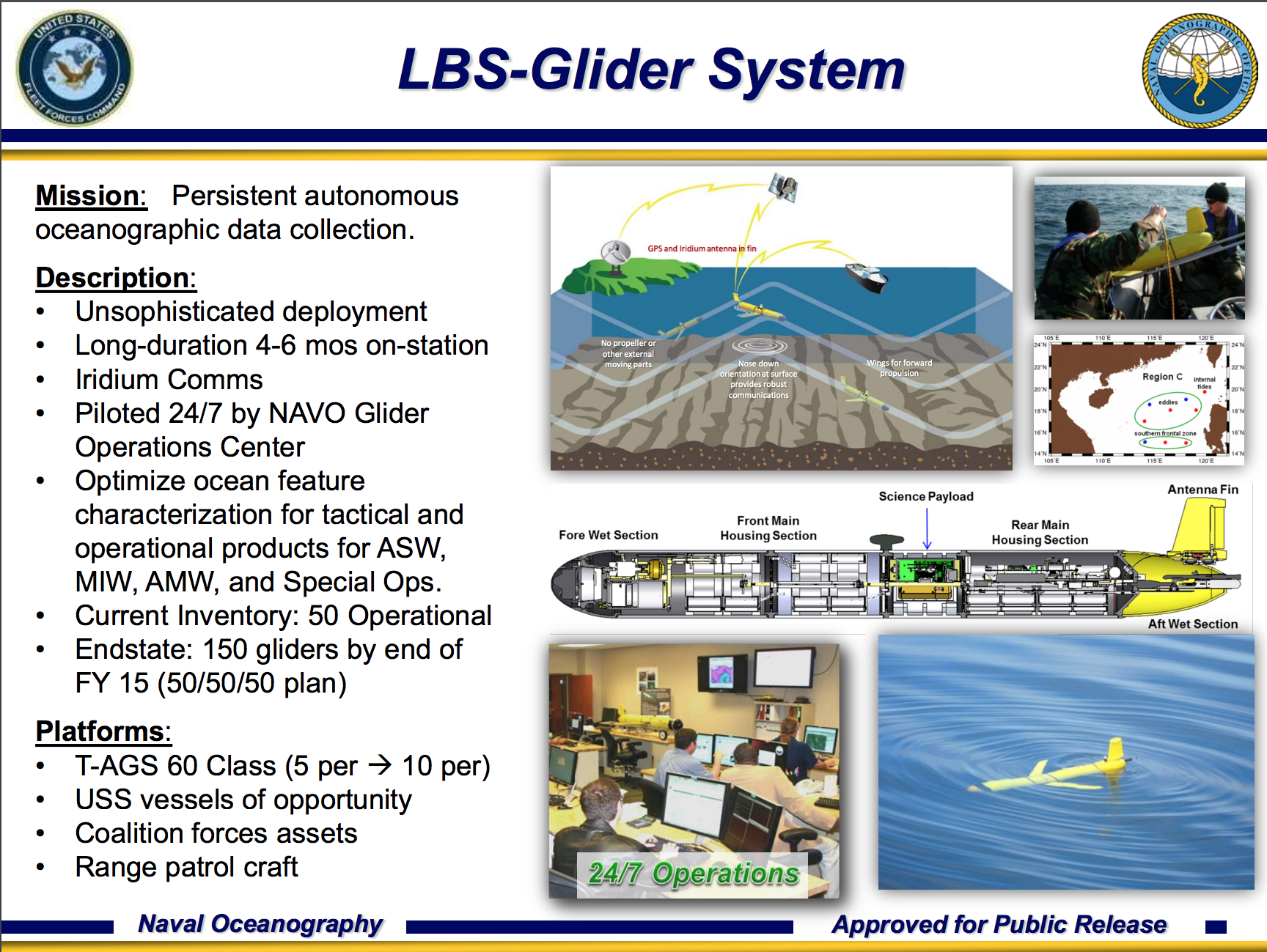 "The Chinese navy ship ASR-510, a Dalang III-class ship, approached within 500 yards of the Bowditch, launched a small boat, and seized the UUV," the Pentagon said in a statement reported the BBC
The gliders, far from the Navy's most sophisticated unmanned vehicles, are used by the service as oceanagraphic survey tools. The gliders largely use unclassified means to collect data for the Navy's charts and ocean models. The service deploys the systems for months at a time and they transmit data back to the Navy.
"This is an area of significant importance for future naval operations," Eric Wertheim, author of U.S. Naval Institute's Combat Fleets told USNI News on Friday. "While this ocean glider UUV may be low tech by comparison to other more advanced U.S. UUVs, the Chinese are known to be investing heavily in the development of their own unmanned underwater vehicles, and any additional information garnered from foreign systems could potentially prove useful to them.
The service has more than a hundred of the gliders that can transmit data back for more than a month at a time, Oceanographer of the Navy Rear Adm. Tim Gallaudet said in October during an AUVSI conference in Washington, D.C.
The seizure of the glider is arguably a violation of freedom of navigation norms.
The following is the complete Pentagon statement on the incident.
Statement by Pentagon Press Secretary Peter Cook on Incident in South China Sea
Using appropriate government-to-government channels, the Department of Defense has called upon China to immediately return an unmanned underwater vehicle (UUV) that China unlawfully seized on Dec. 15 in the South China Sea while it was being recovered by a U.S. Navy oceanographic survey ship. The USNS Bowditch (T-AGS 62) and the UUV — an unclassified "ocean glider" system used around the world to gather military oceanographic data such as salinity, water temperature, and sound speed – were conducting routine operations in accordance with international law about 50 nautical miles northwest of Subic Bay, Philippines, when a Chinese Navy PRC DALANG III-Class ship (ASR-510) launched a small boat and retrieved the UUV. Bowditch made contact with the PRC Navy ship via bridge-to-bridge radio to request the return of the UUV. The radio contact was acknowledged by the PRC Navy ship, but the request was ignored. The UUV is a sovereign immune vessel of the United States. We call upon China to return our UUV immediately, and to comply with all of its obligations under international law."