The Navy is set to deploy unmanned buoyancy gliders from its guided missile destroyers in an effort to expand its anti-submarine warfare edge.
The service has used the gliders – that use wave action to travel under the water to record information like water temperature and pressure – to build complex models of the ocean depths the service uses as part of its ASW and mine warfare efforts.
While the service has more than a hundred of the gliders that can transmit data back for more than a month at a time, the service has been limited in the platforms it can deploy the gliders from, Oceanographer of the Navy Rear Adm. Tim Gallaudet said last month during an AUVSI conference in Washington, D.C.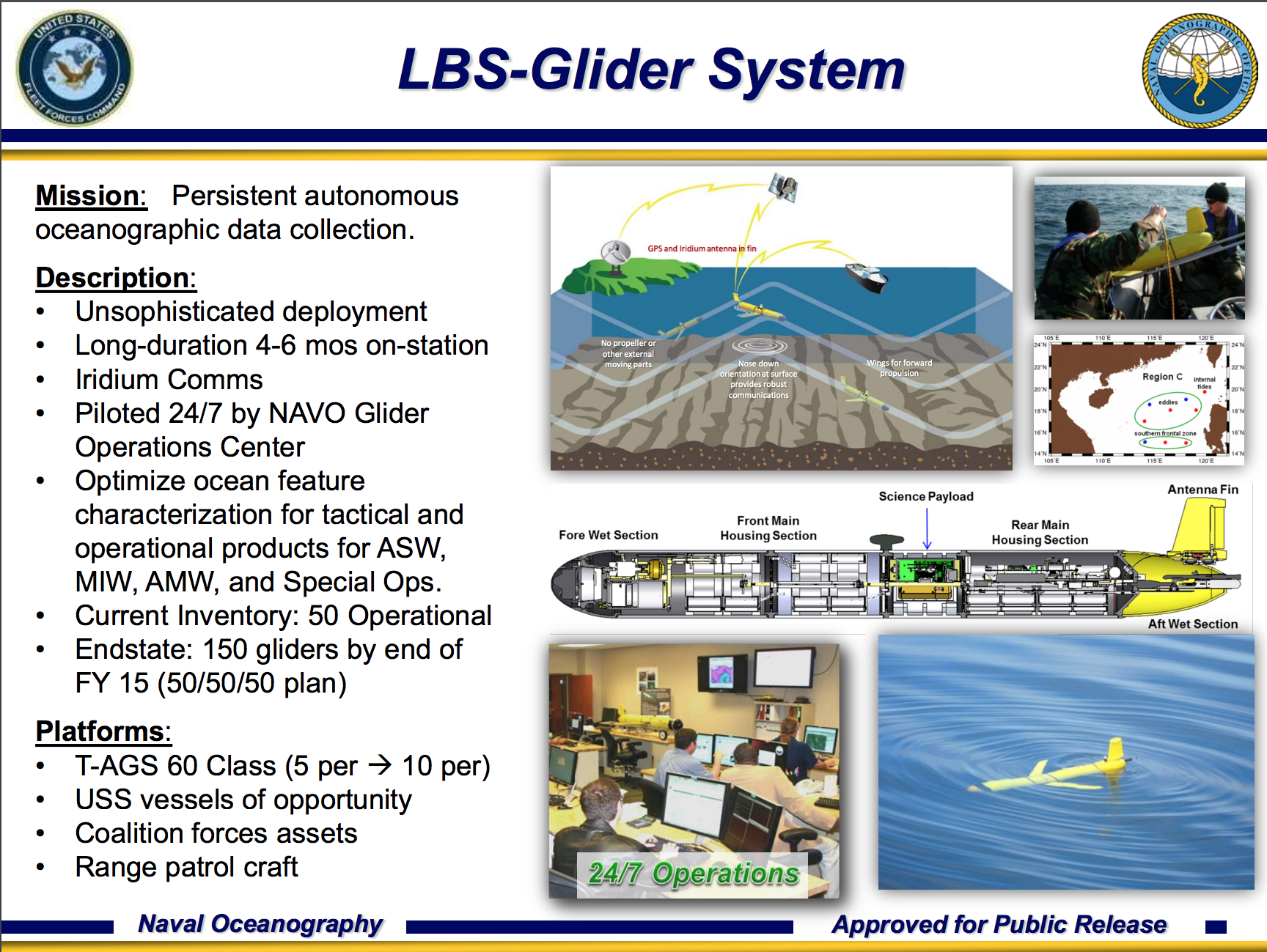 "Right now I have six oceanographic survey ships but I'm working with my network of partners to expand that so I'll go from having 14 in the water in different oceans and hopefully dozens," Gallaudet said.
"I'd like to get my whole inventory in the water if I could, that's our goal."
Naval Sea Systems Command recently approved the deployment of up to two of the gliders from Arleigh Burke guided missile destroyers that will not only help get more gliders in the water but also provide the ships with real-time information for the crew. The office worked with Destroyer Squadron 15 in the Pacific to test the concept and looking to expand.
"I'm expecting to push more of these out to the different theaters this year, with that authorization," he said.
The benefit of having the gliders operate from the destroyers are not only increasing the volume of data coming into the service as a whole, but it also provides information to local units.
"It puts gliders in the same battlespace that the fleet is conducting antisubmarine warfare (ASW), giving them an undersea advantage over an adversary by collecting oceanographic measurements that greatly improve ocean and acoustic models," he said in a statement provided to USNI News.
"The data is available to the ship's crew as well as transmitted several times per day to the Naval Oceanographic Office, where it is used to update high-resolution oceanographic models that are applied to directly support naval assets conducting a broad range of operations, including not only ASW, but mine warfare and naval special warfare."