Seventeen NATO members and partners are wrapping up this year's BALTOPS exercise, which provided more and more complex training opportunities in amphibious and anti-submarine warfare compared to previous years.
Vice Adm. James Foggo, U.S. 6th Fleet commander and commander of Naval Striking and Support Forces NATO, told reporters today that the 44th iteration of this Baltic Sea exercise included 43 ships, 60-plus aircraft and more than 5,000 military personnel – about the same size as last year and much bigger than BALTOPS 2014 – and, based on feedback from last year's participants, included two additional submarines to train with and one extra amphibious landing.
Last year's exercise included just one Polish Kobben-class submarine, which was more than 50 years old but did a great job, Foggo said.
"The surface ships, which like to train with these very quiet hybrid diesel-electric submarines, said, 'that was really great, we wish we had more.' So that was one of the lessons learned we took away from BALTOPS 2015," he told reporters from aboard USS Mount Whitney (LCC-20), off the coast of Poland.
BALTOPS organizers sent out a force offering, asking if anyone else wanted to bring a submarine this year for training. In addition to Poland bringing another Kobben-class boat, ORP Kondor (297), Portugal offered its NRP Tridente (S-160) and Sweden its HSWMS Halland (J-18).
"It allowed us to increase the amount of anti-submarine warfare training for the surface ships and for the P-3 aircraft, the marine patrol aircraft flying around, as well as we had the new P-8 marine patrol aircraft in the mix of forces this year," Foggo said.
"We really did have a much greater training opportunity in anti-submarine warfare, which is so important nowadays."
On the amphibious operations side, which is the primary focus of the exercise, BALTOPS 2015 included two landings – including one that turned out to be a little too easy for the forces involved.
"The lessons learned from Ravlunda (in Sweden) is, it's a sandy beach and it was a beautiful day, and from the standpoint of the Marines coming ashore it was a really straightforward amphibious landing evolution," Foggo said.
"During our hotwash last year (immediately after BALTOPS 2015 ended), we discussed how we could make the landing more challenging. So we moved into the archipelagic area of Finland and Sweden, further north, which is an archipelago of 100,000 rocks, shoals and islands, and decided to stress the force by doing our first landing shortly after we left Tallinn, Estonia. And I've got to tell you, that was very challenging from a number of viewpoints.
"One, for the amphibious ships to drive in there, anchor and put their Marines ashore – the (Dutch HNLMS) Johan de Witt (L-801) and the USS Carter Hall (LSD-50) – very challenging from a navigational perspective because of all the shoals and rocks," he continued.
"The ships did a great job. Additionally, for the Marines to get ashore amidst all these natural obstacles was a challenge. Once they got there it was a different terrain, it wasn't really a beach, it was a lot of rocks" that they had to cross to get to their objectives, Foggo said.
This year's exercise included that rocky landing in Hanko, Finland, beginning the day after the fleet pulled out of port in Estonia; a second landing in Uto, Sweden, from June 10 to 13; and a third landing, in Ustka, Poland, set to begin in a few hours.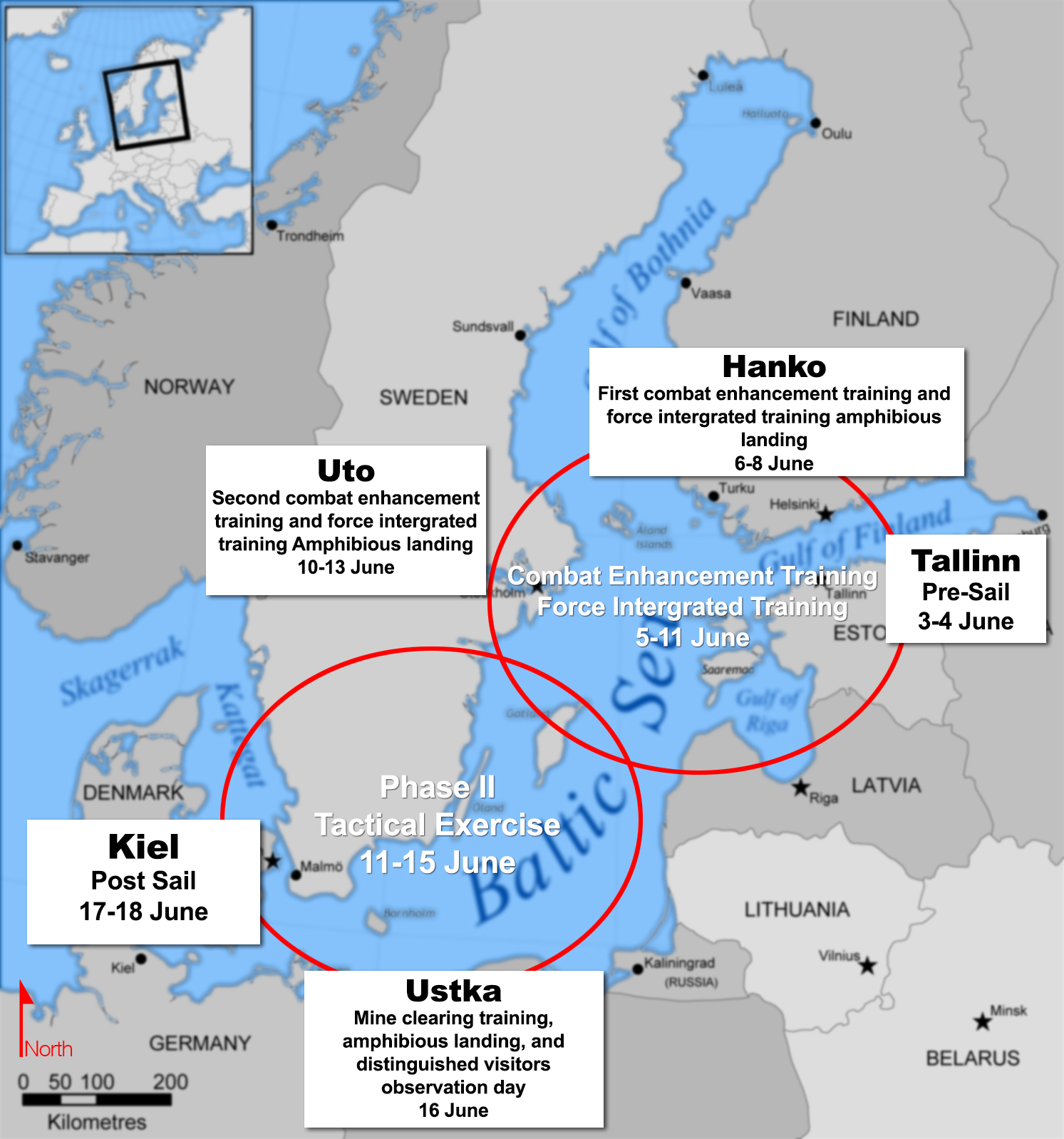 Also during BALTOPS this year, mine countermeasures ships swept the Baltic Sea – so well that they not only found all the target mines but also found unexploded ordnance from World War II, some of which the NATO forces detonated to create a safer environment for the host nations. Forces practiced anti-surface warfare; conducted maritime interdiction training, boarding other ships to search for prohibited materials; and flew aircraft to provide air defense for high-value units during at-sea operations.
Foggo said that the increases in the amount and the complexity of ASW and amphibious training this year was not in response to current events – such as a stark increase in Russian submarine activity in the region – but rather came from the participants themselves looking for a bigger challenge. Looking forward to next year, he said that the Marines couldn't be pushed to do four landings in the same time period, but the NATO planners could find other ways to make the exercise more challenging for them.
Royal Navy Rear Adm. Paddy McAlpine, deputy commander of Naval Striking and Support Forces NATO, said in the same media roundtable that BALTOPS 2017 would be "bigger if we can, and much more complex."
After a year of planning, the exercise has to start out slow, McAlpine said, starting with something simple like an air attack.
"Once they're good at that, we'll attack them with submarines; then once they're good at that, we'll attack them with a surface vessel; and later we'll combine these serials" to simulate multiple simultaneous threats, or operating with battle damage, or other twists for the NATO force to respond to. In these ways, he said, the force can continue to push itself harder and ensure the countries and the combined force is ready for whatever real-world situations may arise.
On the aviation side, Italian Navy Rear Adm. Francesco Covella, deputy chief of staff for operations for Naval Striking and Support Forces NATO, said that more than 60 ship- and land-based aircraft – from fighters to maritime patrol airplanes to even the B-52 bomber – operated together and coordinated schedules and air space through NATO "combined air operations center ashore."
"For the first time we could have these land-based facilities integrated into our communication" at sea, he said – and even more impressive, Swedish air defense centers were included despite Sweden not being a NATO member.
Covella said that the operational practice the participants gained was good, but understanding the state of interoperability of systems from NATO members and partners, and seeing where improvements can be made in the future, was one of the main benefits of the aviation portion of the exercise.