Indo-U.S. relations have been the subject of interest for many policy analysts and with the emergence of an economic and military powerhouse in India, they have major implications for the United States and rest of the world. The divorced relationship that existed since the Cold war has gone beyond mutual suspicion and emerged as trusted friends. The liberalization of the Indian economy in 1991 brought new-found opportunities for both the nations.
Today, India-U.S. bilateral cooperation is broad-based, covering trade and investment, defense and security, education, science and technology, cyber security, high-technology and civil nuclear energy. Both nations enjoy vibrant people-to-people contact and support cutting across the political spectrum, which helps stimulate the relationship even further.
The bond of democracy is the largest similarity the nations share. The mutual visits by the heads of state of both the nations have given a considerable boost to the existing bond of friendship existing between them. Since the exchange of visits of Indian Prime Minister Modi and President Obama's India visit in 2014 and 2015, a sustained momentum to the bilateral relations between the nations has been provided.
The last visit of Modi, in September 2014, had several visible outcomes with mechanisms to enhance trade and investment, particularly in infrastructure; new modalities to implement cooperation in energy, including nuclear and renewable energy; new approaches to defense trade, security and counter-terrorism collaboration; and new areas of cooperation between India and the United States in third countries.
But of all the deals and agreements, what stuck the most was the mutual convergence in the view of both nations with respect to the Asia Pacific and South China Sea and the joint voicing for unrestricted access and freedom of sea routes to conduct their businesses. In view of the rapid movements of China's navy in the Spratly Islands and China's claim of the entire IOR region as its own, it seems that the joint call by both nations is directed rightly to call the Chinese bluff.
Why is India Growing Wary of China?
With its growing economic clout—against the backdrop of a fumbling Russia—China has found new reasons and grounds to claim its right wherever it finds an easy target. Chinese claims over the territorial waters of Vietnamese, Philippines, Malaysian, Singapore, Thailandand Indonesia have heightened tensions with the South Asian nations. Japan and Australia have also realized the need to stand up to thwart the Chinese designs. But why is India upping the ante against China—with which it shares its longest borders?
The reason for India to suddenly become more aggressive emerges from the history of an ugly spat. With a vexed border issue spiraling out of control and increasing claims over Arunachal Pradesh as its landmass, China lately has been making things difficult for India to remain at peace.
China has purposely transgressed and makes a claim over vast areas of Indian territory that it considers its own, having captured it during a brief war in 1961. It considers McMohan line (boundary existing between India and China) as illegal.
Until the arrival of the Modi government, China had been making routine transgressions into India-controlled areas to put pressure on the Indian government to back off its claims. China's overt and covert support to the Pakistani defense buildup, aimed at Indiam through supply of submarines, JF-17 fighters and strategic inroads in Pakistan-held Kasmir (classified by India as its territory) creates more suspicion of its designs against India than anything. Lately the port transfer of Gwadar in Pakistan to China and the rising interest of China in Sri Lanka and Chittagong port, Bangladesh has unnerved India to a certain extent.
The rapid inroads in the India Ocean by Chinese naval crafts and nuclear subs as part of its "String of Pearls" strategy to encircle India, has not gone unnoticed by Indian counter-strategists too, nor the covert support provided to North East Militants to destabilize India.
More so, the deep inroads made by China in making friends in the Indian neighborhood has ruffled quite a few feathers and India is waiting to pluck some of the pearls out of its "String of Pearls."
Catching Up to China
Since the emergence of Modi government, India as part of a strategic shift, has moved toward an assertive Act East Policy from a relatively subtle Look East Policy, to boost its engagement with its South Asian neighbors.
India has started a rather frequent dispatch of warships to the South China Sea to assert its dominance. These indigenously designed ships—INS Ranvir (a guided-missile destroyer) and INS Shakti (a Finacentri designed fleet tanker—along with INS Satpura (guided-missile stealth frigate) and INS Kamorta anti-submarine corvette) are on a two-month deployments that take them to Freemantle, Australia; Kuantan, Malaysia; Sattahip, Thailand; and Sihanoukville, Cambodia. A series of naval exercises with Australia, Japan, Singapore, the United States, and other south East Asian nations gives an unmistaken signal to China that in an event of a military standoff, India will not remain friendless.
At home, India has steadily given a go-ahead to $40 billion investment in defense invigoration including construction of 6 nuclear subs, a mountain division of 60,000 trained soldiers , bases in India and outside, all of it aimed to checkmate the Chinese tactics. Its two aircraft carriers are already patrolling the Indian Ocean region, a major deterrence against any Chinese intrusion; a third was recently launched on in June giving it an edge over China.
With Southeast Asian nations such as Vietnam, the Philippines, Indonesia and Japan repeatedly objecting to Chinese transgressions, sentiment is rapidly drifting against China and in India's favor. Recent incursions in Malaysian waters have not helped China either, with Malaysia raising its voice for the first time. The incident was reported by the Borneo Times in June of a Chinese navy ship intruding into the Malaysian waters and laying anchor 84 nautical miles from the coast of Sarawak (much inside its exclusive economic zone), Malaysia immediately lodged a strong protests and vowed of diplomatic action if the intrusions did not stop.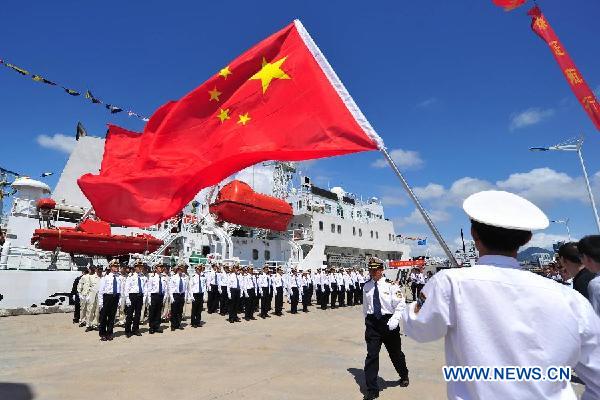 With India beefing up its Straits of Malacca presence, overseeing the path through which China's trade ships pass, it has given a clear signal that it has the capabilities to choke China's trade whenever it wishes to. And this time, unlike in 1961, it will have many friends to support the act. Surely, India's engagement with the South Asian nations is bound to go up.
With the United States planning to continue to patrol the South China Sea, the zone of action is heating up rapidly. The fact that Australia, along with Japanese defense establishments is presently mapping a plan with New Delhi toward a joint naval engagement should ruffle China sooner then later. Japan and Australia along with India had desisted till now to annoy China through any joint exercise.
America's Role in an Emerging India
The United States in the past 15 years has taken unprecedented measures to close the gap with India. U.S. ties with India — after a brief lull during the nuclear tests of 1998 and an ensuing sanction — have become more matured.
The United States and India both see it as a realignment of the new world order where both nations are destined to gain immensely because of their shared democratic heritage, a large wealthy and powerful Indian-American population and an emerging market. For India, the United States is the land of immense opportunity and business, knowledge and energy. India's strategic needs are increasingly being fulfilled not by a "bygone Russia" but an "understanding America." Within the past 12 years the United States has sold more than $12 billion worth of military equipment to India overtaking Russia as the largest defense supplier. And it seems that India needs more of it for sure. American business interests, followed by investments, have grown yet there is a tremendous scope for growth as it is nowhere close to the Sino-India trade.
The current visit of U.S. Defense Secretary Ashton Carter to India was important as it laid the groundwork for a strong India–U.S. strategic partnership. Carter's visit to Vishakhapatnam, the strategic port housing the naval fleet to counter Chinese intrusions and home base of the upcoming aircraft carrier Vikrant is testimony to the growing bonhomie between both nations.
India and the United States are likely to ink a $3 billion defense deal for 22 Boeing Apache and 15 Chinook helicopters.
India is likely to order three additional Boeing C -17 Globemasters to add to its existing transport fleet of 10 C17s and 12 Lockheed Martin C-130 Js and 12 Boeing P-8I Poseidons along with scope for buying GE 414 Jet engines & commencement of talks for fitting of General Atomics' EMALS for its proposed nuclear carrier Vishal.
The United States and India have also signed a 10-year agreement for strategic cooperation keeping the rapidly changing geostrategic scenarios.
To summarize, the close engagement between these nations is a good sign of the maturing relationship, but those signs will not go well for observers in China.