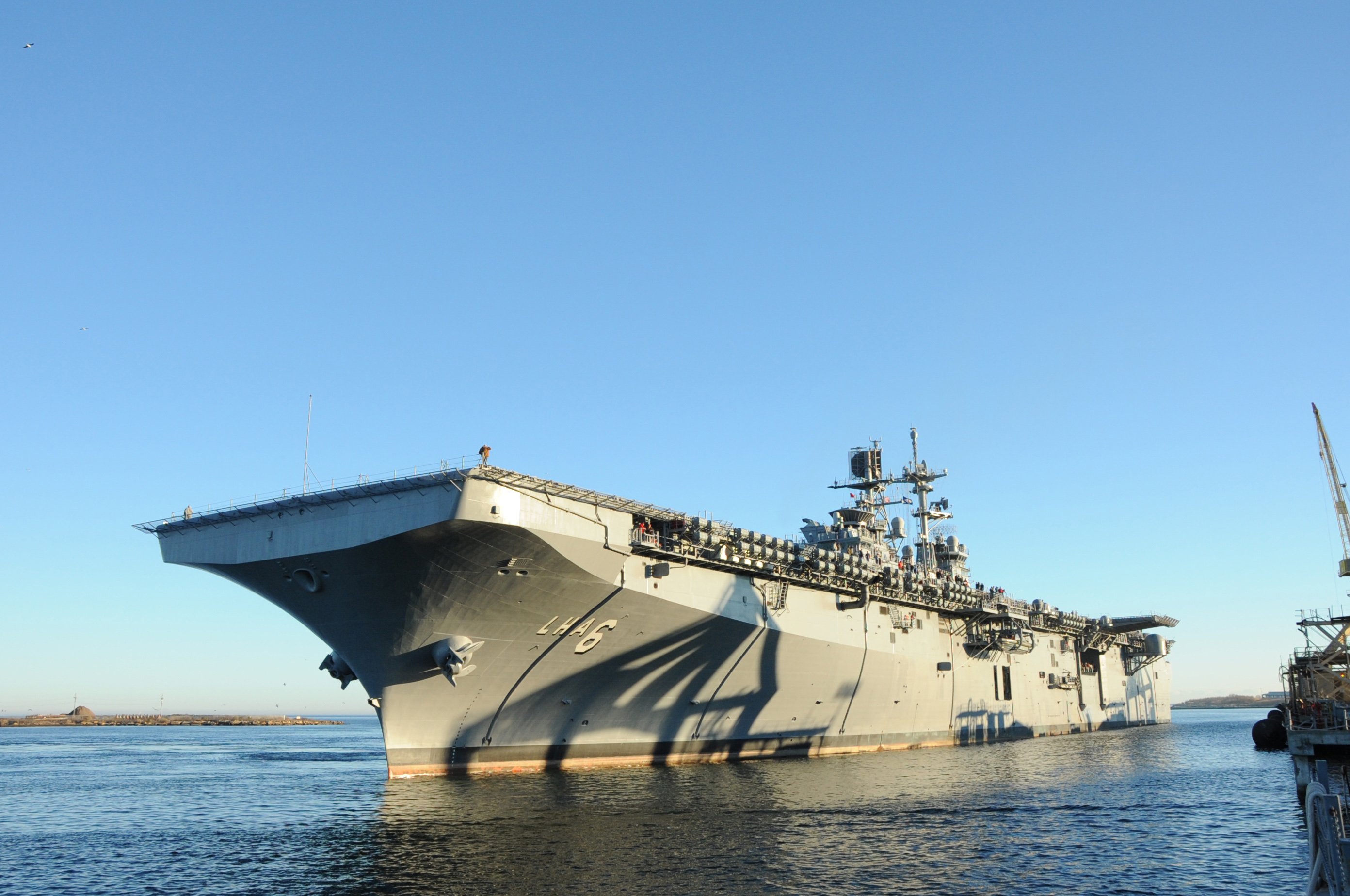 NATIONAL HARBOR, Md. – Post-delivery testing on USS America (LHA-6) went far more smoothly than on previous big-decks, and the Navy and Ingalls Shipbuilding are trying to leverage this success as they move forward with the next two amphibious assault ships.
Capt. Chris Mercer, amphibious warfare program manager at Naval Sea Systems Command, said USS America's (LHA-6) sea trials – which most recently include Combat System Ships Qualification Trials (CSSQT) in March and final contract trials (FCT) this month – "went very well across the board."
Through almost 500 different test events in the one-week FCT two weeks ago, Mercer said "the trial went very well, especially compared to previous efforts on large decks – probably half the number of deficiencies identified, really great grades throughout. The combat system has been performing excellent, we got perfect grades across the board on our detect-to-engage."
Brian Cuccias, president of Ingalls Shipbuilding, said that America is the 14th big-deck amphib to join the fleet and was the first ever to make it through a sea trial with zero starred cards, which indicate critical deficiencies.
Mercer said the ship would go through a few more test events this month, would do joint testing on its warfare systems at Point Mugu, and then go into a 40-week post-shakedown availability starting in June. After a few more trials, America will go into basic phase workups, probably participate in next year's Rim of the Pacific international exercise, complete initial operational test and evaluation (IOT&E) and then deploy.
Mercer told USNI News after his presentation that, since America has an enhanced aviation design and no well deck, the Navy and Marine Corps have spent two to three years working on the tactics for the ship that will direct how it deploys.
"In the beginning it's just going to be a traditional [Amphibious Ready Group] deployment," Mercer said. "She may even deploy with Harriers her first time" until the Marine Corps has enough of its Lockheed Martin F-35B Lightning II Joint Strike Fighter (JSF), he added.
USS Tripoli (LHA-7) will also be aviation-enhanced, and LHA-8 will be the first to re-introduce the well deck to allow surface connector operations.
Cuccias said that Tripoli is ahead of schedule, being already 25 percent erected with higher levels of outfitting than America at this stage in construction. Ahead of its 2018 delivery, though, Cuccias said Ingalls Shipbuilding is trying to find other ways to take more cost out of the ship in innovative ways, such as simplifying the ventilation system to save time and money.
Tripoli will also have some modifications made to its flight deck to make it JSF-compatible, whereas those modifications will have to be backfitted into America. Mercer said America would have the modifications made during a maintenance availability, Tripoli would have the modifications added into the contract via engineering change proposals, and future amphibs would include them from the outset.
"Tripoli does have the flight deck mods in the contract, and so since Tripoli is the sister ship of America we really know exactly what it takes to go do that, we've offered our assistance to the Navy and they are using some of our technical assistance," Cuccias said.
It is unclear at this point if Ingalls Shipbuilding will build LHA-8. The Navy decided earlier this year to combine the LHA-8 contract with the T-AO(X) oiler replacement contract into a single competition between Ingalls Shipbuilding and General Dynamics NASSCO shipyard. Each builder would get one program, and the winner with the lowest combined bid would win engineering work on the LX(R) amphibious dock landing ship replacement program, which will be based off of Ingalls' San Antonio-class LPDs.
Cuccias said he could not talk about the company's bidding strategy yet because the Navy had not provided information on how the bids would be evaluated.
"I think we're treating them both with parity," he said.
"I don't know how the outcome will come out, I don't want to pre-predict on how I think the solution will be in how we approach the bid. We're going to aggressively go after both and have a solid proposal on either side."
"Certainly the large deck is the more complicated ship to build, LHA-8 is a significantly more complex, much more difficult program and product to implement than T-AO," he continued.
"We just have to evaluate that when we look at our bidding approach, our build approach. …. We look at what we're building and we look at how we build it, and you take that into consideration on both projects."
He did not say which program he would prefer to win, but he said he was pleased the work is guaranteed to be split between the two yards and all their subcontractors.
"I really want to applaud the Navy in addressing the industrial base, I think the industrial base is hugely important," he said.