The Marine Corps would purchase 10 new aircraft, improve the digital interoperability of existing aircraft and boost connectivity through additional communications systems and unmanned aerial vehicles if Congress provided additional funding.
Commandant Gen. Joseph Dunford wrote to the four defense-related congressional committees to explain his Fiscal Year 2016 Unfunded Priorities List, with items he said would "further enhance our combat readiness and effectiveness should additional funds above those already requested … be made available."
The contents of the UPL were first reported by Defense News on Tuesday.
Dunford requested six Lockheed Martin F-35B Lightning II Joint Strike Fighters (JSF), two Lockheed Martin KC-130J tankers, one Bell Helicopter H-1 attack helo and one Hawker Beechcraft UC-12W Huron transit plane.
He also requested Link 16 digital interoperability upgrades for the Boeing AV-8B Harriers and Sikorsky CH-53K heavy lift cargo helicopter, as well as digital interoperability, ballistic protection and integrated aircraft survivability upgrades for the Bell-Boeing MV-22 Osprey. In the research, development, test and evaluation (RDT&E) account, he requested another $17 million for CH-53K Link 16 improvements and another $10.7 million for MV-22 digital interoperability upgrades.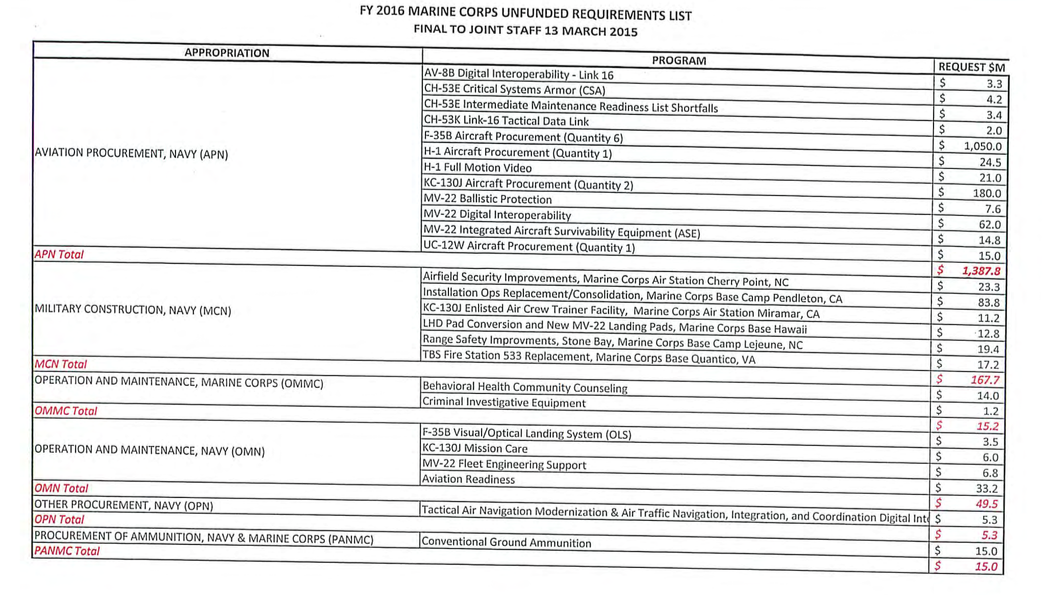 In total, Dunford requested $1.4 billion in aviation procurement projects and $52.7 million in aviation-related RDT&E beyond what was already in the Marines' FY 2016 budget request.
The Marine Corps has struggled to keep its aircraft depot maintenance on track, between the furloughs the Defense Department put in place to deal with the first round of sequestration cuts and subsequent cuts to the operations and maintenance (O&M) accounts to balance other parts of the budget.
"Over the last few years, the Marine Corps has prioritized the readiness of our forward-deployed forces. These are the forces the President, the Congress and the American people can count on for immediate crisis response. They are well-trained, well-led and well-equipped, but the Marine Corps has had to make tough choices to deal with the effects of two wars, sequestration in 2013 and reduced budgets in 2014 and 2015," Dunford wrote in his letter to Congress.
To help address the aviation piece of this problem, Dunford requested $49.5 million in aviation-related O&M funding, with $33 million of that going to a general "aviation readiness" line item. He also requested $25 million for aviation readiness in the RDT&E account.
The commandant also asked for $15 million in conventional ground ammunition, $77.5 million for Raytheon's Javelin missile and $145.5 million for Raytheon's BGM-71 Tube-Launched Optically Tracked Wire-Guided (TOW) missile. The RDT&E request contains $9 million for work on BAE System's Advanced Precision Kill Weapon System (APKWS) rocket guidance kit.
To boost battlefield communication and awareness, the commandant requested $29.3 million for Networking on the Move (NOTM) follow-on procurement, with an additional $7.1 million requested in RDT&E for that program. He asked for $4 million for Secure Compartmented Information Communications, and $24.6 million for the RQ-11B Raven Small Unit Remote Scouting System (SURSS) that transmits real-time images and full-motion video.