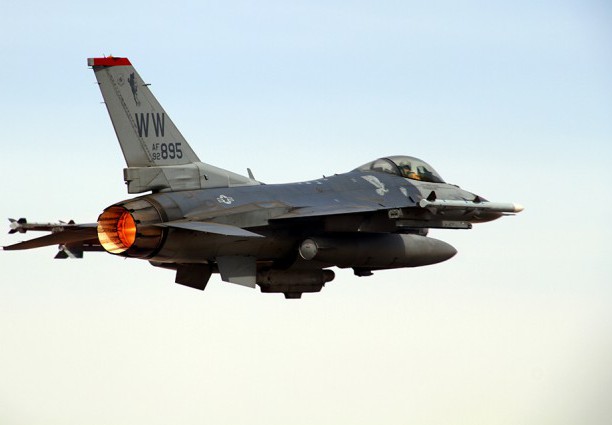 An U.S. Air Force pilot was killed following a crash of a F-16 Falcon fighter somewhere in the Middle East on Sunday, according to a Monday release from U.S. Central Command (CENTCOM).
The fighter was returning to an unnamed base shortly after takeoff and went down approximately 11 p.m. EST, according to the statement from CENTCOM published on Twitter on Monday morning.
A U.S. Air Force pilot was killed when an F-16 Fighting Falcon crashed in a non-combat-related incident November 30. pic.twitter.com/nvmDnaQsnh

— CENTCOM CG PAO (@CENTCOMCGPAO) December 1, 2014
CENTCOM officials said the fighter was starting a mission to support ongoing U.S. strikes in Iraq and Syria against Islamic State of Iraq and Syria (ISIS or ISIL) militants, officials told USNI News on Monday afternoon.
CENTCOM did say the fighter did not crash in Iraq or Syria.
"First responders remain on the scene. The cause of the incident is under investigation," read the release issued around 11 a.m. EST.
The U.S. military waits to release the names of those killed for a day after the death to give time to notify next-of-kin.
The U.S. operates from several bases in the Middle East but is often reluctant to name the locations citing the generic, "host nation sensitivities."
According to a Monday report in The Washington Post, "recent airstrikes in Iraq and Syria have been carried out from several bases in the Persian Gulf region, including Al Udeid Air Base in Qatar, Ali al Salem Air Base in Kuwait and al Dhafra Air Base in the United Arab Emirates."