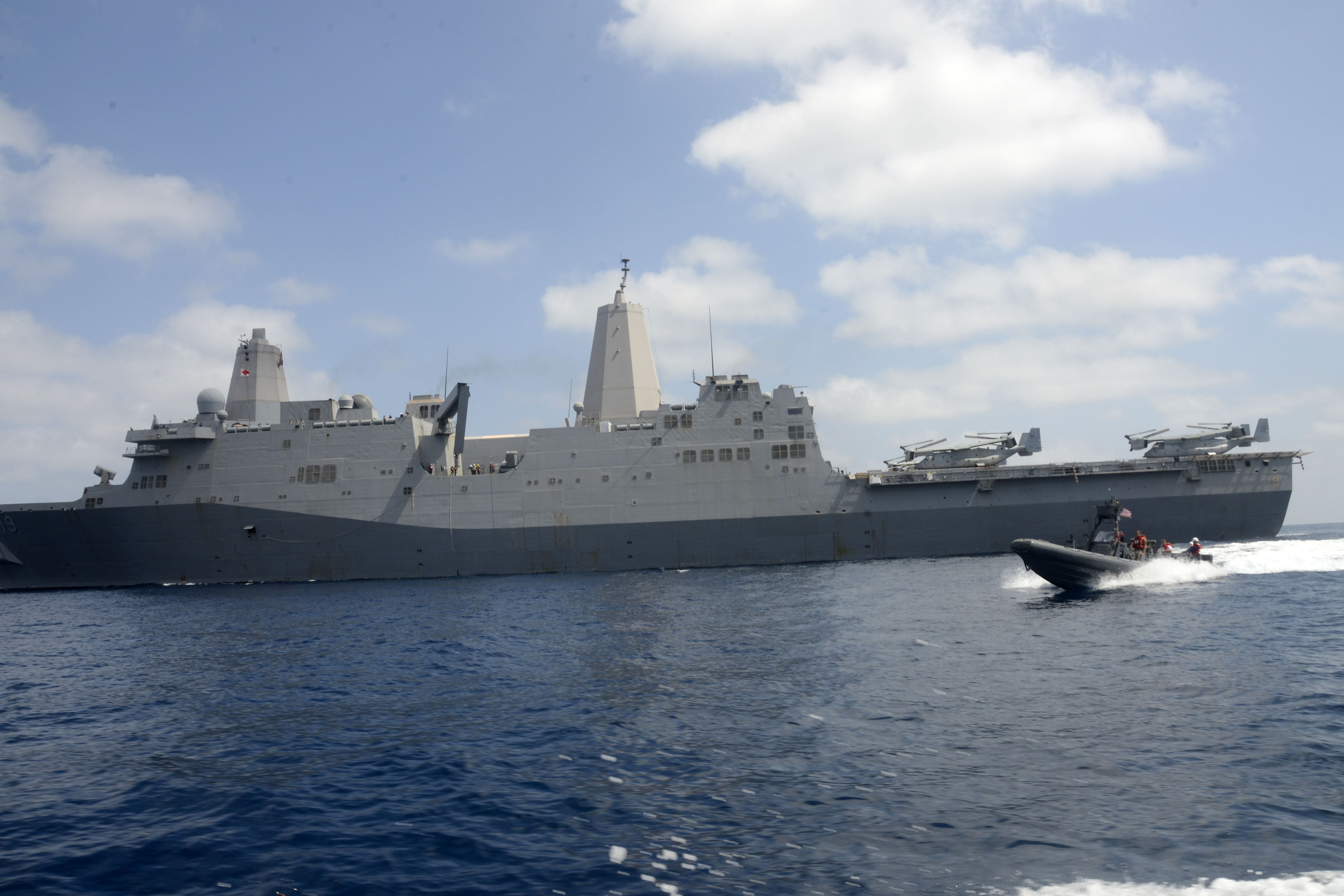 The following is a March 25, 2014 letter addressed to members of Congress signed by 20 retired Marine generals advocating for more amphibious warships calling the current Navy funding for the ships "inadequate" to meet U.S. strategic goals.
We are writing to highlight concerns about two interrelated challenges that degrade our current national security capabilities and will have negative effects long into the 21st century.
For over a decade our national strategy has shifted towards forward engagement and immediate response when U.S. interests are threatened. These factors have placed increased demand on America's amphibious forces and resulted in longer at sea periods and concomitant wear on these critical warships. Reduced shipboard manning has degraded routine at sea maintenance. Increased intervals between Chief of Naval Operations maintenance availabilities; sharply reduced time in those availabilities; reductions in shore maintenance facility capabilities; and reductions in third party material readiness assessments have become the norm. As a result readiness of the amphibious force has suffered. This is exacerbated by the decline in the number of amphibious force warships because retirements of older vessels are exceeding the number of new deliveries. After 9-11 the actual requirement for 38 warships was fiscally constrained to 33 warships. At that time an assumption was made that improved maintenance concepts would yield higher force readiness and therefore the 33 warships would yield 30 ships immediately available or able to surge on short notice responding to urgent needs. The most recent Quadrennial Defense Review again validated the requirement for 38 amphibious warships. However, the assumed benefits of improved maintenance concepts have not materialized and current fiscal pressures are resulting in a decline from 33 to 28 warships. The latest Navy plans do not envision a force of 33 warships until at least the mid-2020s.
Experience over the past decade demonstrates that the demand for amphibious warships will not decrease. These "Swiss Army Knives" of the sea have proven to be much more than just troop transports. Their versatility and interoperability with our Allies have repeatedly caused them to serve as the cornerstone of America's visible forward presence, projecting metered power and response to crises ranging from non-combatant evacuations and humanitarian assistance to direct military intervention. Amphibious warships have conducted air and ship crew rescues; counter-piracy operations; embassy reinforcement; and support for partner nation naval forces. Continuous forward deployments in the Mediterranean Sea have been replaced by new demands in the littorals of Africa, East Asia, and Southeast Asia.
Navy funding has been inadequate to meet today's strategic requirements and to provide a modern Navy for the future. Maintenance and modernization costs have risen. The development costs for the SSBN(X) Ohio class ballistic missile submarine replacements will have significant impact on funds available for construction of other warships. Cost is an increasingly important consideration for the LX(R) class now planned to replace the LSD-41 Whidbey Island and LSD-49 Harpers Ferry class amphibious warships, which are nearing the end of their expected service lives. To reduce LX(R) costs consideration should be given to basing it on a proven warship design such as the LPD-17 San Antonio class which is still under construction. The LPD-17 program was originally planned for 12 warships but was reduced to 11 vessels due to budget constraints. By using the proven LPD-17 design for a 12th warship we can leverage existing industry workforce and supplier relationships, thereby building a timely cost-effective bridge to LX(R) deliveries while also ensuring the health of our amphibious warship industrial base and labor force.
The challenges of diminished ship material readiness and the declining numbers of amphibious warships are interrelated and have cumulative effect on the nation's ability to support strategic imperatives. To address this we recommend that the Congress provide supplemental Overseas Contingency Operations funding to provide improved material readiness and reset for today's surface warships and funding for the proven LPD-17 design in the future LX(R) construction.
(signed)