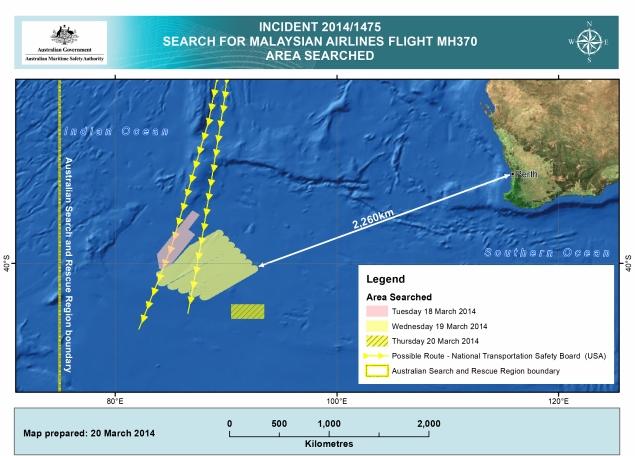 A U.S. Navy P-8A Poseidon surveillance plane assigned to search for the missing Malaysian Airliner Flight 370 is part of the investigation of debris found Sunday by Australian surveillance satellites, a navy official told USNI News on Thursday.
Malaysian officials said the Australian satellites located two objects near a suspected flight path of the missing Boeing 777 airliner about 2,000 miles south of Perth.
Malaysian transportation minister Hishammuddin Hussein said the debris could have a "credible," connection to the missing MH 370 but was quick to point out a direct link wasn't definitive.
"Every effort is being made to locate the objects seen in the satellite imagery," he said. "It must be stressed that these sightings while credible, have still to be confirmed."
Navy officials told USNI News the location of the debris is the likely area of emphasis for the P-8A, which will continue the search on Friday in the daylight.
The plane, temporarily based in Perth, is the service's most advanced maritime surveillance aircraft that entered service late last year based in Okinawa, Japan.
The P-8A is joined by four Australian AP-3C Orion maritime patrol aircraft along with a New Zealand Air Force P-3K2 Orion under direction from the Australian Rescue Coordination Centre
The aircraft are equipped with sophisticated maritime search radar but will likely rely heavily on electro-optical systems to scan the surface of the water looking for debris.