Navy officials said it was time to "draw the line" to prevent any further delay in the service's bid to procure a replacement to its ballistic nuclear missile submarine fleet (SSBN) in comments to reporters following a Thursday hearing before the House Armed Services Seapower and Projection Forces Subcommittee.
"This program needs to be treated differently," said Rear Adm. Richard Breckenridge, the Navy's director of undersea warfare.
"Other programs can absorb the risk with schedule but this is a vital strategic deterrent… We have to draw the line now and make sure there's no other impact [in schedule]."
In 2021 the Navy plans to start construction of the Ohio-class replacement (ORP) boomer to replace the current class of Ohio missile boats for a planned first deterrent deployment in 2031.
U.S. nuclear strategy assembles its deterrents in a so-called triad between boomers, bombers and land-based ballistic nuclear missiles.
Chief of Naval Operations Adm. Jonathan Greenert has maintained the construction of the ORP — formerly SSBN(X) — as the service's number one budget priority at the moment, most recently in comments made at a briefing at the American Enterprise Institute last week.
But in order for the Navy to fund the almost $100 billion program, the service said it needs funding from outside of its own shipbuilding accounts to prevent drastic cuts in other shipbuilding programs.
"$60 billion over 15 years is what we need," Breckenridge said.
While the Navy has called for additional Pentagon funding for the new boomers for years, Breckenridge gave numbers on what the service would have to give up in terms of ships to fully fund ORP.
"Just using some generic examples: If we only get half of that [$60 billion], we will lose 16 ships out of the navy's inventory that we would otherwise procure in that time… with only half of that assistance [$30 billion], you'd lose four [attack submarines], four large surface combatants and eight other combatants."
"If we get zero, you're looking at 32 less ships."
Early estimates of the cost of an ORP boat is around $6 billion but the Pentagon has a goal to reduce the cost of each ship to $4.9 billion a copy for the 12 boomer class.
The Ohio Replacement program was delayed two years earlier this year as part of the Pentagon's Fiscal Year 2013 budget proposal.
It originally would have begun construction in 2019 with a 2029 deployment.
Each boomer will carry 16 Trident II D5 submarine launched ballistic missiles in conjunction with a development program with the U.K. Royal Navy's Successor program.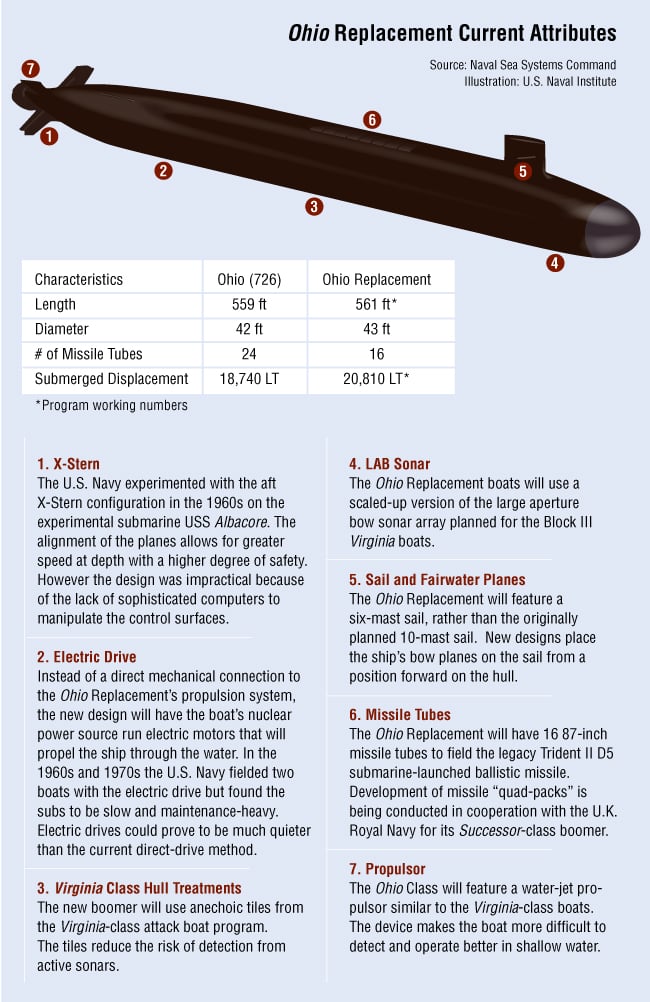 As part of the ongoing cost saving strategies, the service has reduced the capabilities of the ORP to its essential nuclear deterrent capabilities — including shedding sensors and weapons.